Hanoi's architecture is renowned for its fusion of traditional and contemporary elements. Hanoi is a popular destination for tourists who wish to experience the local cuisine and explore the city. For those seeking a rooftop dining experience that offers both great food and panoramic views of Hanoi, the following list of top 10 restaurants may be helpful.
1. San's Restaurant
Address: No. 02 Cau Go Alley, Hang Bac, Hoan Kiem, Hanoi

Location: 10th floor

Opening hours: 6:00-22:00

Reference price: $89-$320

Phone number: (+84) 943602992

Website: https://sangrand.sanhotelseries.com/sans-restaurant-lakeview/
San's Restaurant, located within the San Grand Hotel, is a highly regarded rooftop dining option in Hanoi.Offering stunning views of Hoan Kiem Lake and the bustling streets below, San's Restaurant provides a distinct and memorable experience for visitors.
The restaurant's luxurious design, which combines European influences with traditional Hanoi aesthetics, is in line with three-star standards. The unique architecture of San's Restaurant allows guests to experience a blend of Vietnamese and Western elements, from the ambiance to the flavors of the cuisine.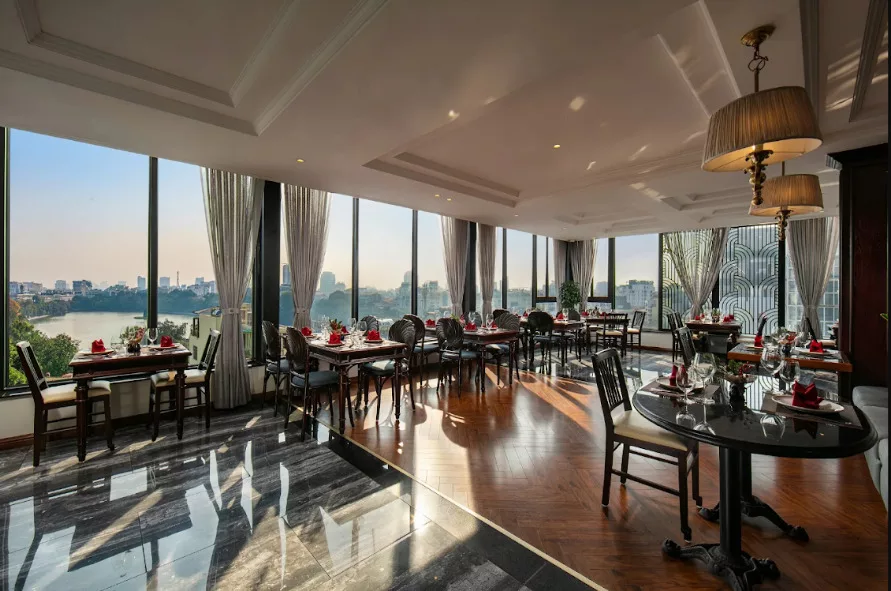 Apart from its picturesque location and ambiance, San's Restaurant stands out for its diverse menu, which includes a range of Western dishes such as Boston bacon, Carbonara spaghetti, Texas BBQ chicken, and mushroom risotto.
Each of these dishes is crafted using the finest ingredients, prepared with great care, and presented in an aesthetically pleasing manner, making for a truly impressive culinary experience at San's Restaurant.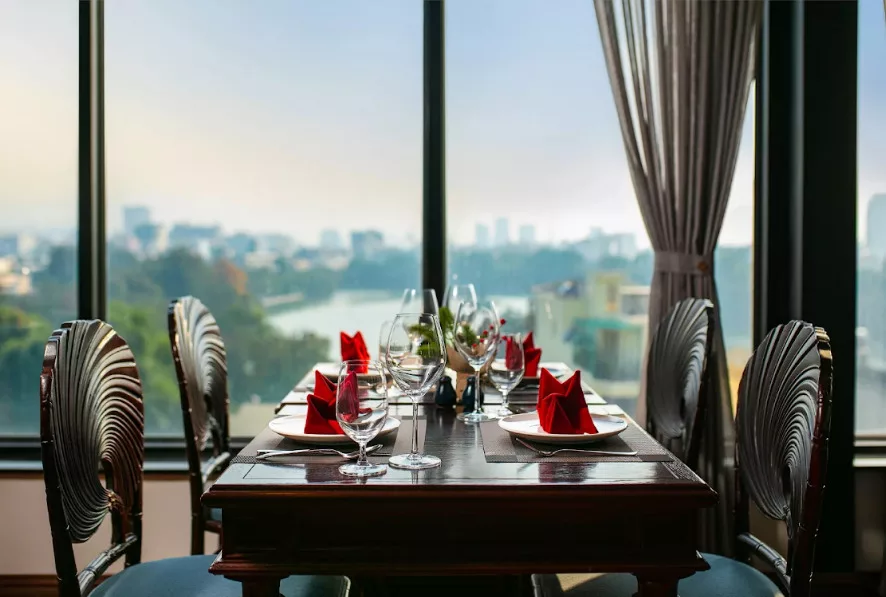 Visitors to San's Restaurant have the option to choose from three exquisite meal sets – The Lover, The Wife (for couples), and The Mother (for families). Additionally, the cocktail menu at the restaurant is extensive and offers a range of exclusive recipes with distinct and alluring flavors that cater to even the most discerning palates.
Live acoustic bands provide a melodious accompaniment to diners in the luxurious ambiance, making for a delightful dining experience.
San's Restaurant has gained praise from visitors for its exceptional food quality and courteous and professional service. To make a reservation, interested individuals may contact the restaurant or San Grand Hotel via phone or website.
Menu at San's Restaurant:
Boston Bacon

Spaghetti Carbonara

Texas BBQ Chicken

Mushroom Risotto

Traditional desserts

American style burnt onion sauce

Peanut butter jelly cookies

Margherita Pizza

Bourbon BBQ with Blue

Pasta Con Pomodoro E Basilico

Caprese Salad with Pesto

Focaccia bread

Smoked brisket

Dried fruit and sweet bread

Panna Cotta Pistachios
2. Panorama Restaurant & Bar
Address: 11th Floor, Authentic Hotel, 13 Ly Thai To, Hoan Kiem District, Hanoi

Opening hours: 15:00 – 23:00

Reference price: 150,000 – 500,000 VND/person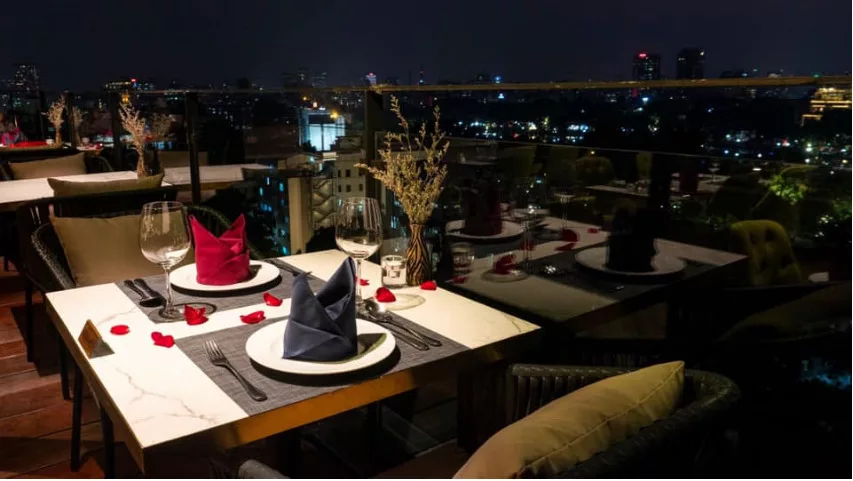 Panorama Restaurant & Bar, situated on the 11th floor of Authentic Hotel, is another highly regarded rooftop restaurant among visitors, offering a diverse menu and a spacious, opulent ambiance with European-inspired design elements that is sure to leave a lasting impression.
3. The Gourmet Corner
Address: 12th Floor Hanoi Elegance Diamond Hotel, 32 Lo Su, Hoan Kiem District, Hanoi

Opening hours: 10:00 – 23:00

Reference price: 200,000 – 500,000 VND/person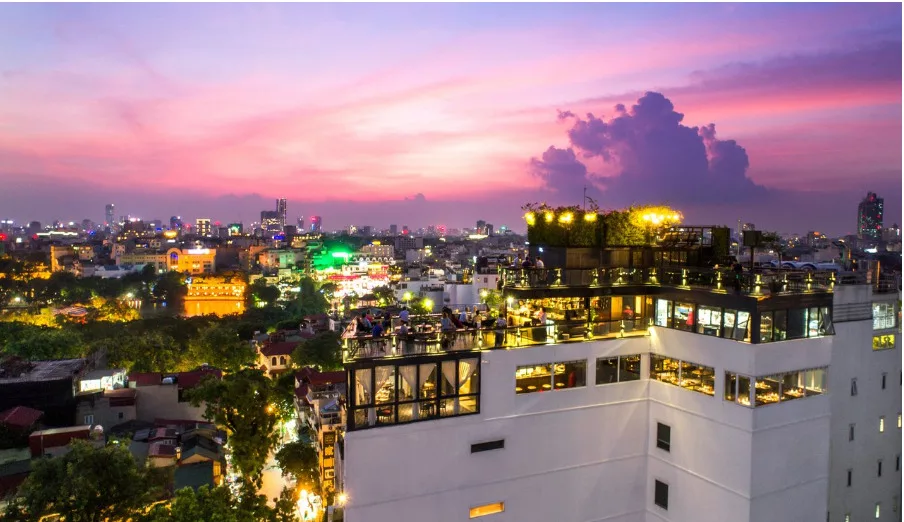 Gourmet Corner, the first restaurant established by EHG, was at the forefront of introducing boutique cuisine to Vietnam. At Gourmet Corner, patrons can relish in a refined and inviting dining area that features blue and gray tones as the primary color scheme, complemented by soft yellow lighting. Furthermore, the restaurant boasts a stunning view of the charming Hanoi Old Quarter and the picturesque Hoan Kiem Lake, providing a captivating experience for guests.
4. Skyline Hanoi
Address: No. 38 Gia Ngu, Hoan Kiem District, Hanoi

Opening time: 06h00 – 23h00

Reference price: 100,000 – 500,000 VND/person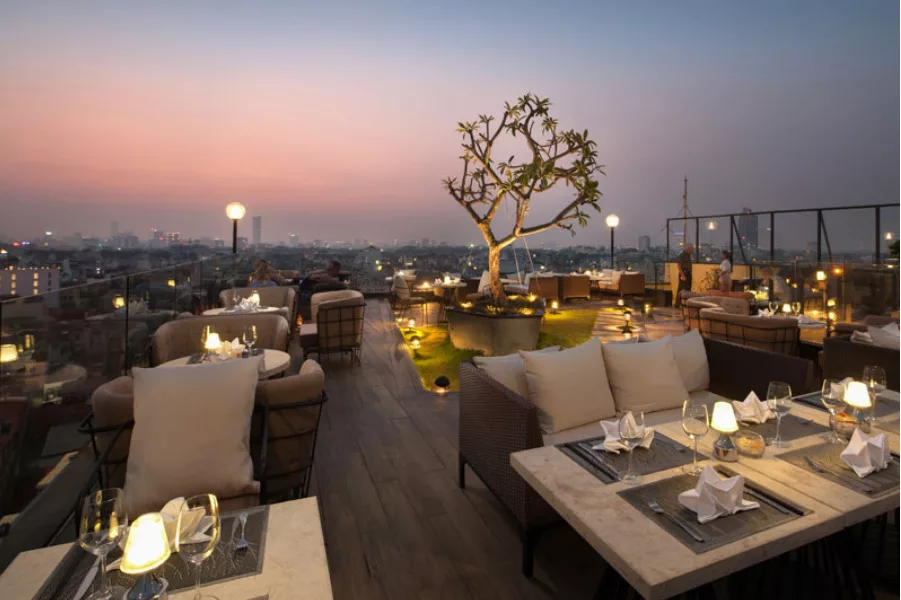 Skyline Hanoi, located atop Tirant Hotel, is widely regarded as one of the most must-visit rooftop restaurants in Hanoi. Apart from offering delectable food, the restaurant also features a bar and coffee services for guests. Boasting a lavish decor, yet still managing to incorporate warm hues, Skyline promises an enchanting experience for diners during sunset or nighttime.
See another posts in: Top 8 best hotels with spa in Hanoi
5. The Rooftop Bar & Restaurant
Address: 19th floor, Pacific Place building, 83B Ly Thuong Kiet, Hoan Kiem district, Hanoi.

Opening time: 08h30 – 21h00

Reference price: 250,000 – 400,000 VND/person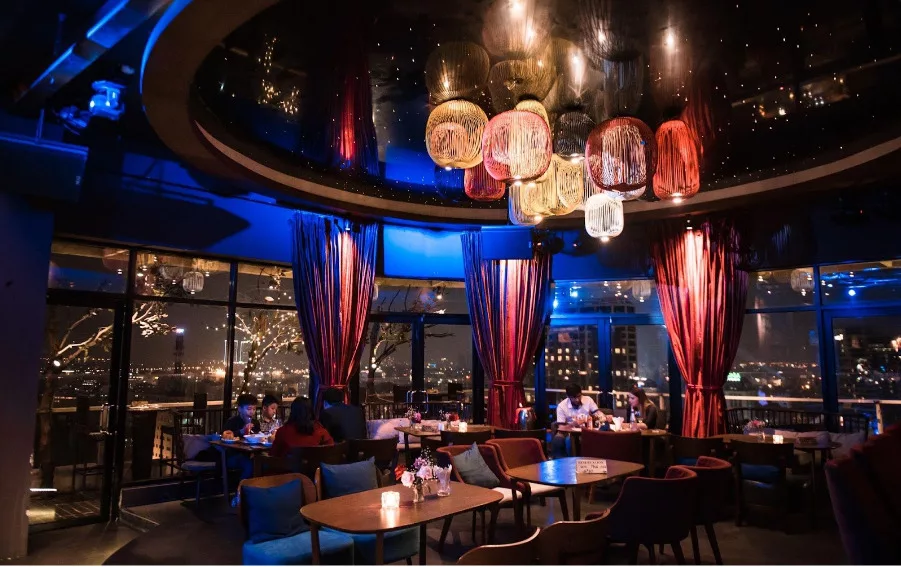 The Rooftop Bar & Restaurant is a popular rooftop restaurant that combines a restaurant model with a rooftop cafe, attracting many visitors. It offers guests the option to dine in a well-organized indoor space or an outdoor space with a panoramic view of Hanoi city. Additionally, the restaurant's menu is famous for its diverse range of dishes.
6. Tivoli Restaurant
Address: 76 Yen Phu, Tay Ho District, Hanoi

Opening hours: 08:00 – 22:30

Reference price: 50,000 – 500,000 VND/person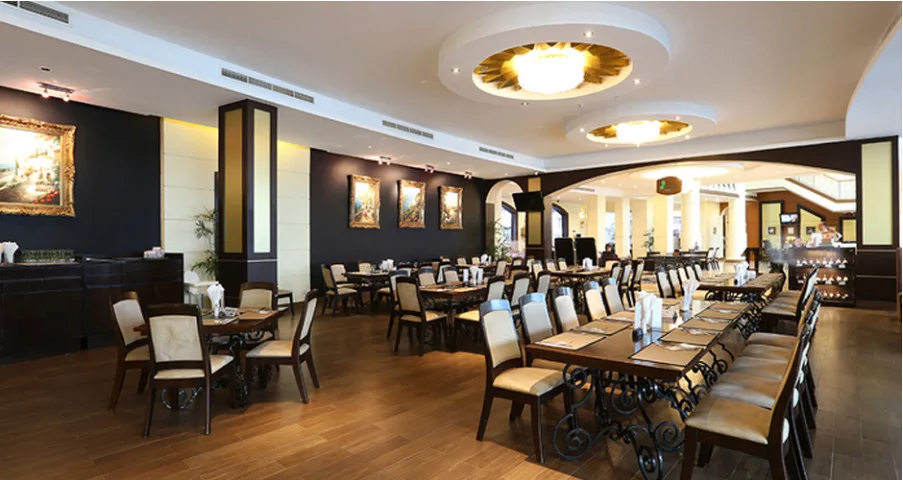 Tivoli is situated in Tay Ho district and offers a picturesque view of West Lake. It provides a tranquil atmosphere that is almost secluded from the city, allowing visitors to find a sense of calmness. With a spacious interior, the restaurant is suitable for hosting gatherings with family and friends. Tivoli's menu features carefully prepared dishes.
7. Grill 63 
Address: Floor 63 – 64, Lotte Center, 54 Lieu Giai, Ba Dinh District, Hanoi

Opening time: 05h00 – 22h00

Reference price: 50,000 – 250,000 VND/person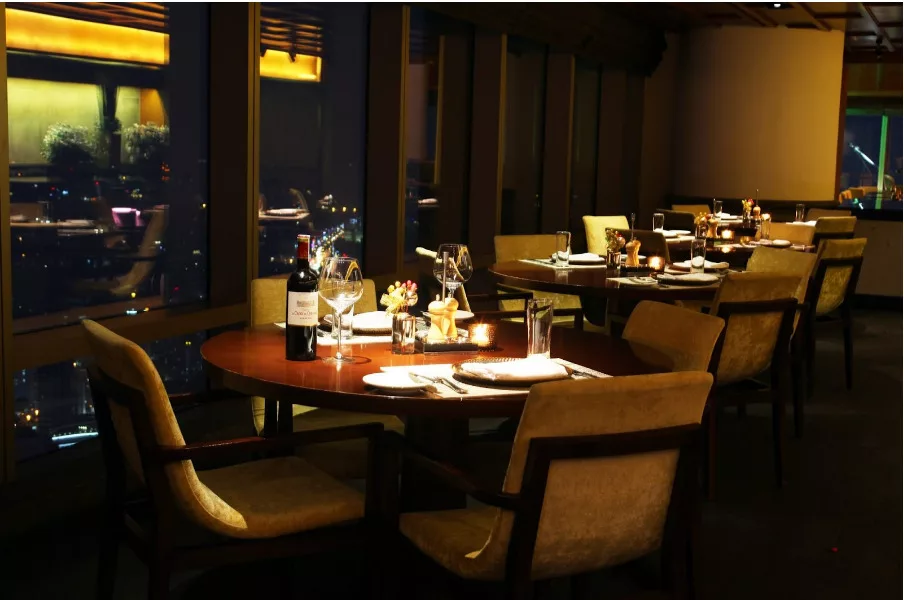 Grill 63 features a European-style architecture and a unique space with a quiet and luxurious ambiance, Ba Dinh district. The menu offers a wide range of dishes that are meticulously prepared to create a perfect dining experience. A visit to this restaurant promises to be a memorable experience.
8. PePe la Poule
Address: 22 Quang Khanh Quang An, Tay Ho, Hanoi

Opening hours: 11:00 – 23:00

Reference price: 100,000 – 300,000 VND/person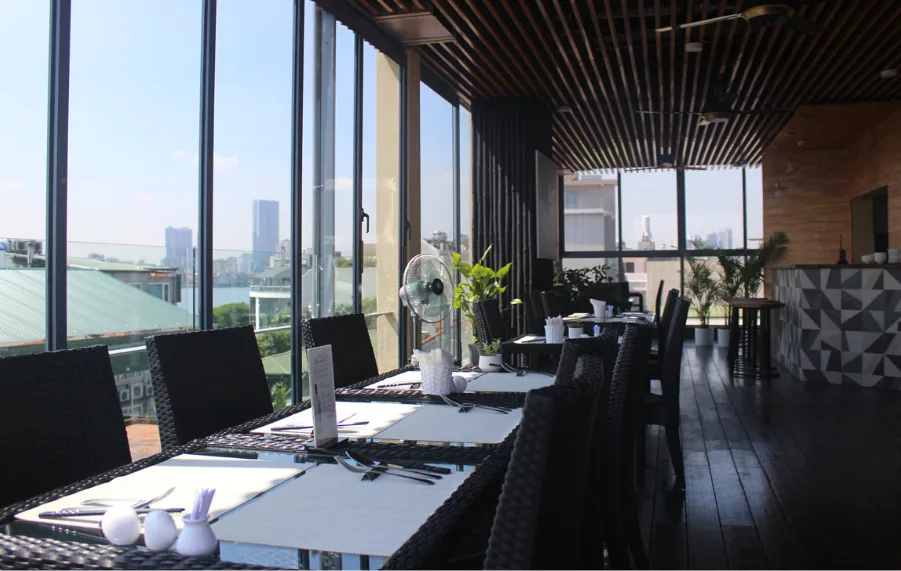 PePe la Poule offers a menu that blends the best of Asia and Europe, with a focus on Chinese and Italian cuisine, while incorporating popular Vietnamese tastes to ensure that the dishes are not too unfamiliar. One of the restaurant's strengths is its speedy and efficient service, with dishes prepared and served in a timely manner. Guests who want to fully appreciate the view of West Lake can opt to dine on the 6th floor.
9. Red River
Address: 36F Lotte Hotel Hanoi, 54 Giai Lieu, Ba Dinh, Hanoi.

Opening hours: 8:00 – 21:00

Reference price: 50,000 – 200,000 VND/person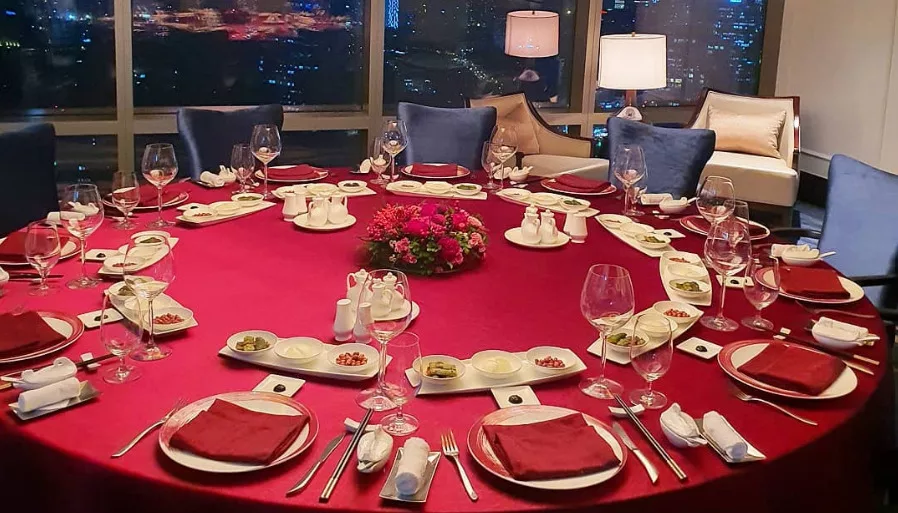 Red River is located on the 63rd floor of Lotte Hanoi Hotel and its decor features a unique charm with a blend of black and cream yellow colors. The restaurant's elegant ambiance is perfect for those who are seeking a romantic atmosphere with a spectacular view of the West Lake. Red River serves a contemporary Chinese menu that allows customers to experience Chinese cuisine and culture.
10. Nineteen Rooftop Hotpot 
Address: Floor 19A, 169 Nguyen Ngoc Vu, Cau Giay, Hanoi

Opening hours: 18:00 – 23:00

Reference price: 119,000 VND/person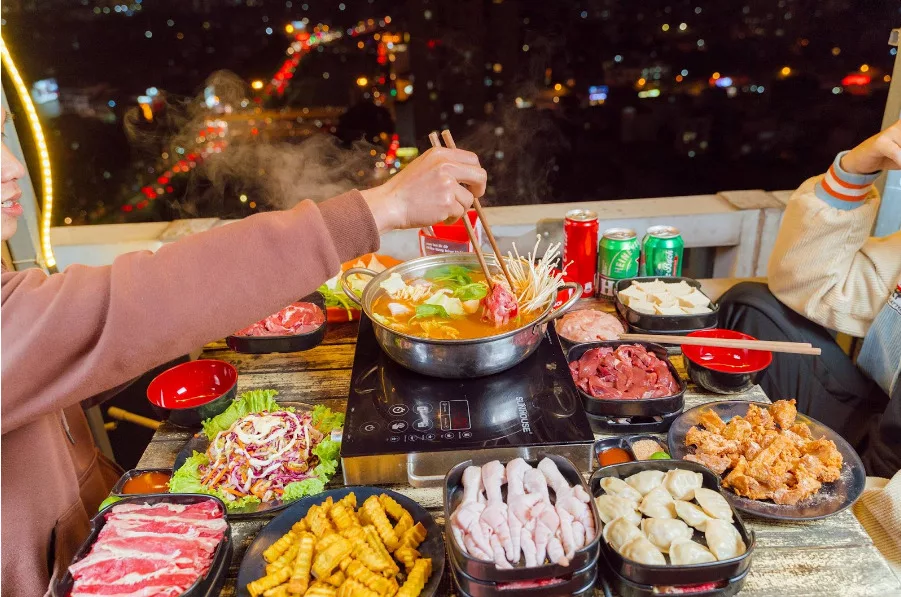 Nineteen Rooftop Hotpot provides a reasonably-priced hot pot that offers diners an excellent dining experience. The restaurant's position on the 19th floor offers a breathtaking view, which is why many people come here. With its buffet-style menu that has a wide range of toppings, Nineteen Rooftop Hotpot is the perfect choice for hot pot lovers. On busy days, it's admonished to book a table in advance to avoid disappointment due to limited seating.
San Hotels Series presents the top 10 rooftop restaurants in Hanoi that are highly rated for travelers. We hope that this article will assist you in discovering the best culinary and dining experiences in Hanoi.
See another posts by San Hotels Series in: Top 8 best quality golf courses in Hanoi