Hanoi – the heart of Vietnam's capital city has long been a must-visit destination that captivates travelers with its blend of ancient traditions and modern vibrancy for both domestic and international tourists. From its stunning architecture to its delectable cuisine, from its hospitality people to its rich cultural heritage, there's something for everyone in Hanoi. So why not make your experience complete by choosing the best quality hotels? Check out the 12 recommended 3-star hotels below!
1. San Grand Hotel
Address: 02 Ngõ Cầu Gỗ, Hàng Bạc, Hoàn Kiếm, Hà Nội

Rooms & Suites: 40 fully-equipped rooms with different segments

Price: $60 – $170 (1,500,000 VND – 4,000,000 VND)

Hotline: (+84) 943602992

Website: https://sangrand.sanhotelseries.com/
Located in the heart of Hanoi and surrounded by Vietnamese culture, just 7 minutes' walk from Hoan Kiem Lake, it is simple for visitors to explore the distinctive events and locations of Hanoi, such as water puppetry performances, shopping streets, historical relics, and traditional food areas..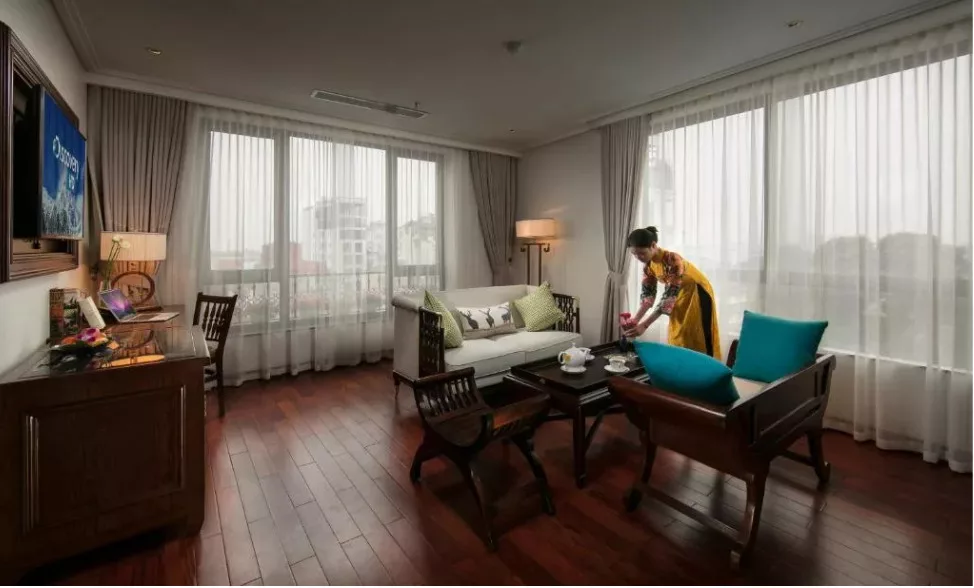 San Grand Hotel is not only a hotel with high quality and dedicated service but also a story of history connected with the love for the S-shaped land of a person with both Vietnamese and French bloodlines who is the owner of the hotel chain. Therefore, all services the hotel provides for tourists are imbued with purely Vietnamese vibes enveloped in international standards.
San Grand Hotel is also proud of the quality of its accommodations. With a system of 40 rooms and suites divided into many types of rooms to suit every need: standard rooms, single rooms, double rooms, connecting rooms, deluxe rooms with lake view, high-class deluxe rooms, and so on, the hotel can always serve up to 300 guests at once. All amenities are provided in the rooms, including relaxing sofas, flat-screen TVs, minibars, and private bathrooms with both bathtubs and shower cabins. The room area is always spacious (20m2 – 50m2) to provide tourists with the best resting experience in the crowded old town.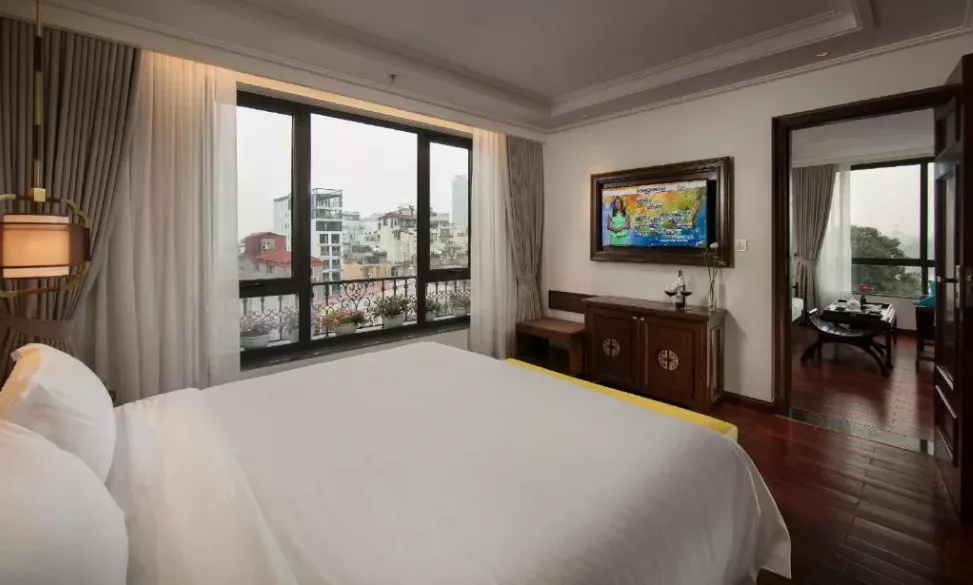 The accompanying services at the San Grand Hotel are also deserving of a 10/10 rating. In addition to the in-room amenities, guests can relax at the Thê Húc Spa. After a long day of exploring Hanoi, natural herbs and traditional massage techniques will help relieve fatigue. In addition, the Spa provides a variety of mud treatments, sauna, and herbal baths, as well as a variety of attractive packages for guests to choose from. In addition, other services such as airport transfers, car rentals, yoga facilities, and a rooftop bar are available to guests who choose the San Grand Hotel.
A carefully selected team of staff is the factor that makes San Grand Hotel's reputation, as well as the number one suggestion for an unforgettable Hanoi experience, located in the heart of Hanoi, with confident services that satisfy even the most demanding travelers.
2. San Premium Hotel
Address: 36 – 38 Ha Trung Street, Hang Bong Ward, Hoan Kiem District, Hanoi, Vietnam

Number of rooms & suites: 62 rooms on 9 floors

Price range: $88 – $122 (1,200,000 VND – 3,000,000 VND)

Hotline: (+84) 243 8287 777

Website: https://sanpremium.sanhotelseries.com/
San Premium Hotel is a sister branch of San Grand Hotel and is also a noteworthy choice for any traveler. Operating since 2013, San Premium Hotel has nearly 10 years of experience in providing mid-range lodging services.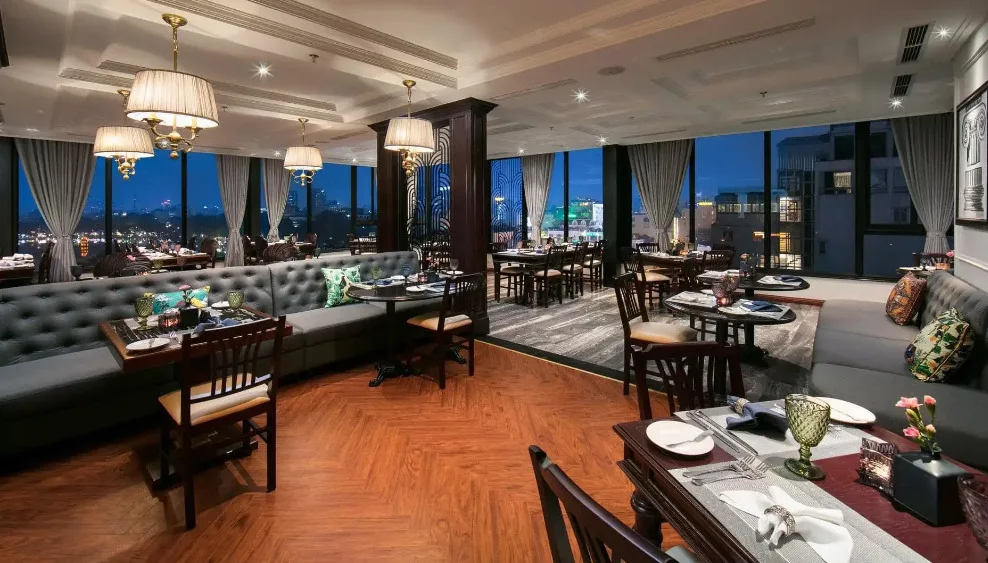 Located on the historic Hanoi Old Quarter, guests can walk from San Premium Hotel to the Ho Chi Minh Mausoleum, Temple of Literature, Hoan Kiem Lake, walking streets, and more. Guests can experience the bustling and sleepless city of Hanoi or the peaceful and ancient atmosphere surrounding the hotel.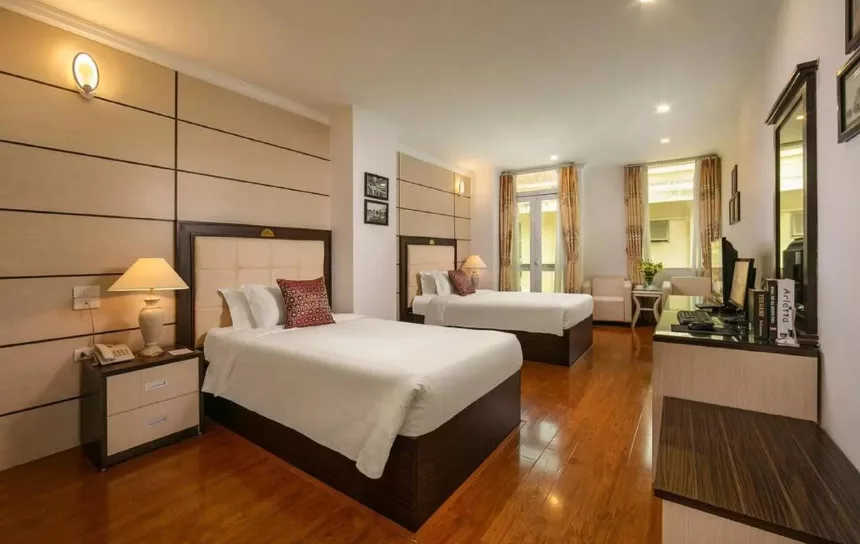 San Premium offers relatively high-quality accommodation with a range of rooms suitable for families, tour groups, business partners, and more. At a reasonable price in the center of Hanoi, guests can choose from single rooms, double rooms, or connecting rooms with basic to luxurious amenities. Work desks, 49-inch TVs, bathrooms with showers and bathtubs, high-quality beds, and more are all fully serviced by a 24/7 staff.
In addition to the accommodation, the hotel offers additional services such as a sports center, gym, massage room, and high-quality restaurant serving Vietnamese and international dishes for breakfast, lunch, and dinner with a stunning view of Hoan Kiem Lake. The spa also helps to relieve all the stress and fatigue.
For a complete Hanoi travel experience, San Premium Hotel is an excellent choice for those who want to enjoy transportation, lodging, and quality services in a prime location in Hanoi.
3. Grande Collection Hotel & Spa
Address: 46-48 Bat Su, Hang Bo, Hoan Kiem, Hanoi

Number of rooms & suites: 45 accommodations

Price range: 1,000,000 VND – 2,700,000 VND
Grande Collection Hotel & Spa is a hotel with a completely different style, bringing an Indochine atmosphere to the heart of Hanoi. With its prime location, luxurious rooms, attentive accompanying services, and professional staff, this place is definitely worth considering even for 4-5 star hotels.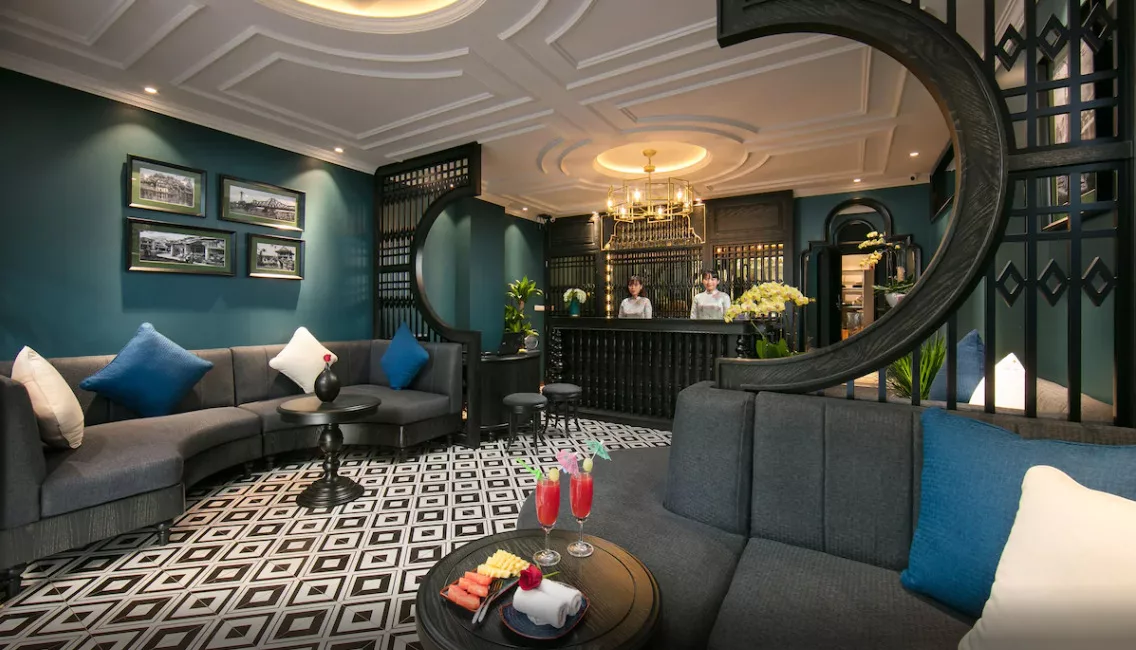 The lobby area has a strong Indochine vibe. Pursuing the Indochine style, the cuisine here is also served in that style, combined with modern flavors of international standards, which is sure to not disappoint diners. Booking services, Buffet counters, etc. are all available to serve guests.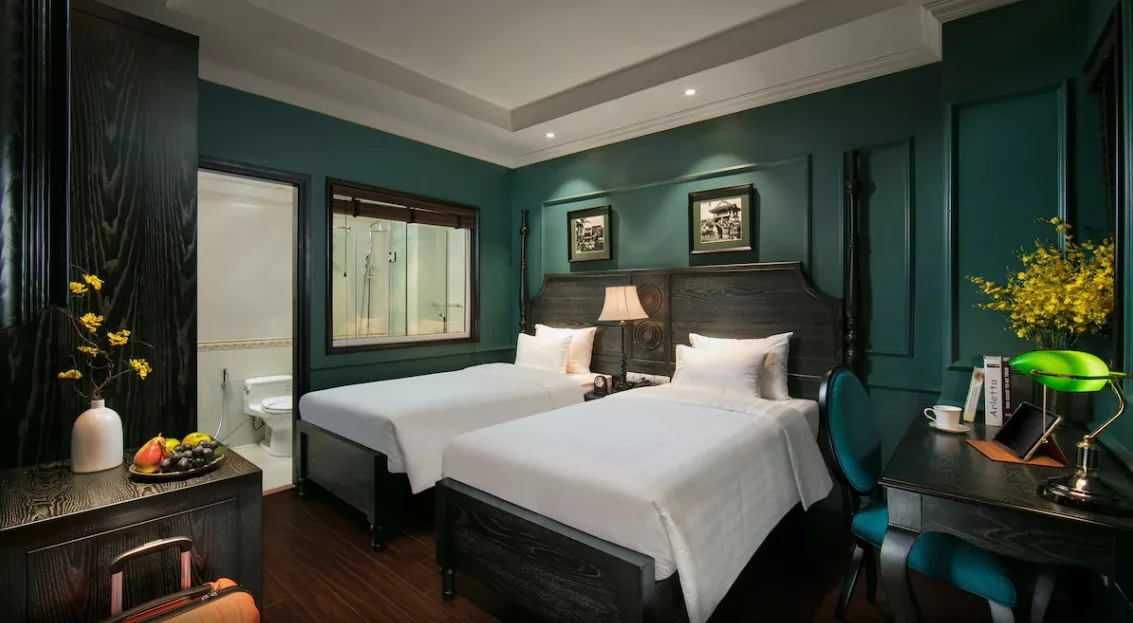 Luxurious and quiet bedrooms ensure a good night's sleep. The amenities of Grande Collection Hotel & Spa do not stop at room services, but also include Spa – Massage services. Guests can relax right within the hotel premises with a skilled staff, and relieve tiredness after a long day. Shuttle services are also available here.
4. Bonsella Hotel
Address: 3 Bao Khanh, Hoan Kiem District, Hanoi

Number of rooms & suites: 24 rooms over 11 floors

Price range: 1,300,000 VND – 1,500,000 VND
Bonsella Hotel, a small and charming hotel located in the heart of Hanoi, has received high praise from both domestic and foreign tourists for its attentive and friendly service. The hotel blends seamlessly into the bustling streets of Hanoi.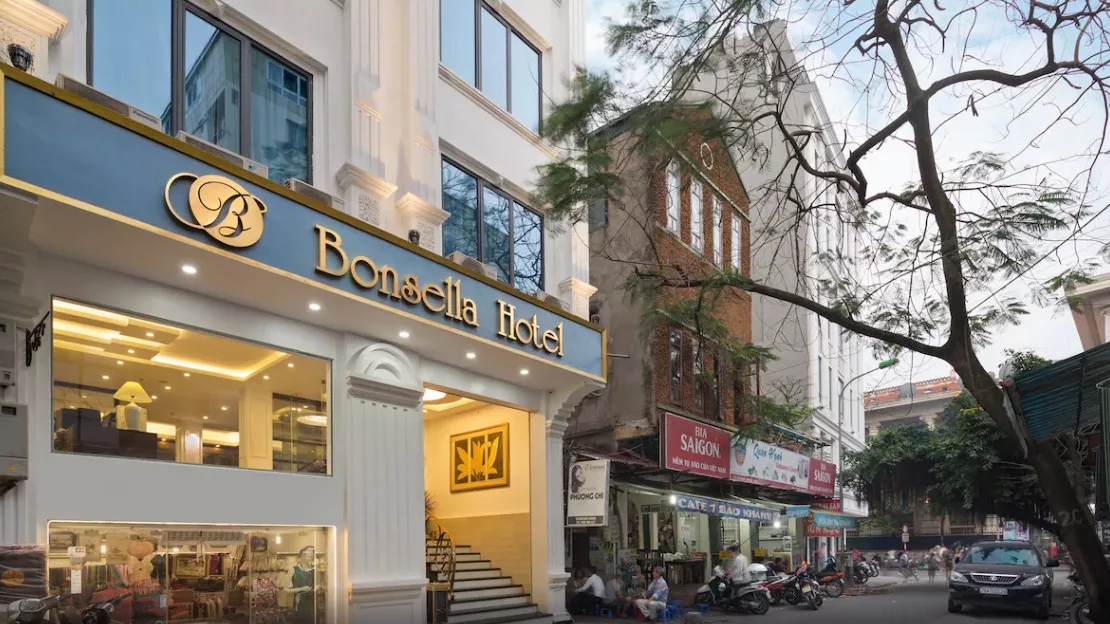 Standing from the room door, guests can easily admire the beautiful and daily scenes of Hanoi's streets and the lively atmosphere of an ancient city. From the Bonsella Hotel, those who love to explore Hanoi can easily move to famous entertainment spots. The hotel also partners with and assists guests in booking short interprovincial tours.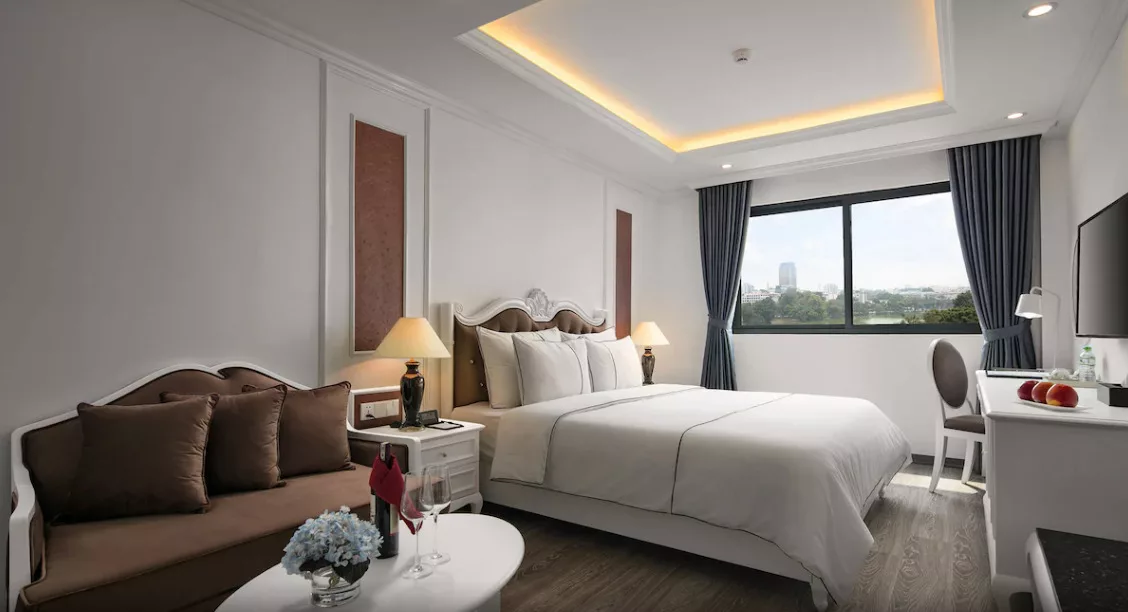 The restaurant within Bonsella Hotel confidently provides guests with delicious three-course meals with a diverse menu spanning Vietnamese, Asian, and European cuisine.
5. Imperial Hotel & Spa
Address: 44 Hang Hanh Alley, Hang Trong, Hoan Kiem, Hanoi

Number of Rooms & Suites: 40 rooms

Price range: 1,000,000 VND – 1,500,000 VND
Nestled in a small alley in the heart of the bustling city, Imperial Hotel & Spa offers guests an authentic experience of the Old Quarter from the moment they step foot in. Tranquility, gentleness, and warmth are the keywords to describe Imperial Hotel & Spa.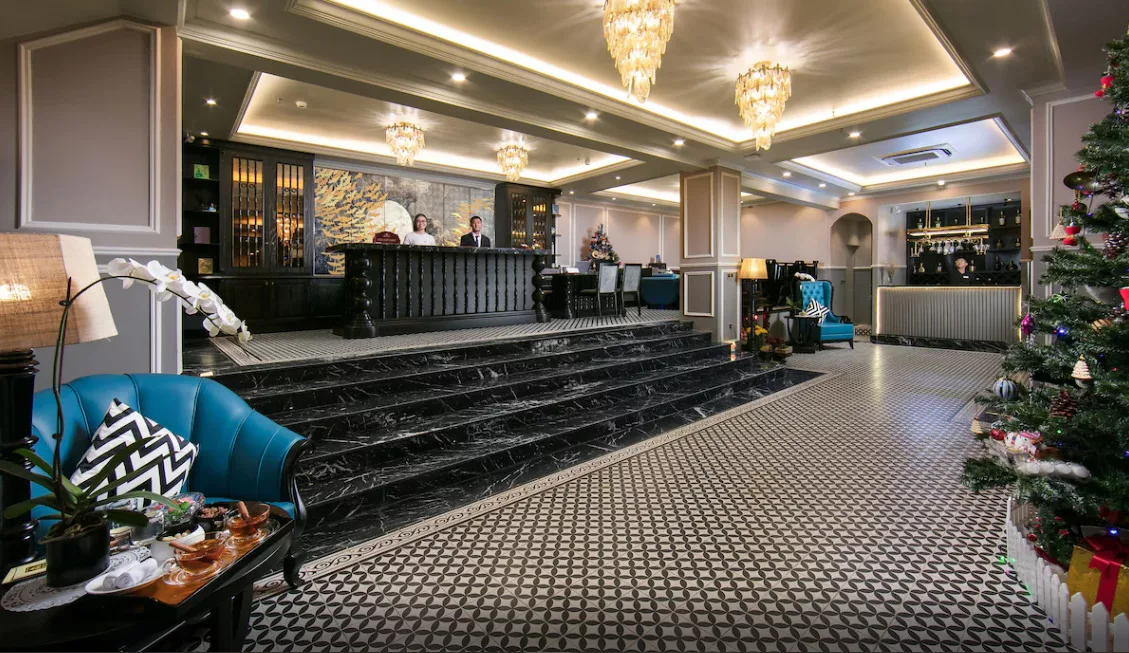 With two bars and a food counter on the ground and top floors, a spa and massage system, and a relaxing sauna room, the hotel ensures guests' comfort from booking to checkout.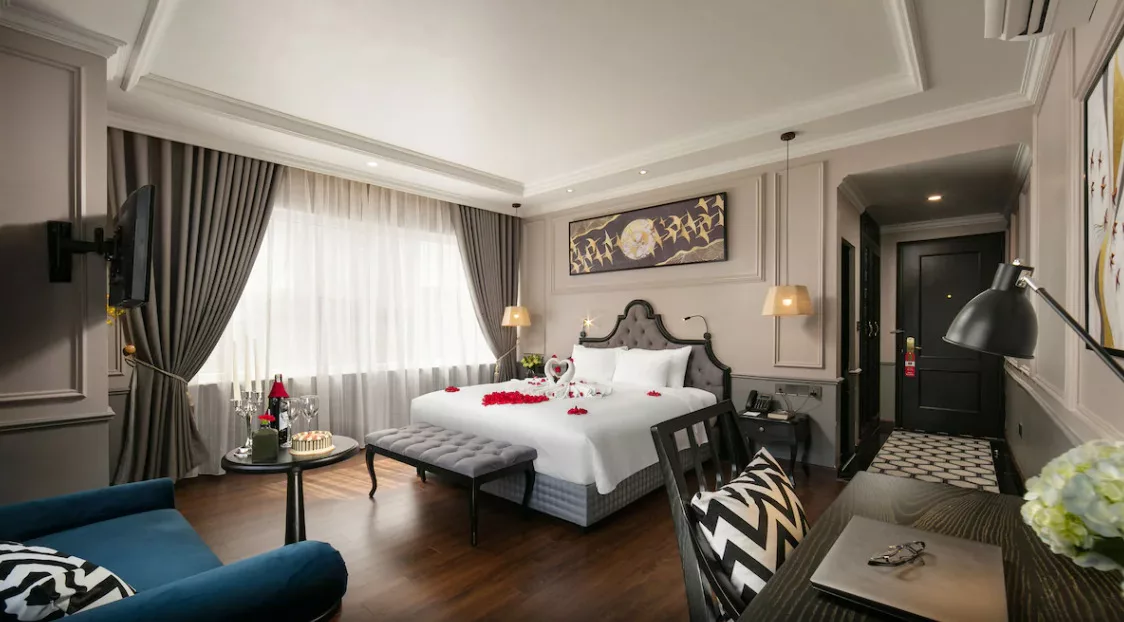 Thanks to its proximity to famous tourist attractions, guests can easily explore the beauty of Hanoi. Don't forget to ask the receptionist to help you book a taxi to make your trip convenient and safe.
See more posts by San Hotel Series in: The 10 most luxurious 5-star hotels in Hanoi 
6. Dahlia Hotel Hanoi 
Address: 8 Hang Duong, Hoan Kiem District, Hanoi

Number of rooms & suites: 40 rooms

Price range: 1,000,000 VND – 1,500,000 VND
Dahlia Hotel Hanoi is another option for travelers who want to experience the old town atmosphere right at their accommodation. The hotel is located within this charming area, and attractions such as the Hanoi Opera House, Hoan Kiem Lake, and the Thang Long Water Puppet Theater can all be reached within a 10-minute drive.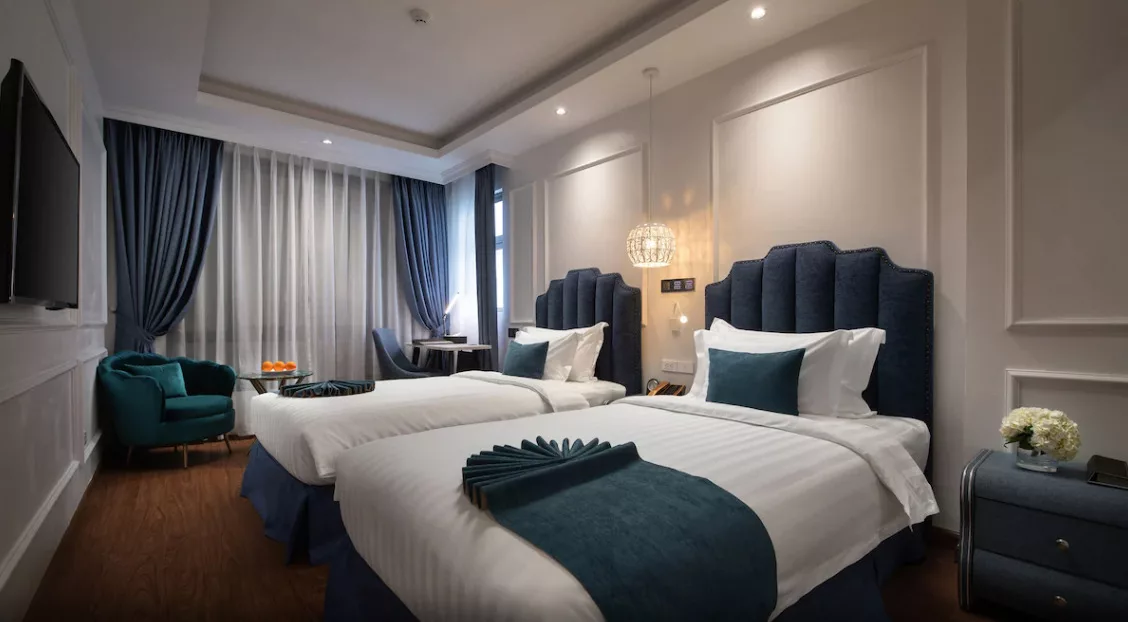 Dahlia Hotel offers a diverse range of rooms, from basic to luxurious, with a blend of Vietnamese and European style. The balcony offers a view of Hanoi's lively yet peaceful streets. Guests' relaxation needs will be fully met with in-room amenities and dedicated services.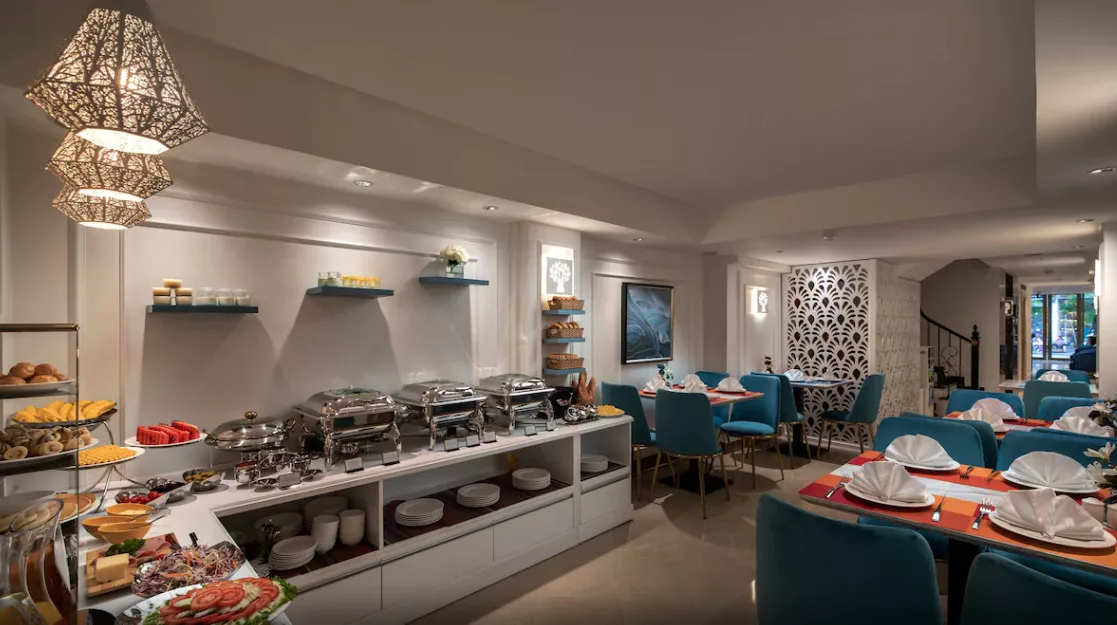 The hotel's restaurant offers a diverse menu, catering to the tastes of all diners from around the world. The hotel also provides complimentary breakfast, with a variety of nutritious options to fuel guests for a long day of activities. Additionally, don't miss the Sky Bar on the hotel's rooftop, offering a panoramic view of the entire city.
7. Hanoi Gatsby Hotel
Address: 65-67 Hang Thiec, Hang Gai, Hoan Kiem, Hanoi

Number of rooms & suites: 20 rooms

Price range: 600,000 VND – 1,600,000 VND
Another destination in the heart of Hanoi's Old Quarter is the Hanoi Gatsby Hotel. The hotel stands out thanks to its attentive and dedicated customer service, ready to contact and answer any questions that guests may have, to make their experience as enjoyable as possible.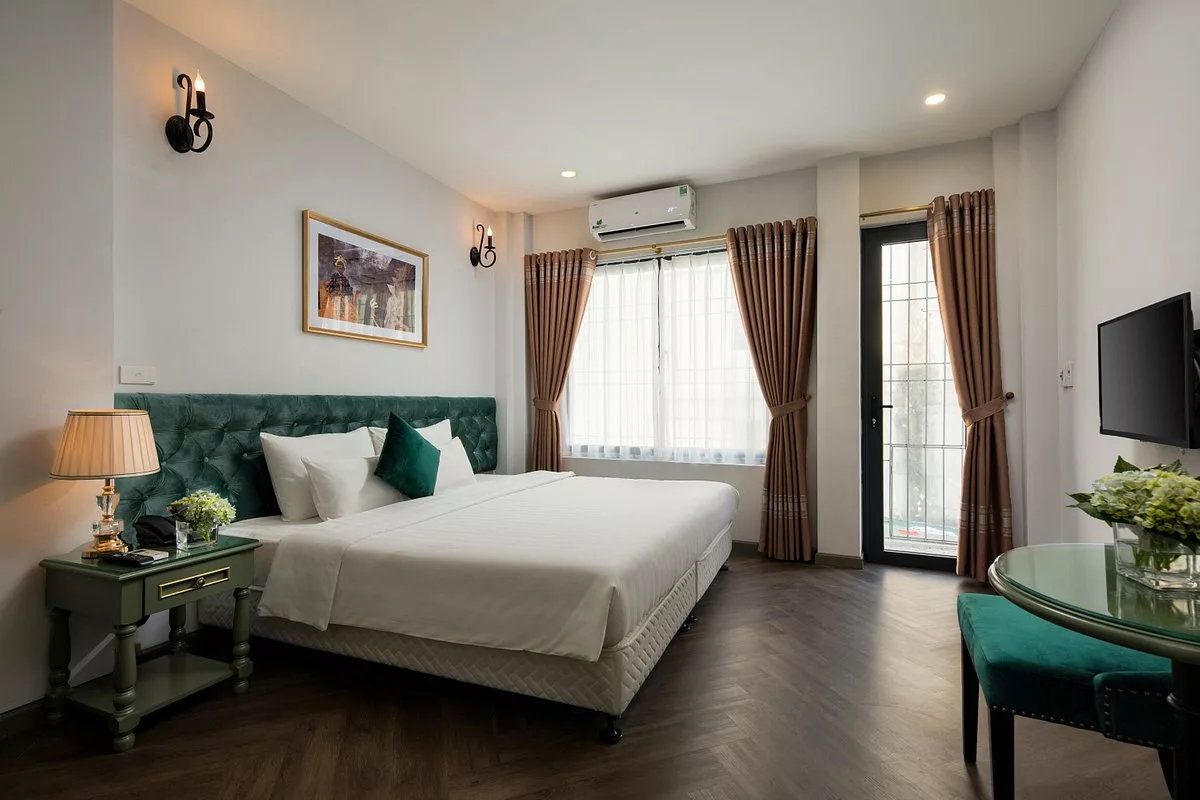 Nothing is more wonderful than resting after a day full of sightseeing and exploration. Understanding this, the Gatsby Hotel offers a variety of accommodations suitable for both individual travelers and group stays.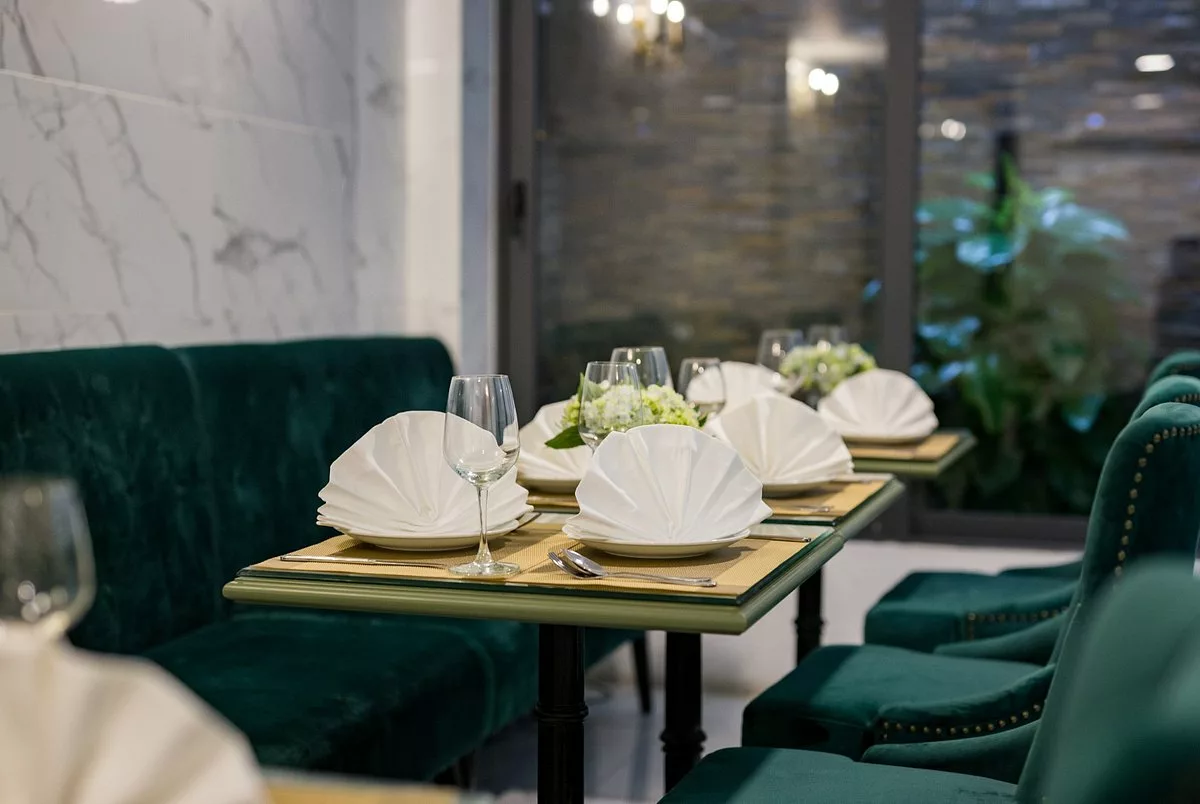 The experiences of accommodation, accompanying services, and dining are all highly valued by customers. A series of compliments have been regularly updated on reputable hotel review sites for the Hanoi Gatsby Hotel.
8. Trang Trang Premium Hotel
Address: 15 Cau Go Lane, Hoan Kiem, Hanoi

Number of rooms & suites: 12 rooms over 8 floors

Price range: 700,000 VND – 1,000,000 VND
TrangTrang Hanoi Hotel is a chain of hotels located in the center of Hanoi's Old Quarter. With a modern and youthful design combined with the inherent classical features of the Old Quarter, Trang Trang Premium Hotel promises to bring a memorable experience for guests during their stay.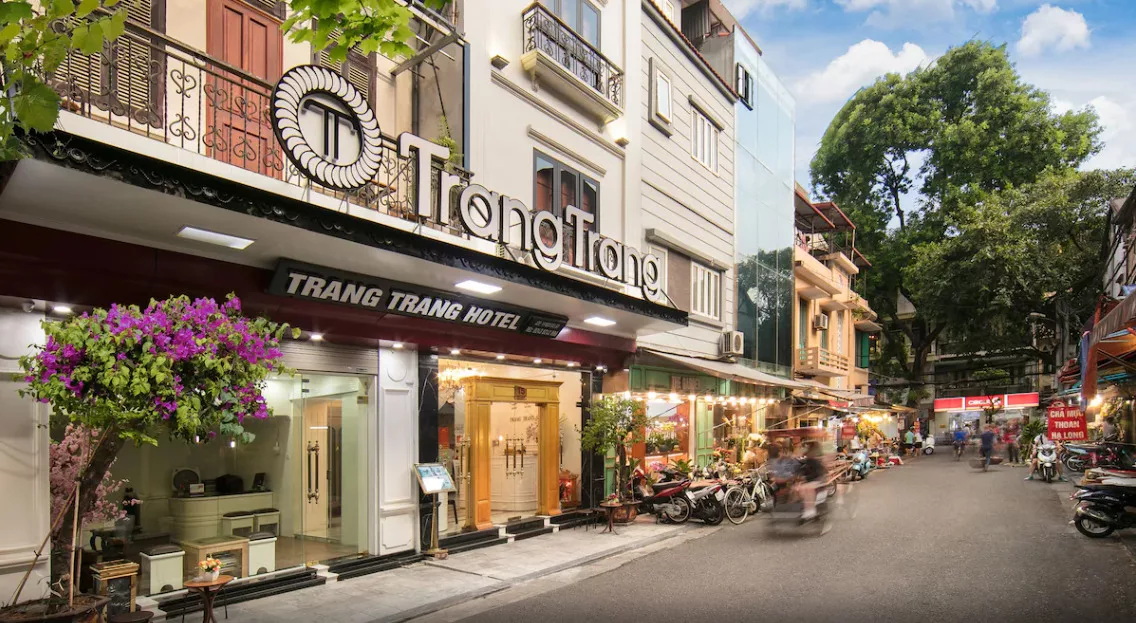 When coming to TrangTrang Hanoi Hotel, each guest will receive a warm welcome from the hotel staff. The hotel's motto is to serve with a dedicated heart, always wishing that customers have the most comfortable moments with all the hotel services.
Four hotels has different styles, so tourists can expand their choices to find the most suitable place to rest. The most prominent in the chain is undoubtedly Trang Trang Premium, located right in the Old Quarter with spacious, luxurious, and convenient rooms. The accompanying services here are also diverse and intimate, such as motorbike rental, shuttle service, and dining services.
9. Silk Path Boutique Hanoi
Address: 21 Hang Khay, Hoan Kiem, Hanoi

Number of rooms & suites: 33 rooms on 9 floors

Price range: from 1,200,000 VND to 1,800,000 VND
Nestled among the old town houses, architectural landmarks, and tourist attractions, Silk Path Boutique Hanoi is a refined and sophisticated hotel. With a view of Hoan Kiem Lake and located on the pedestrian street, it offers a sense of familiarity and vibrancy.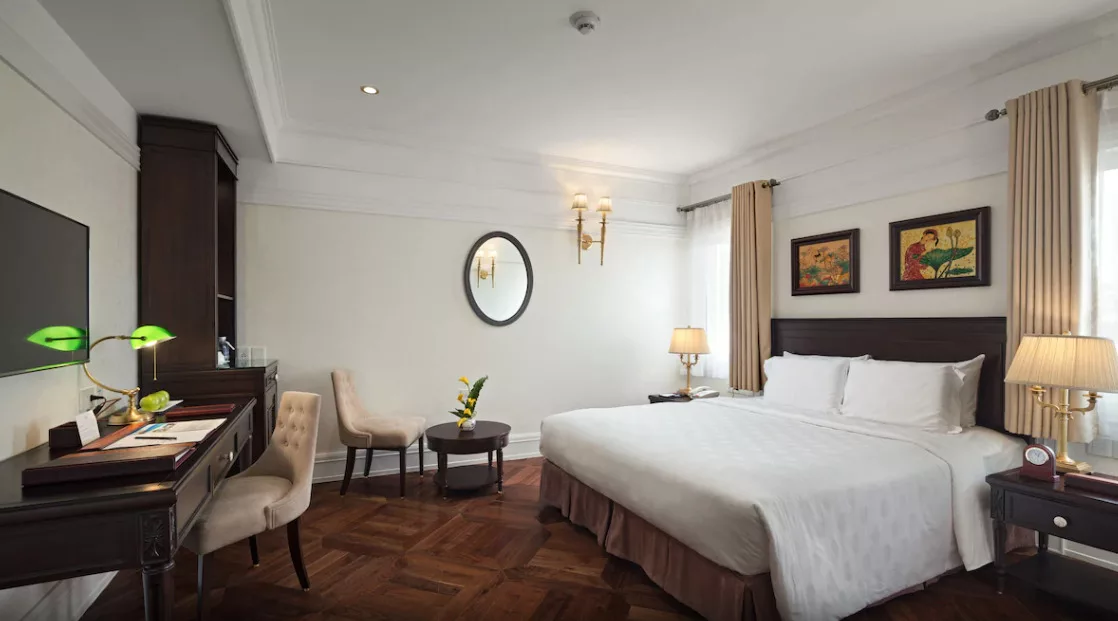 As part of the Silk Path hotel and restaurant chain, Silk Path Boutique represents the quality of the entire system. In addition, it has its own unique features, such as a French-inspired architectural style with Tiffany-esque stained glass, fresh flowers everywhere, and nostalgic-colored furnishings. Stepping into the hotel space, guests will be immersed in a luxurious atmosphere.
Silk Path Boutique Hanoi provides excellent rooms and many services to ensure the utmost comfort for its guests. From restaurants, bars, and parking to laundry services, tour bookings, and more. The friendly and cheerful staff, as well as the Sky Bar on the top floor or La Cour Restaurant, are all ready to make guests' trips unforgettable.
10. Hanoi La Selva Central Hotel
Address: 90 Cau Go Street, Hoan Kiem, Hanoi

Number of rooms & suites: 25 rooms

Price range: 1,000,000 VND – 1,800,000 VND
Following the green architecture and "Green Style" concept, Hanoi La Selva Central Hotel is a new and unique stop for tourists when visiting Hanoi. A relaxing room with amenities to bring peace and freshness is what the hotel wants to offer its guests.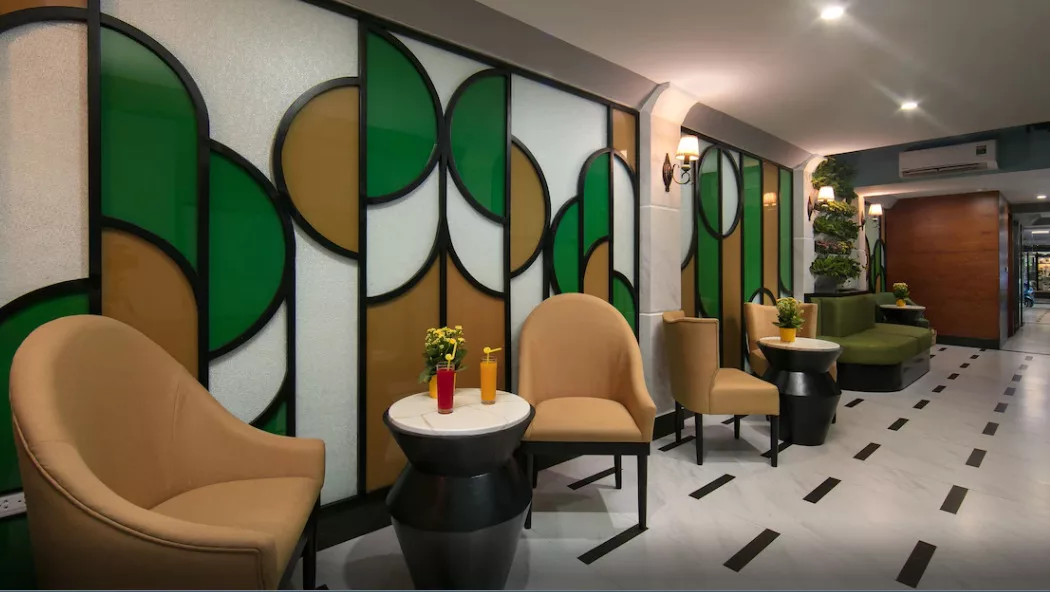 All dining, transportation, and other services are provided with care at Hanoi La Selva Central Hotel. Combining Eastern and Western cuisine on the menu, the hotel confidently offers explosive flavors to diners. Additionally, due to its location right on the pedestrian street, visitors can easily explore dining and entertainment options.
With a different mindset, La Selva Central Hotel provides guests with a modern resort and service system, with different layouts and sizes in each room. Combined with views of the city and the sunset, visitors are sure to be satisfied with their choice here.
11. La Palm Hotel
Address: 45 Hang Bo, Hoan Kiem District, Hanoi

Number of rooms & suites: 30 rooms with 4 floors

Price range: 650,000 VND – 2,000,000 VND
La Palm Hotel, formerly known as Spring Flower Hotel Hanoi, is a trusted choice for travelers. With a quality accommodation system and years of experience in operation, guests can fully trust their vacation to La Palm.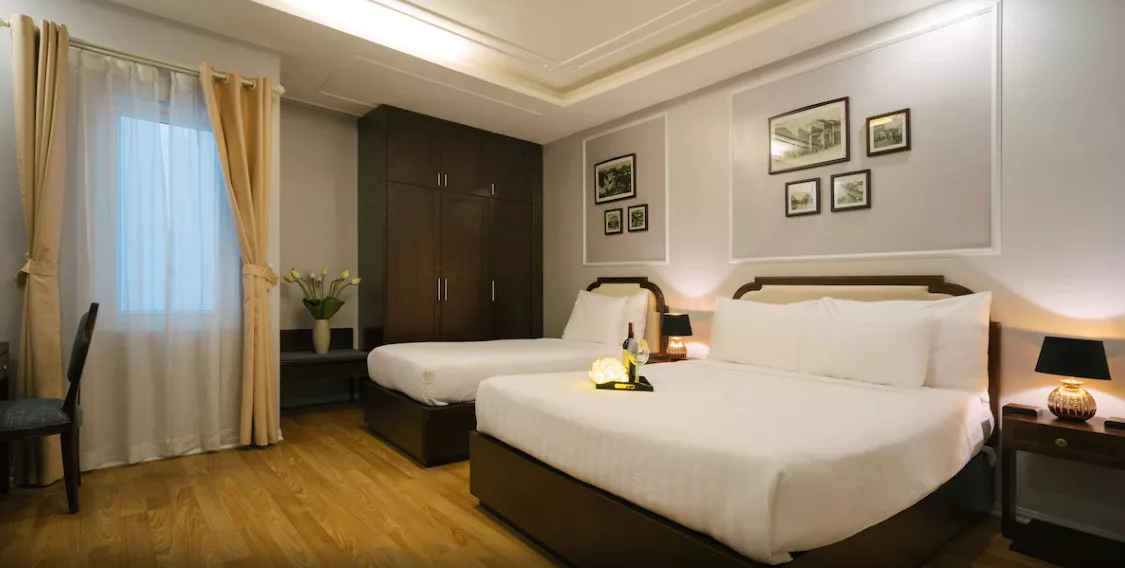 La Palm's accommodation system serves all customer groups with fully equipped amenities and personal items. Cable TV, high-speed wifi, minibar, etc. The hotel also offers spa massage services to help guests relax after a long day of experience.
The hotel also pays attention to its dining services. With a free buffet breakfast for guests, your day will be full of energy and satisfaction.
12. Eco Luxury Hotel Hanoi
Address: 17 Cua Dong, Hang Bo, Hoan Kiem, Hanoi

Rooms & Suites: 45 rooms

Price range: 600,000 VND – 1,300,000 VND
Eco Luxury Hotel Hanoi is located just 500m from Dong Xuan Market, making it an ideal choice for strolling through the old streets of Hanoi. Its prime location is a great advantage for Eco Luxury Hotel, and it's also the style that the hotel aims for: Luxury in an ancient land.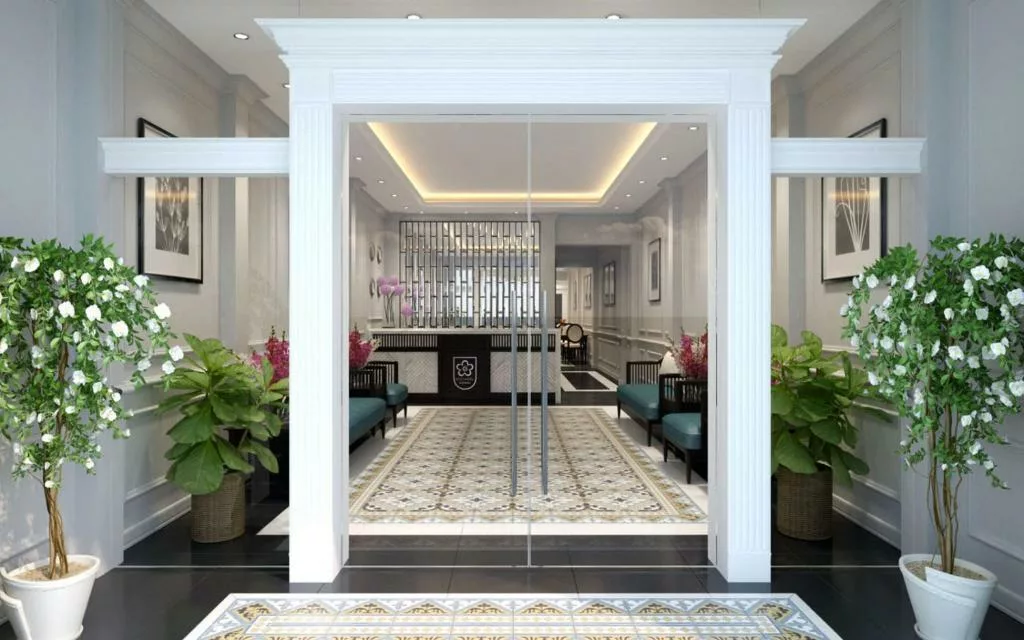 Each room at the hotel is equipped with air conditioning and flat-screen cable TV. Some rooms have a seating area for convenience, especially for business partners. The en suite bathrooms come with a bathtub or shower to ensure maximum comfort for guests.
Guests are taken care of with 24-hour front desk service. Free motorcycle parking and free Wi-Fi are also provided on site, and the friendly front desk staff are always willing to help with any needs.
Above are the 12 best 3-star hotels in hanoi's Old Quarter with the best service and quality. A complete trip will be a combination of all factors. Therefore, Sanhotelseries.com wishes you will have beautiful impressions about Hanoi, its people, and its services.
See more posts by San Hotel Series in: Top 10 4-star hotels in Hanoi with the most convenient amenities