Golf is a familiar sport to many individuals. It is easy to locate a golf course, but determining if it meets your needs and skill level requires extensive research. The subsequent article will provide information on the top-notch golf courses in Hanoiand the criteria used to assess a high-quality golf course.
Criteria for selecting beautiful golf courses
Convenient location
For golfers, traveling long distances can be a waste of unnecessary time. Therefore, they tend to choose golf courses that are conveniently located while still meeting international standards.
Building and designing a golf course requires a large area of land, so golf courses are usually located quite far from the city center. In addition, on average, players will spend about 4-4.5 hours playing an 18-hole round of golf, then an additional 1-3 hours to travel to the course. This is a relatively long time, so golfers often choose courses near the city center to save travel time.
Good quality grass
In a specialized sport like golf, the quality of the grass directly affects the performance and results of the players. Grass on golf courses in Vietnam is mostly imported, but there is still a difference in quality. Currently, Tif Eagle grass on the green and Paspalum grass on the fairway are considered two common types of grass used at golf courses abroad and most courses in Vietnam.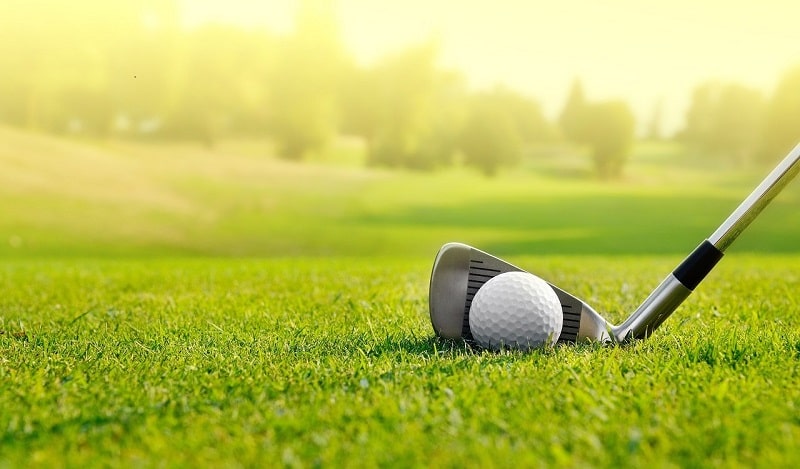 Fertilizer, lighting, and the layout of water hazards are additional factors that contribute to the evaluation of a golf course's quality.
The ability to coordinate the course is important
On average, a round of 18 holes takes about 4 – 4.5 hours to play. However, factors such as crowded conditions, inflexible course coordination, or inexperienced players can prolong this time. Being stuck on the course can lead to player discomfort.
Therefore, experienced golfers often choose courses with good course coordination to ensure an uninterrupted and timely game experience.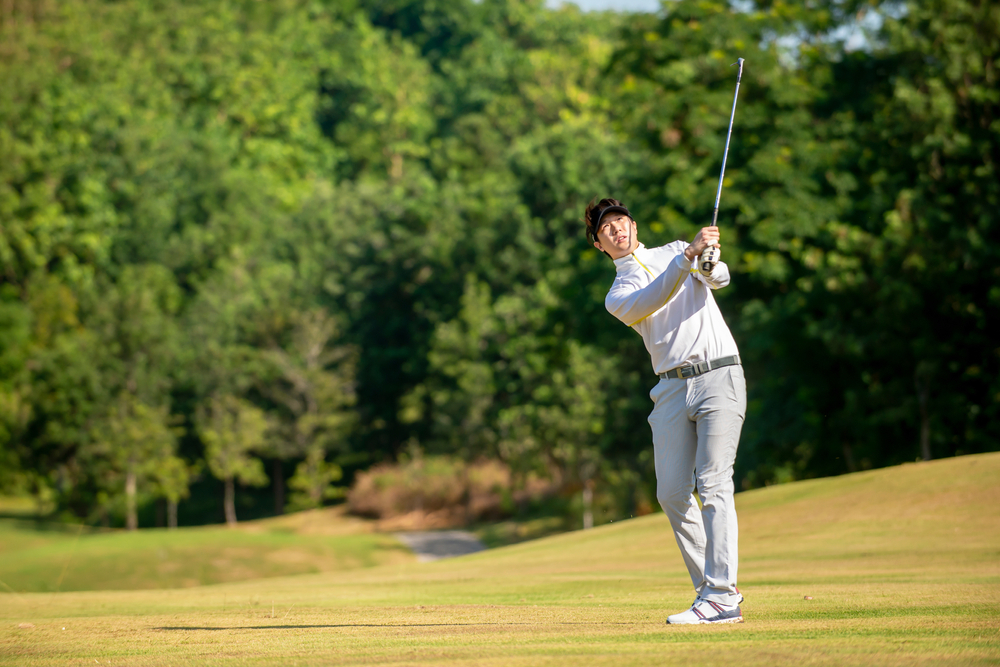 Additional services at the golf course
It is essential for golfers to supplement their physical strength and nutrition before and after playing. World-class golf courses always provide areas that specialize in serving refreshments and water for golf guests, accompanied by relaxation and care services such as locker rooms, massage chairs, and sauna rooms.
Additionally, the staff's friendliness and professionalism at the golf course is a critical factor in improving the course's reputation in the customers' eyes. Despite the high prices, many people are willing to spend money to receive attentive service of the same quality.
Top 8 best quality golf courses in Hanoi
1. Hanoi Golf Club (Minh Tri Golf Course)
Address: Minh Tri Commune, Soc Son District, Hanoi.
With an amazingly large area of ​​up to 108 hectares, Hanoi Golf Club (also known as Minh Tri Golf Course) is located on the outskirts of Hanoi, 15 minutes from Noi Bai Airport and the city center. 40 minutes by car. The golf course was built at the foot of Soc Son mountain, known as the first golf course in Vietnam designed by a Japanese architect in the Japanese style.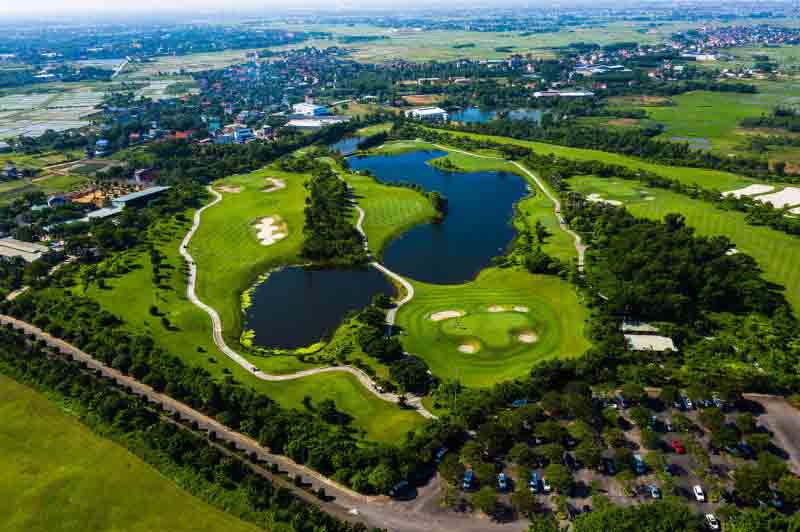 The course has been operational since 2016 and has continuously undergone repairs and upgrades. The Minh Tri golf course meets international standards and consists of 27 holes. It has hosted numerous major golf tournaments and is a popular choice for golfers in Hanoi and the Northern region of Vietnam.
The Hanoi Golf Club provides various amenities for players to utilize, including evening lighting systems and a tram system to transport players throughout the course.
Hanoi Golf Club price list:
9 Holes
18 Holes
27 Holes
36 Holes
(0.5R)
(1.0R)
(1.5R)
(2.0R)
Membership
621,000
989,000
1,449,000
1,863,000
Family Membership (Weekdays).
851,000
1,380,000
2,070,000
2,645,000
Family Membership (Weekend)
1,081,000
1,725,000
2,645,000
3,335,000
Non-members (Weekdays).
966,000
1,495,000
2,300,000
2,875,000
Non-members (Weekends from 5:00 am to 11:30 AM)
1,541,000
2,829,000
4,209,000
5,543,000
Non-members (Weekends after 11:30 AM)
1,311,000
2,185,000
3,335,000
4,255,000
2. MIPEC Le Trong Tan Golf Club.
Address: No. 8 Le Trong Tan (intersection Truong Chinh – Ton That Tung).
MIPEC golf course is invested and built by Military Petrochemical Joint Stock Company, officially put into operation in August 2015. The course area is up to 25,000 m2, divided into two main areas including training and learning fields. golf institute and support and service counters. Situated in central Hanoi, MIPEC offers a convenient location for golfers to unwind and enjoy themselves after a stressful day of work without having to travel too far away from the city.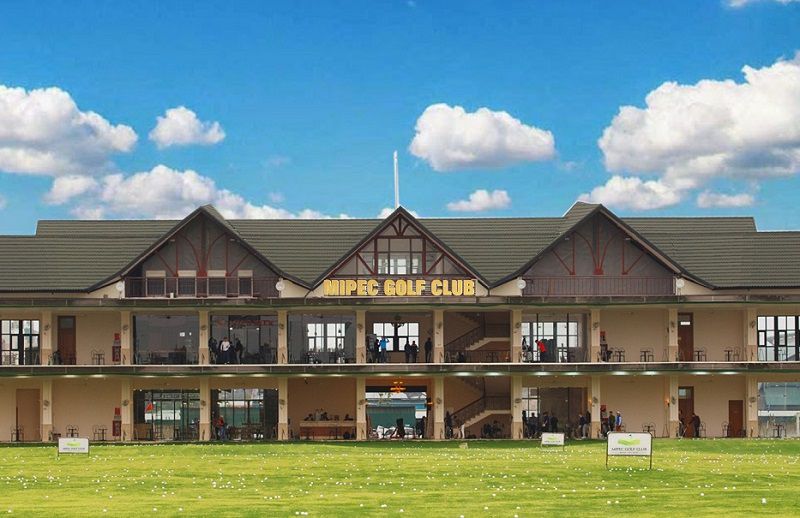 The layout of the course at MIPEC Golf Club adheres to contemporary golf course standards. The course spans more than 250 yards of natural grass and is equipped with top-notch amenities to ensure its longevity, as well as the most proficient support services.  Golfers can find solace and relaxation within the vast expanse of MIPEC Golf Club, which is located in the center of Hanoi and offers meticulous and committed services.
Price list of MIPEC golf course:
Weekdays
5:00 am -15:30 am: 100,000 VND / 100 ball exercises
15:30 – 22:00: 120,000 VND/ 1 00 ball practice
Weekend: 5:00pm – 10:00pm : 120,000 VND / 100 ball exercises
3. Long Bien Golf
Address: 918 Regiment Area, Phuc Dong Ward, Long Bien District, Hanoi
The Long Bien Golf Club, covering 119 hectares and consisting of 27 golf courses in accordance with PGA standards, is recognized as the inaugural and solitary golf course in the Northern region.
Nelson & Haworth Course Architects, a prominent golf course design firm, created and arranged the Long Bien Golf Club, which spans 119 hectares and features 27 golf courses that meet PGA standards.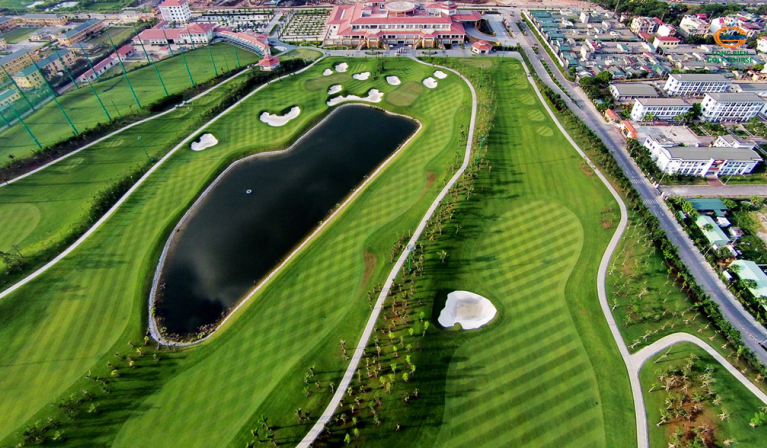 Long Bien Golf Club is a gathering place, helping golfers to assert themselves and also an ideal choice for those who are new to golf. With many geographical advantages, modern facilities and equipment according to international standards such as night-time lighting system, private changing room service, cover room,…
Long Bien Golf Price List:
STT
Charge

Green + Caddy + ½ Buggy

18 holes
1
Weekday

Monday

05h00 – 08h10
1.900.000
08h11-14h59
1.900.000
Từ 15h00
2.000.000
2
Weekday

Tuesday – Friday

05h00 – 08h10
2.200.000
08h11-14h59
2.000.000
Từ 15h00
2.200.000
3
Weekends & Special Occasion
05h00-10h29
2.700.000
10h30 – 15h45
2.700.000
Từ 15h46
2.400.000
4. Golf Eco Lake View
Address: 32 Dai Tu, Dai Kim ward, Hoang Mai district, Hanoi.
Despite its recent opening, Golf Eco Lake View has gained popularity among golfers in Hanoi and nearby regions. Its intricate design, which incorporates green lawns and hazardous sand traps, has made a significant impression on many skilled golfers.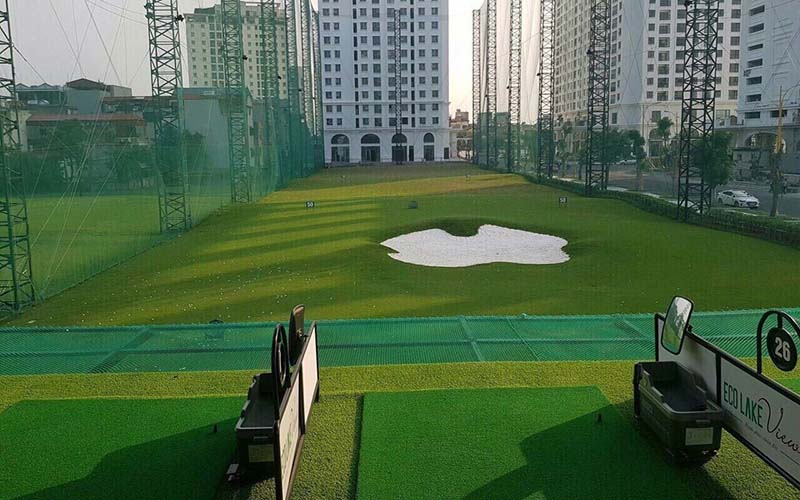 The golf course features cleverly and logically designed golf courses or holes on large sand dunes, surrounded by a green ecosystem, allowing players to enjoy unobstructed views of the surroundings. This is a significant difference from inner-city golf courses that are frequently hindered by buildings.
Although Golf Eco Lake View is not a high-investment golf course intended for hosting professional tournaments, it offers modern design and equipment that can fully meet customers' requirements, including rental shops for training equipment, high-quality standard lawns, and a constantly updated lighting system.
Price list for services at Golf Eco Lake View:
For customers who wish to practice hourly on the putting-chipping training ground can do so for 180,000 VND/hour (3,000 VND/minute) on weekdays and 210,000 VND/hour (3,500 VND/minute) on weekends and public holidays.
For customers using the golf ball service and renting the training ground is 60,000 VND/50 balls or 100,000 VND/100 balls from 6:00 a.m. to 2:00 p.m. and 70,000 VND/50 balls or 150,000 VND/100 balls from 2:00 p.m. to 10:00 p.m. on weekdays, weekends, and public holidays.
For sending golf clubs per month, the fee is 150,000 VND per guest, and customers who want to practice with golf instructors and coaches will be charged a 200,000 VND fee per course.
5. BRG Kings Island Golf Resort
Address: Dong Mo, Son Tay, Hanoi (36km from the city center)
BRG Kings Island Golf Resort (also known as Dong Mo golf course), designed in 1993 by Mr. Robert Mc. Farland – an American architect famous for big projects like Mission Hills (California, USA). The system of zones includes 3 main courtyards:
Mountain View Stadium
King Course (Practice Ground)
Lakeside Stadium
The Mountain View Course was designed by leading engineers and designers from Pacific Coast Designs to maximize the natural terrain and scenery available, and uses Novotec grass imported from Australia to ensure the best golfing experience for players.
One of the unique features of Dong Mo golf course is the natural water traps (Lakeside course), which are maintained by experts to provide the best natural conditions for players to enjoy.
In addition to the golf course itself, there are many other convenient facilities available to visitors, including a restaurant, Proshop, short training ground, outdoor swimming pool, storage room, and sauna.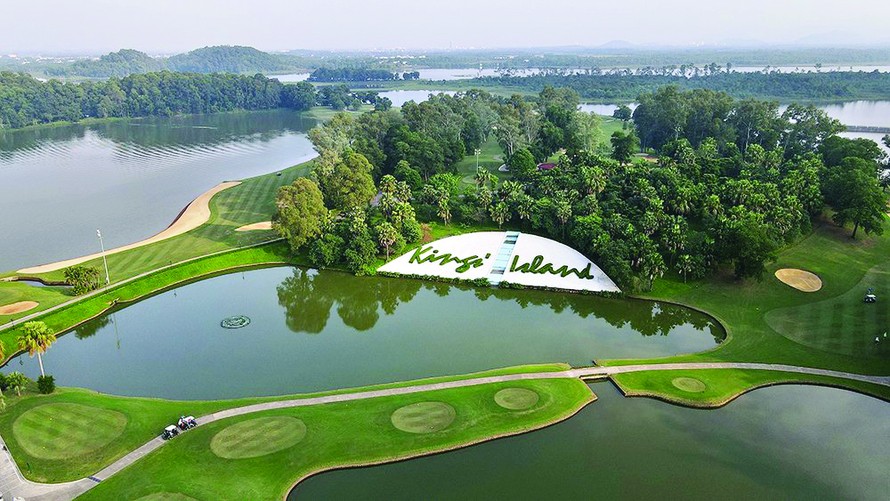 Price List of BRG Kings Island Golf Resort: Click here
6. Van Tri Golf Club
Address: Kim No Commune, Dong Anh District, Hanoi.
Van Tri golf course is located in Kim No commune, about 20km from Hanoi city center and 4km with Hanoi – Noi Bai highway. Compared to other suburban golf courses, this is a quite convenient location and not too far away from the city center.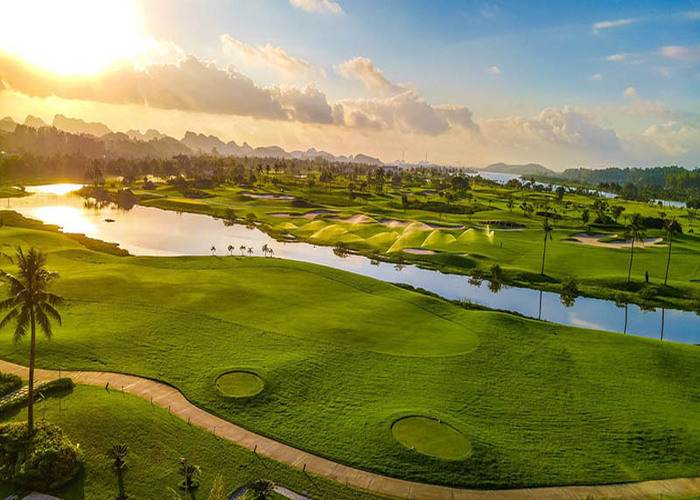 The highlight of Van Tri golf course lies in the design that is certified as "the most beautiful in Vietnam", "the most environmentally friendly" – with 18 holes designed by the talented architect Peter Rousseau. The holes are designed to be seamless and have no end point. The wide fairways along with the lay-up area are the outstanding features of the holes here, highly appreciated by many golfers.
The natural landscape at Van Tri golf course is a harmonious combination of water, sand, grass and trees, making the space surrounded by an endless green. The private golf course is only for members, limited to 400 to ensure players a quiet and comfortable space as possible. The golf course also serves other facilities such as a chain of restaurants, bars and coffee shops, room support, Jacuzzi bathroom,…
Price List of  Vân Trì Golf Club:
Membership Fee
Card type
Price (VNĐ)
Yearly
Member
50,490,000
Dual member (wife/husband)
25,245,000
Membership Card Fee
Personal
3,009,600,000
Company registered 1 person
3,611,520,000
Company registered 2 person
6,500,736,000
Company registered 3 person
9,751,104,000
Name change fee in company card
11,400,000
Transfer fee: 15% of the current card value issued by the club
7. My Dinh Pearl
Address: No. 1 Chau Van Liem Street, Me Tri Ward, Nam Tu Liem District, Hanoi
My Dinh Pearl is located right in the middle of the intersection of important roads: Chau Van Liem, Thang Long Boulevard and Phu Do overpass. The golf course's prime location is also near entertainment venues such as Hanoi Museum, BigC Thang Long Supermarket, My Dinh Stadium.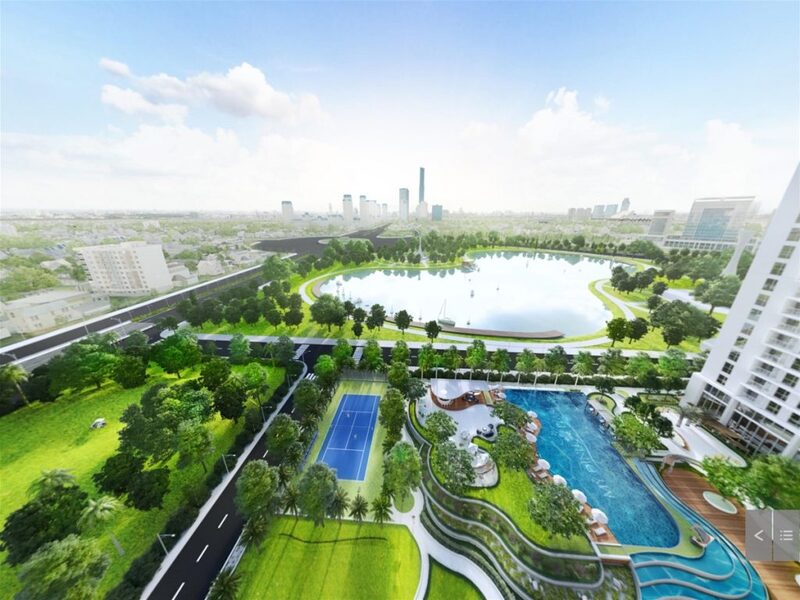 My Dinh Pearl Golf Course is invested and built by the Vietnam Oil and Gas Group. With an international standard design and spacious space (total area up to 210 yards divided into 2 floors with 54 golf lanes), the course is highly appreciated by golfers.
Because it is located in the middle of a residential area, the training ground is equipped with a standard net system to ensure the safety of people living around. Fan systems, lights and many modern equipment are also equipped to provide the best experience for players. The golf course also has facilities such as a cafe, a restaurant, a professional tool shop,…
Price list for My Dinh Pearl golf course: Contact the operator directly or choose services at the course.
8. Asean Golf & Resort
Address: 21 Hoa Lac commune, Thach That district, Hanoi (40km from the city center)
Located more than 40 km from the center of Hanoi, Asean Golf & Resort is a golf course with 9 holes design including 8 par 3 holes and a par 4 hole built on an area of 5 hectares winding around the golf courses. Villa with Ninh Kieu stream in four clear seasons.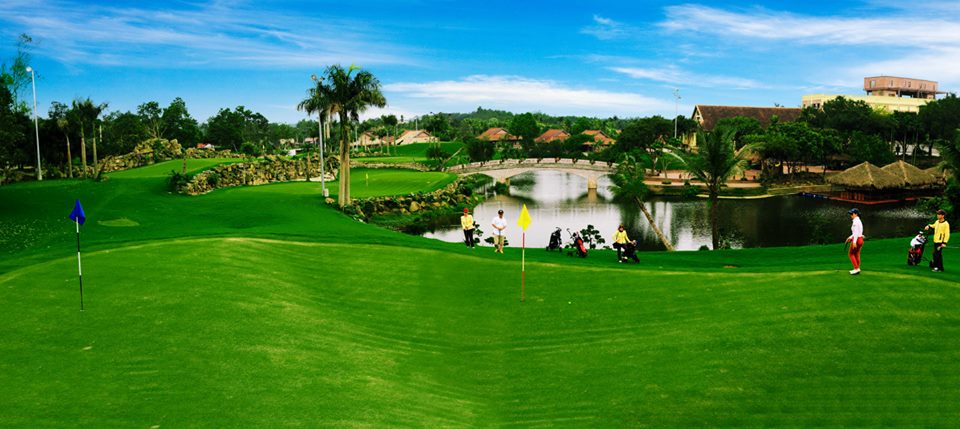 Due to being a resort, the golf course has a rather limited area, but in terms of utility, this becomes a big plus. When coming here, in addition to satisfying their passion for golf, golfers can also enjoy other high-class services of the resort. Asean Resort & Spa is known for its conference rooms meeting international standards and 100 rooms of villas and bungalows that combine traditional and modern styles.
Asean Golf & Resort price list: Contact directly for more details and update the latest price list.
In the above article, San Hotel has suggested some criteria for choosing a beautiful golf course and introduced you to 8 best quality golf courses in Hanoi. Hopefully after this article, you can choose a golf course that suits your needs and level, thereby finding relaxation and joy when conquering new challenges!
See more post: Top 8 best quality golf courses in Hanoi