Ho Chi Minh Mausoleum is an important construction in Vietnam that offers a unique opportunity to learn about the country's history and culture. Whether you're a history buffs or simply looking for an enriching experience, visiting this site should definitely be on your list of things to do in Vietnam, especially when you visit Hanoi. This article will give visitors helpful guide to have a remarkable experience while in Viet Nam.
Where's Ho Chi Minh Mausoleum located
Ho Chi Minh Mausoleum is located in the heart of Ba Dinh Square, at no.8 Hung Vuong street, Dien Bien ward, Ba Dinh district, Hanoi, Vietnam. It is easily accessible by public transport, taxi, or on foot. It's the final resting place of president  Ho, the most iconic and popular president of Vietnam, fondly called Uncle Ho. Vietnamese Government maintained his body here in a glass case in the Ho Chi Minh Mausoleum.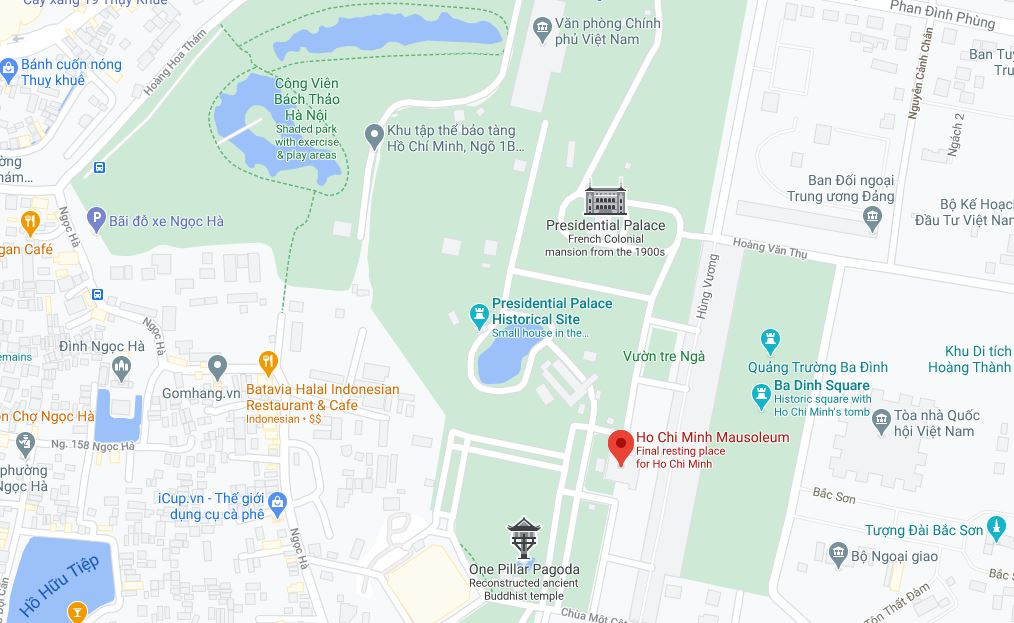 >>> See more: 10 things to do in Hanoi – Amazing traveling schedule you need to try!
History of Ho Chi Minh Mausoleum
Serving as the eternal abode of Ho Chi Minh, who is venerated as the founding father of Vietnam and the instigator of the Communist Party, the President Ho Chi Minh Mausoleum in Hanoi holds a special place in the hearts of all Vietnamese.
Following his passing in 1969, the government took the decision to preserve his remains and construct a mausoleum as a befitting tribute to his memory. Completed in 1975, the mausoleum houses his embalmed body, allowing countless people to express their deep respect and affection towards him.
As a result, it has evolved into a sought-after site, drawing in both tourists and locals who wish to pay homage to this esteemed figure of Vietnam. Situated at the heart of Ba Dinh Square, the Mausoleum's grandeur is a testament to Ho Chi Minh's enduring legacy.
>>> See more: Hanoi Ho Chi Minh mausoleum- one of the MUST-GO places in Vietnam
The meaning of Ho Chi Minh Mausoleum to Vietnamese
The Ho Chi Minh Mausoleum holds great significance for the Vietnamese people. It represents the deep respect, admiration, and reverence they have for Ho Chi Minh, who is considered a national hero and a key figure in Vietnam's history.
To the Vietnamese, the mausoleum serves as a symbol of national unity, independence, and the enduring spirit of the Vietnamese people. It stands as a reminder of the sacrifices made during the struggle for liberation from colonial rule and the subsequent efforts to build a unified and prosperous nation.
The mausoleum is also seen as a place of pilgrimage for Vietnamese citizens, who visit to pay their respects, express their gratitude, and seek inspiration from Ho Chi Minh's ideals and leadership. It is a site where people gather to honor his legacy and reaffirm their commitment to the principles of socialism and national development.
For many Vietnamese, visiting the mausoleum is a deeply emotional experience, reflecting their connection to their country's history and the values that Ho Chi Minh embodied. It provides a sense of pride, identity, and unity among the Vietnamese people and serves as a constant reminder of their shared heritage and aspirations for the future.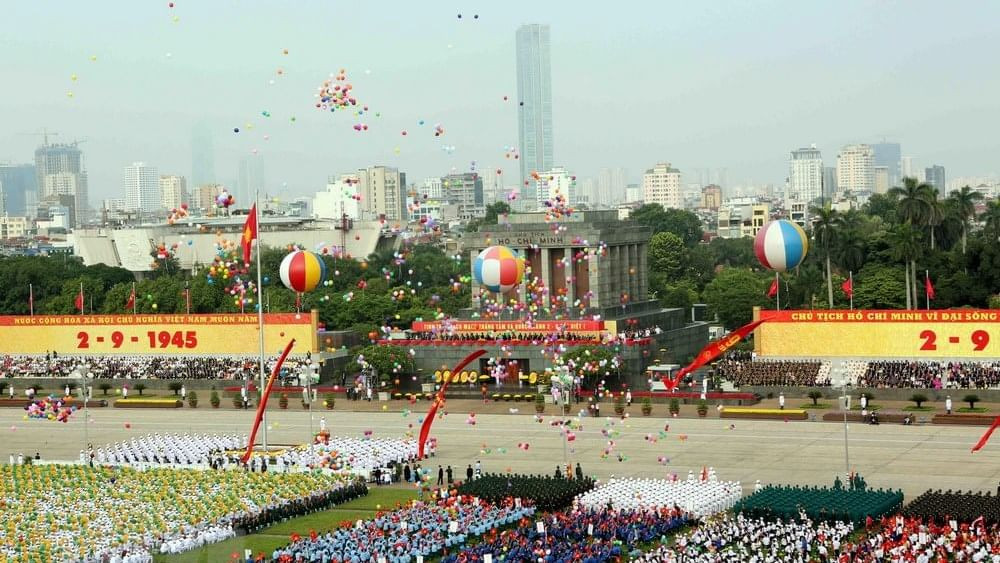 >>> See more: Ho Chi Minh Mausoleum: A Must-Visit Destination for Foreign Tourists
Things to do during your trip to Ho Chi Minh Mausoleum
Exploring Mausoleum's architectural framework
The Mausoleum of president Ho Chi Minh is made of gray granite and features a block-like structure with clean lines and sharp edges. The exterior is dominated by a large roof made of polished black stone, which represents the traditional Vietnamese "non la" hat. Inside the Mausoleum the embalmed body of "Uncle Ho" lies in a glass casket, which is placed on a copper bed with a pattern on it. When you enter this room you must be quiet and keep a respectful atmosphere.
Touring Ho Chi Minh Museum
In honor of president Ho's 100th birthday, Ho Chi Minh Museum was constructed within the Ho Chi Minh Complex. The museum, which resembles a massive white flower standing at about 20 meters tall and has a unique addition to the complex. The museum consists of a collection of rare historical artifact, miniatures, and various gifts gathered from nationally and internationally. 
Stoping by Presidential Palace Historical Site
The Presidential palace historical site has 3 iconic buildings. The Presidential palace is the biggest building that is supposed to serve Ho Chi Minh president residence and working place but he refused to stay. He claimed that it would not be appropriate for him to stay in a large and expensive house while people are starving and suffering from war. He chose House no.54 to be his house . His Modesty is why House no.54 is the most iconic building. When you put yourself in 
Visiting the One Pillar Pagoda
Featuring a unique architectural design and steeped in a history that spans a thousand years, the One Pillar Pagoda stands as a remarkable emblem of Hanoi – Vietnam's capital. The captivating beauty of this place is something you should not miss, making it an indispensable stop on your journey.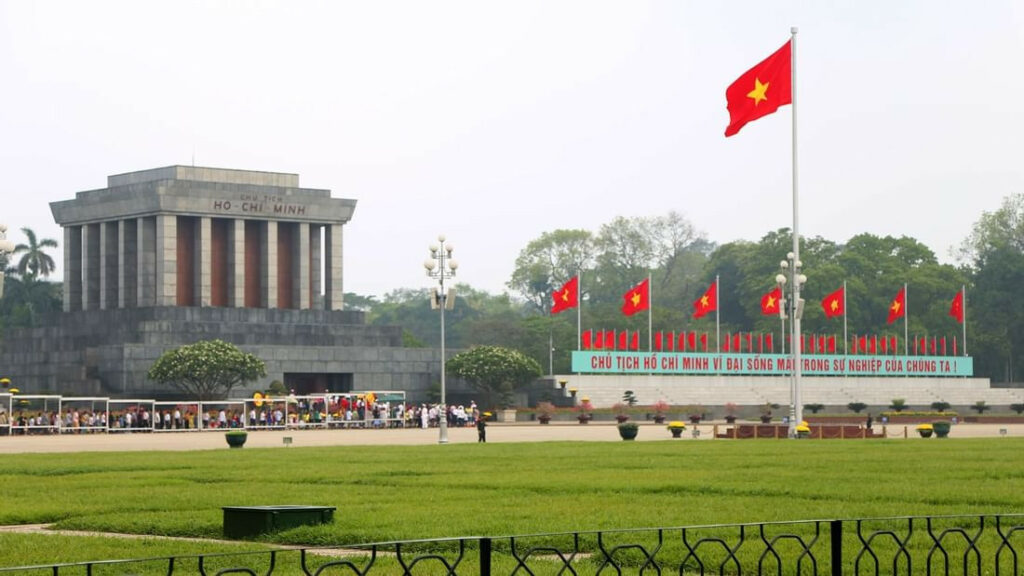 When Is The Best Time To Visit Ho Chi Minh Mausoleum?
The best time to visit Mausoleum is summer, from April to the beginning of November, the mausoleum is open from 7:30 am to 10:30 a.m. On Weekends and holidays, the mausoleum is open til 11:00 a.m . In winter, from November to March next year, the mausoleum is open from 8:00 am to 11:00 am. For Saturday, Sunday and public holidays, the mausoleum is open from 8 am to 11:30 am.
Ho Chi Minh Mausoleum is usually open every mornings of the week except for Mondays and Fridays.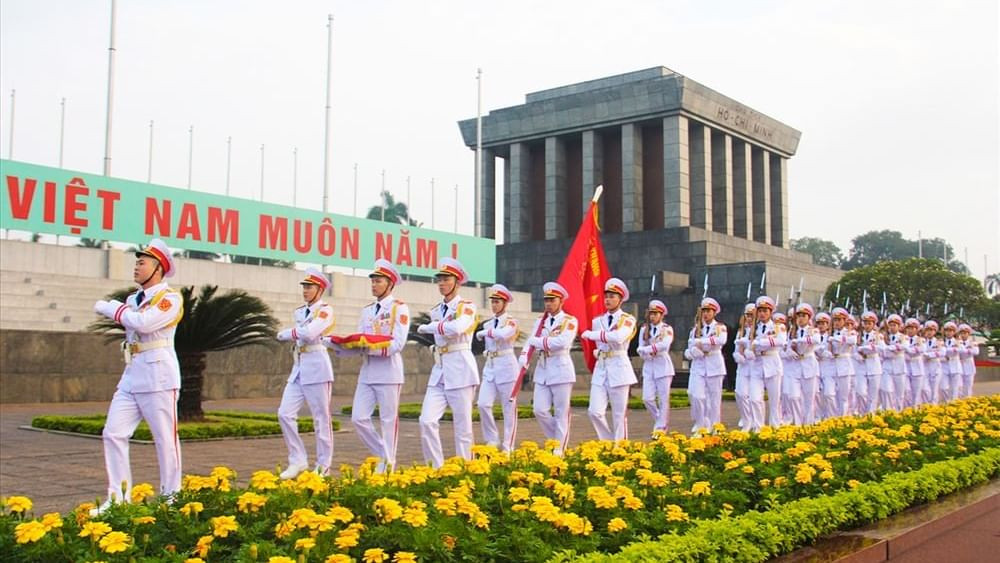 Some tips that you should know before visiting
Dress formally and be respectful: Visitors are required to follow a strict dress code and conduct themselves in a respectful manner.

Follow the visitor line.

Don't touch anything while you in the Mausoleum.

Do not bring food or drinks outside.

Don't take any photo or even a drawing.

Follow all posted rules on the wall.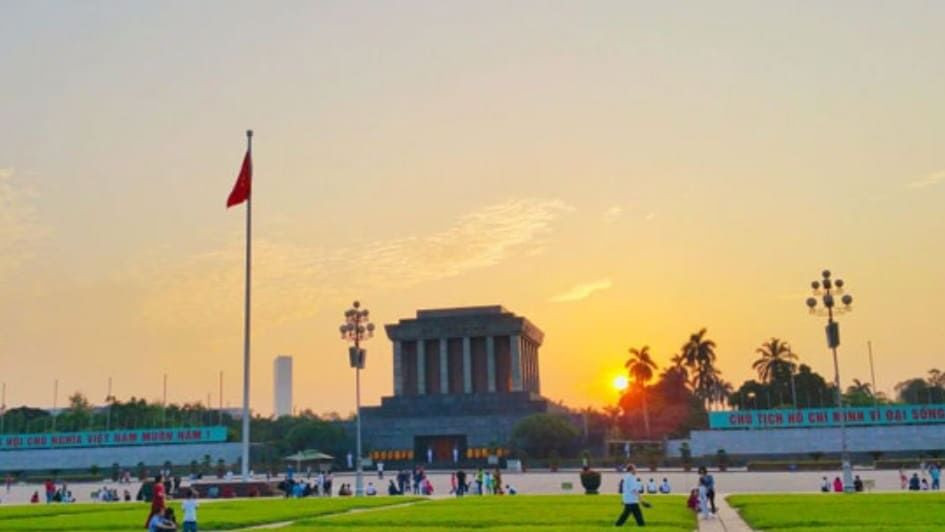 San Hotel Series – Best place to stay near Ho Chi Minh Mausoleum
Immerse yourself in the enchanting ambiance of Hanoi's Old Quarter with the extraordinary San Hotel Series. This collection of boutique hotels, nestled in the heart of the city's historic district, offers an unparalleled experience of luxury and sophistication.
Each hotel within the San Series boasts its own distinctive character, ensuring that every guest enjoys a personalized and memorable stay. Whether you seek a romantic retreat, a delightful family vacation, or a seamless business trip, the San Hotel Series provides accommodation tailored to your desires.
Positioned at a prime location, these hotels grant guests effortless access to Hanoi's captivating attractions. Indulge in the vibrant tapestry of flavors offered by the bustling street food scene, explore the rich history embodied in the nearby landmarks, or lose yourself amidst the energetic ambiance of the local markets. The San Hotel Series ensures that you are at the heart of the action, allowing you to fully immerse yourself in the charm and comfort of Hanoi's Old Quarter.
Let the San Hotel Series be your gateway to an unforgettable experience, where exceptional amenities and personalized service combine to create a truly remarkable stay in one of the most captivating parts of Hanoi.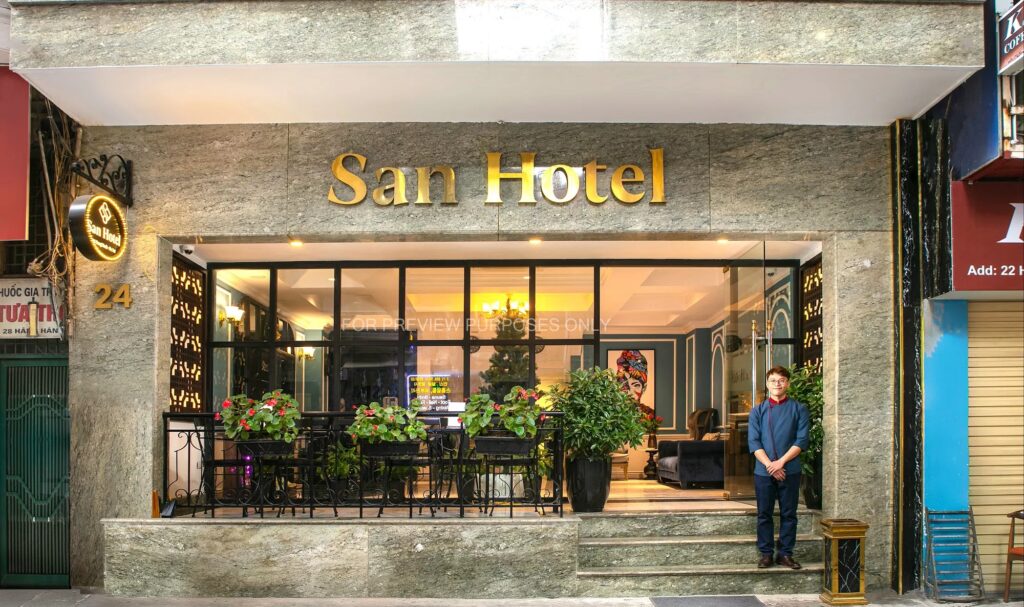 >>> See more: Stay hotel near Old Quarter Hanoi – Experience Authentic
————————————————–
Contact information: 
Email: info@sanhotelseries.com
Hotline: (+84) 812 351 640