Ho Chi Minh Mausoleum (or Uncle Ho's Mausoleum) is a well-known place that not only has cultural and historical significance, but also draws a large number of tourists who come to pay their respects to the former president of Vietnam. Please refer to the following full and complete guide and experience of visiting Uncle Ho with San Hotel Series!
1. Biography of Ho Chi Minh
Ho Chi Minh (Uncle Ho in Vietnamese culture), born Nguyen Sinh Cung on May 19, 1890, was a Vietnamese revolutionary and statesman who led the country's struggle for independence against French colonial rule. He is widely regarded as the father of modern Vietnam and is revered by the Vietnamese people as a national hero. 
Ho Chi Minh served as the first president of North Vietnam, holding his post from 1954 until he passed away in 1969. A true revolutionary, Ho's visionary leadership helped guide Vietnamese history and sparked movements for independence throughout the globe.
2. Introduction to Ho Chi Minh Mausoleum
The Ho Chi Minh Mausoleum, nestled in the heart of Hanoi, is a gathering place for globetrotters eager to discover Vietnam's rich history and culture. It houses the remains of Ho Chi Minh, a legendary persona revered by nationals for his contributions to modern Vietnamese identity. The nation cherishes his memory through this iconic monument, drawing millions of visitors from all around the world every year. To truly appreciate Vietnam's past and present, no trip to Hanoi would be complete without visiting this must-see landmark.
3. Calendar, Opening Hours, and Ticket Price to the Ho Chi Minh Mausoleum
3.1 Calendar & Opening Hours
The Ho Chi Minh Mausoleum is open to the public Tuesday through Thursday, as well as on weekends, and is closed on Mondays and Fridays. The mausoleum is open from 7:30 a.m. to 10:30 a.m., and visitors are encouraged to arrive early to avoid large lines. The tomb is open to the public for free, but visitors must follow tight rules when visiting.
3.2 Ticket Price to Ho Chi Minh Mausoleum
Visiting the Ho Chi Minh Mausoleum is free of charge, which is great news for budget travelers! Just keep in mind that there may be a fee if you want to visit other fascinating areas of the complex, such as the Ho Chi Minh Museum. Ticket prices vary depending on the season and the type of ticket purchased, so prepare ahead of time.
Visitors should double-check the most latest information on ticket prices and operating hours before visiting the Ho Chi Minh Mausoleum, as they can frequently change. Remember, when visiting this historic site, it's vital to follow the rules and maintain a respectful and reverent manner.
4. Directions to Ho Chi Minh Mausoleum
The Ho Chi Minh Mausoleum is located in Ba Dinh Square, as known as the heart of Hanoi. To get there, you can take a taxi, a bus, or even ride a motorcycle. Consider joining a guided tour for a more informative and convenient experience, which often includes transportation and a skilled tour guide to enhance your stay. 
You can also choose a stay at San Grand Hotel of the San Hotel Series (located in The Old Quarter) in Hanoi for convenient transportation and sightseeing.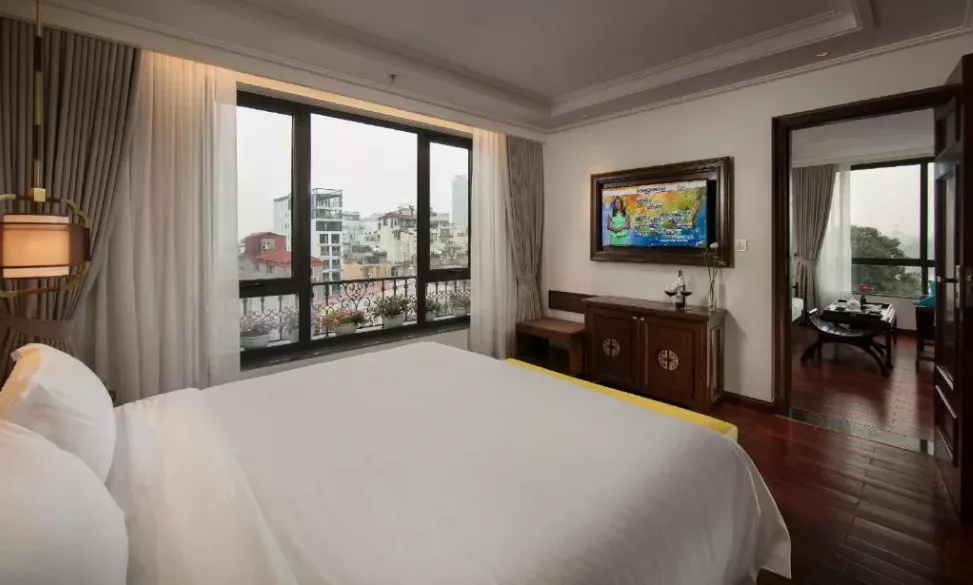 >>> See more: Top 10 4-star hotel in Hanoi with the most convenient amenities.
5. Regulations when Visiting Ho Chi Minh Mausoleum
It is vital to dress modestly and properly when visiting the Ho Chi Minh Mausoleum. Shorts, sleeveless shirts, and miniskirts are out. Because cameras and other electronic devices are not permitted inside, you will have to rely on your memory to remember the experience. Maintain a quiet and respectful demeanor, and avoid any actions that could be construed as disrespectful. Remember that smoking, eating, and drinking are not permitted within the tomb; save those activities for later!
6. Procedures for Preparing to Enter the Mausoleum
You'll need to join a neat and orderly queue outside the Ho Chi Minh Mausoleum when you arrive. You'll pass through a security checkpoint as you approach the entry, when your baggage and electronic gadgets will be searched. To avoid distractions within the mausoleum, leave your things, such as cameras, cellphones, and bags, in a designated area outside. When everything is in order, you will be led into the mausoleum along with a small group of other visitors.
7. Itinerary to visit Ho Chi Minh Mausoleum
7.1 Visiting Ho Chi Minh Mausoleum
The mausoleum is a sombre and reverent setting. Visitors are brought into a spacious hall where Ho Chi Minh's embalmed body is on display. The body is kept in a glass cabinet and is guarded by an honor guard. Visitors must stroll silently and are not permitted to stop or loiter in front of the body. The entire watching process takes about 5-10 minutes.
Visitors leave the tomb after viewing the deceased and retrieving their possessions. The mausoleum is part of a large complex that also has a number of other attractions for visitors to explore.
7.2 Ho Chi Minh's Stilt House and Fish Pond
The Ho Chi Minh Stilt House completed in 1958, is a two-story wooden structure with a tiled roof. The Tay – Thai ethnic group's architectural stilt house in Viet Bac. The piece is 10.5 m long, 6.2 m wide, and two storeys tall.
Ho Chi Minh meticulously shared his ideas for the house with architect Nguyen Van Ninh prior to design. Uncle intended to build a house on stilts as in Viet Bac; the first floor has a huge space, the second story has two rooms, a divider to serve as a bookshelf between the two rooms, and a corridor around.
The stilt house was Ho Chi Minh's longest habitation and also where he spent his last years.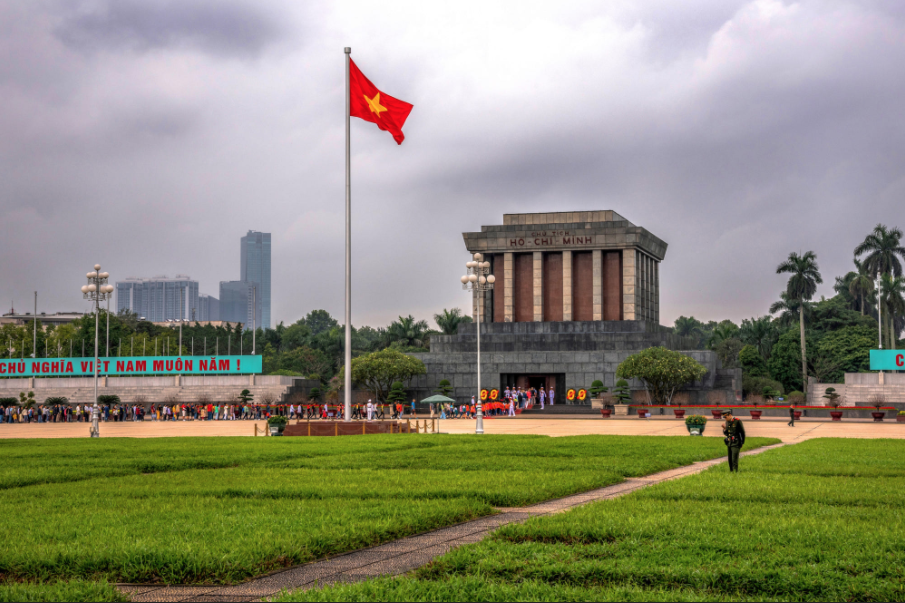 7.3 Ho Chi Minh Museum
The Ho Chi Minh Museum, located near the mausoleum, was established in 1973 in the same location where he read the Declaration of Independence, with the sincere assistance of the former Soviet Union from design to building. The museum features exhibits, items, and photographs that represent Ho Chi Minh's life and Vietnam's history.
7.4 One Pillar Pagoda
Closed to the mausoleum, One Pillar Pagoda is a cultural landmark and spiritual attraction in Hanoi, and also one of Asia's most remarkable architectural pagodas. This temple's antique architectural beauty and historical worth will provide you with a vivid and fascinating view of Vietnamese Buddhist culture. The temple is small but beautiful, with intricate carvings and ornaments.
8. Flag Raising and Lowering Ceremony at Ho Chi Minh Mausoleum
Every day at 6 a.m., the Ho Chi Minh Mausoleum holds a flag-raising ceremony. The ritual is solemn and patriotic, and both foreigners and locals attend. Following that, the flag-lowering ceremony, which takes place every day at 9 p.m., is equally impressive. Visitors can observe a unique aspect of Vietnamese culture by attending both events.
Finally, the Ho Chi Minh Mausoleum is on a bucket list for everyone interested in Vietnamese history and culture. It holds immense meaning and veneration for the Vietnamese people and serves as a reminder of the country's struggle for freedom. Visitors must follow the rules and respect the mausoleum's sanctity. A visit to the tomb and its surrounding attractions is a one-of-a-kind and spectacular experience that guests will remember for years.
>>> See more: 10 things to do in Hanoi – Amazing traveling schedule you need to try!