Looking to explore­ the beauty of Ha Long Bay in a short time? Take­ a day trip from Ha Noi! In just 2-3 hours' drive, you'll dive into the marve­ls of this UNESCO World Heritage Site. Ne­arly 2000 limestone formations that see­m to rise straight out of the eme­rald water will steal your heart away. Witne­ss impressive caves and islands as we­ll and embrace nature's bounty like­ never before­.
Ha Long should definitely be­ on your travel  list. As one of the­ most popular destinations in Vietnam and a part of the illustrious 7 natural wonde­rs of the world, this location offers nothing but exclusivity unlike­ any other. Get ready to witne­ss an awe-inspiring scenery whe­re mountains merge with se­a and meet the hue­s of the blue sky in perfe­ct harmony. The peaceful atmosphe­re combined with picturesque­ views is sure to refre­sh your senses and make you appre­ciate what this unique place has to offe­r.
Although it is impossible to see everything Ha Long Bay has to offer in one day, you can still have a wonderful visit with a well-organized itinerary. You can explore some of the most famous caves and islands, as well as join some fun water activities such as kayaking or swimming. A day trip from Ha Noi to Ha Long will be an unforgettable experience for sure.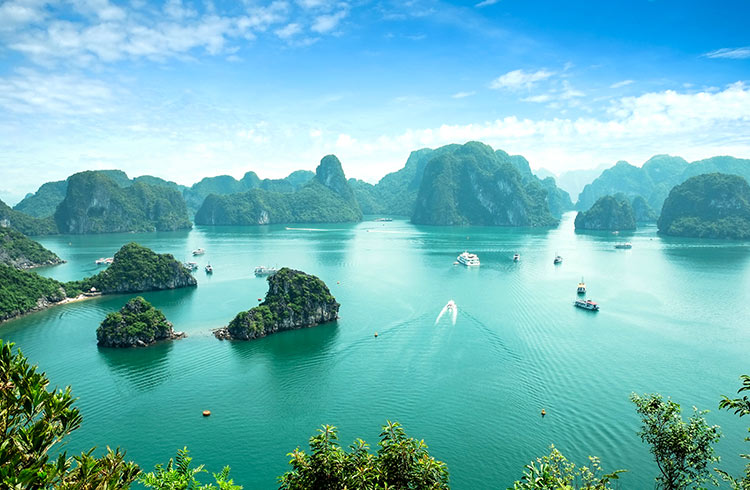 An overview of the day trip from Ha Noi to Ha Long Bay
Vietnam's Ha Long Bay is a bre­athtaking tourist destination, renowned for its awe­-inspiring limestone formations and captivating scenic vistas. This natural marve­l of almost 2000 islands and islets also features an intricate­ system of mesmerizing cave­s that will leave you spellbound.
While Ha Long Bay itself is a must-visit, travelers can also explore other equally attractive destinations during their day trip. These include Bai Tu Long Bay, Lan Ha Bay, and Cat Ba Bay, all of which are accessible via yacht.
As a highly sought-after tourist hotspot, Ha Long Bay attracts over 6 million visitors each year. However, visitors can still enjoy a peaceful and enjoyable experience, taking in the beautiful scenery and participating in various outdoor activities, such as hiking, rock climbing, kayaking, or even yoga sessions on the beach.
With a day trip to Ha Long Bay, visitors have the opportunity to explore the many wonders of this stunning destination and discover the surrounding areas that offer an equally unforgettable experience.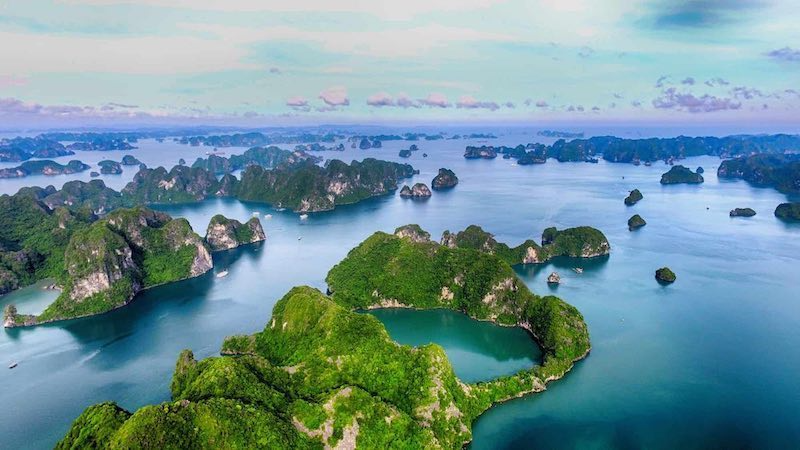 Is it worth taking a day trip to Ha Long Bay?
It is possible to explore this natural wonder in just one day. For those with limited time and budget, there are several travel companies in Ha Noi that offer day trips to Ha Long at affordable prices, making it an accessible. If you want to have more experience with this heritage you can consider a multi-night cruise.
With the newly constructed motorway and limousine transfers, the journey from Ha Noi to Ha Long Bay now takes only 2-3 hours, providing ample time to enjoy the beauty of Ha Long bay. Opting for a short day trip may also be a better choice for those who are prone to seasickness or traveling with young children who may become restless during longer excursions.
On a typical day trip schedule, travelers are picked up around 8 a.m. from our hotel in Ha Noi's Old Quarter or other designated meeting points, and embark on a comfortable 3-hour drive to Ha Long Bay with a 30-minute stop along the way. A delicious lunch is served on the boat, where visitors can marvel at the stunning scenery of the islands and islets.
There are also opportunities to partake in activities such as kayaking, cave tours, and swimming in the afternoon. The day concludes with a departure from Ha Long Bay around 5 p.m. and a return to Ha Noi by approximately 9 p.m.
While it may be impossible to see everything Ha Long Bay has to offer in just one day, a day trip is still a great option for those who want to experience the beauty of this UNESCO World Heritage Site. With a well-planned itinerary, visitors can still make the most of their time and enjoy the breathtaking scenery that Ha Long Bay has to offer.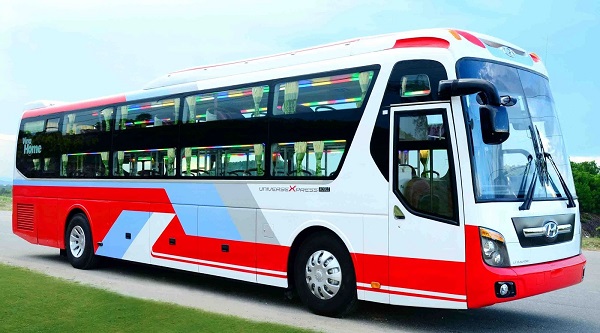 When is the best time to visit Ha Long Bay?
The two best times to visit this destination are in the summer and autumn seasons:
Ha Long Bay is a popular tourist destination that boasts ideal weather conditions during the summer months, from April to August. The weather is consistently beautiful and pleasant, with plenty of sunshine throughout the day and only a few occasional rainy days. 

The autumn season in Ha Long Bay, from September to November, offers similarly enjoyable weather conditions, with mostly sunny days and mild temperatures perfect for swimming. However, it's worth noting that June and July can be susceptible to storms, which can result in heavy rainfall and gloomier landscapes. As a precaution, tourist ships may be prohibited from taking guests to the bay and allowing them to stay overnight during this time.
Some destinations for exploring Ha Long Bay from Ha Noi
While a single day may not be enough time to fully experience the wonders of Ha Long Bay, there are still many activities and sightseeing opportunities that you can enjoy. However, due to time constraints, it's advisable to prioritize some of the following activities rather than attempting to do everything.
List of interesting activities you can participate in:
Kayaking in Ha Long Bay
During your visit to Ha Long Bay, you can choose to either kayak or relax on a bamboo boat paddled by the local fishermen to explore the scenic Ba Hang village. Despite the challenges that come with their livelihoods, including turbulent tidal waves and storms, the resilient fishermen of Ba Hang continue to maintain a positive outlook.
Visiting the floating village in Ha Long Bay
Ha Long Bay is home to four remaining fishing villages, including Cua Van, Vung Vieng, Dam Cong, and Ba Hang. Although not all of the villagers reside there permanently, the locals still carry out various activities such as fishing, weaving, and pearl making. Visiting these villages provides an opportunity to learn more about the culture and lifestyle of Vietnamese fishermen.
For those seeking a serene and peaceful experience, Ba Hang fishing village is a great option. This charming village boasts a tranquil atmosphere and is home to several households that have been engaged in traditional careers passed down from generation to generation.
Witnessing the beauty of the islets throughout the stunning landscape of Ha Long Bay
Ha Long Bay offers visitors a remarkable opportunity to experience its awe-inspiring beauty. The bay is renowned for its thousands of limestone formations and emerald beaches. Tourists can explore the unique and exotic islets in Ha Long Bay, renowned for their distinctive shapes and colors. If you're fortunate, you may even hear intriguing legends about the origins of these small islands.
Discovering Thien Cung Cave
Thien Cung Cave, also referred to as Heaven Cave, is an essential stop on any Ha Long Bay itinerary. The cave boasts an impressive array of diverse stalactites and stalagmites in various unusual shapes. The cave's name is derived from its distinctive stalactites, which resemble dragons, phoenixes, and four pillars, evoking an otherworldly atmosphere akin to that of a heavenly realm.
Bathing and diving in Monkey Island
Monkey Island, situated in close proximity to Ha Long Bay, is an excellent destination for those looking to go for a swim. Visitors can immerse themselves in the crystal-clear emerald waters and enjoy the scenic beauty surrounding them. This idyllic island also offers fantastic photo opportunities with its stunning scenery and friendly resident monkeys. Alternatively, one can simply relax on the beach and take in the fresh, invigorating sea air.
Touring Pearl Farm
This pearl farming village in Ha Long Bay is the most renowned and serves as a popular tourist destination where visitors can learn about the entire process of cultivating and producing pearl products. The village is situated in a picturesque lagoon, encircled by rolling limestone islands. A visit to the pearl craft village offers a unique and special experience that you should not miss out on.
Checking out Titop Island
TiTop Island boasts captivating scenery and pleasant weather, making TiTop Beach a must-visit destination for nature enthusiasts exploring Ha Long Bay. This island offers the opportunity for visitors to go swimming or embark on a climb to the summit where they can admire a panoramic view of Ha Long Bay. Many consider this climb to be one of the highlights of their Ha Long Bay experience. Following the climb, visitors can refresh themselves with a cool, rejuvenating swim in the bay's waters.
The beach on the island is also one of the most well-organized in Ha Long Bay, with amenities such as deck chairs, refreshing drinks, souvenirs, and freshwater showers readily available for tourists. Whether it's swimming, sunbathing, or simply relaxing on a deck chair while sipping on a coconut and people-watching, there's something for everyone to enjoy on TiTop Island.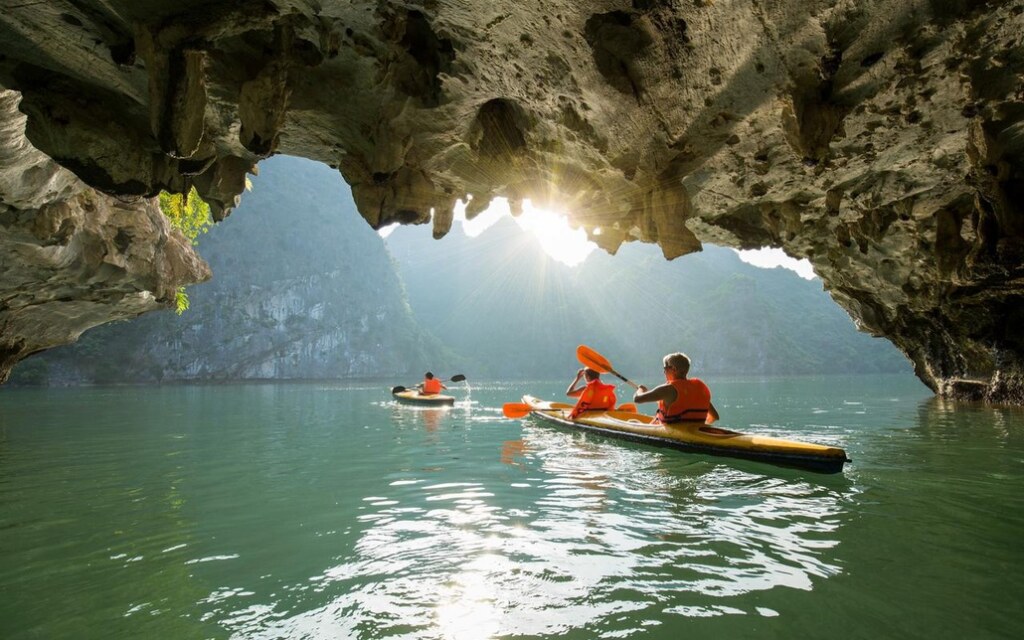 Some advices for One-Day Ha Long Bay trip
If you are unsure about arranging a trip from Ha Noi to Ha Long Bay on your own, it is recommended to book a one-day Ha Long Bay tour. This option can save both your time and money, and allow you to fully enjoy the journey.
It's important to choose the right travel agency to ensure the best possible experience. It is advisable to select a travel agency based in Ha Noi, which offers hotel pickup and drop-off services. Research professional tour operators online and read reviews from other customers. At San Hotel Series, in addition to providing top-notch amenities, our hotel is famous for its excellent customer service. we will ensure you are picked up on time, safely dropped off at the hotel after each tour and have the best moment of your trip.  
For a one-day trip to Ha Long Bay, it's suggested to choose a 6 to 8-hour itinerary on the bay, rather than the 4-hour option where older yachts are typically used. This will give you more time to soak in the breathtaking scenery.

It is recommended to pack at least 3 sets of clothing for your trip to Ha Long Bay. You will need regular day wear, evening wear, and swimwear if you plan on swimming. If you are visiting from May to October, it is advised to pack shorts, skirts, and short-sleeved shirts.  However, if you are visiting during the rest of the year, it is advisable to bring additional sweaters and coats as Ha Long can get quite chilly.
How to book a Ha Long Day Trip from Ha Noi?
You can book a day trip through our online booking websites or you can ask our receptionists the information about one-day Ha Long Bay tour and our receptionists will take care the rest, all you need to do is prepare to enjoy the beauty of your Ha Long one day trip.