Why San Hotel Series is the perfect choice for travelers in Hanoi?
San Hotel Hanoi is a leading chain of boutique hotels in Hanoi, offering guests a premium and convenient accommodation experience. Located in the heart of the Old Quarter, the most vibrant and historic area of the city, San Hotel Series provides convenience in exploring Hanoi's rich cultural heritage and famous attractions.
Not only does San Hotel Series offer luxurious accommodations, but it also provides a wide range of amenities including a spa, bar, and restaurant. Guests don't need to worry about finding entertainment options as they can find everything they need right here. The spacious rooms are clean and well-equipped with modern amenities such as air conditioning, flat-screen TVs, and complimentary Wi-Fi. The comfortable beds and well-maintained bathrooms with hot showers ensure guests enjoy a comfortable and convenient stay. Additionally, the hotel offers an afternoon tea service with a variety of pastries and beverages, providing guests with a delightful experience during their travels in Hanoi.
Furthermore, the soundproof windows at San Hotel Series guarantee a peaceful and quiet stay despite the lively surroundings. The staff at the hotel are friendly, knowledgeable, and always ready to assist guests with any requests. From complimentary airport pick-up to daily free breakfast, guests can expect excellent service throughout their stay. The hotel staff is also happy to help with tour bookings, providing information about local attractions and recommending exceptional local restaurants.
Not only renowned for their outstanding service, but San Hotel Series also takes pride in its stunning rooftop bar and fancy restaurant. Here, guests can indulge in a variety of delicious dishes while enjoying a romantic ambiance and a breathtaking view of Hoan Kiem Lake. The Sky Bar provides a panoramic view of Hanoi's city center, allowing guests to savor exquisite cuisine while taking in the magnificent scenery. Meanwhile, the restaurant of San Hotel Series serves unique and delectable dishes that satisfy even the most discerning guests.
San Hotel Series is the ideal choice for travelers seeking a memorable and convenient stay in Hanoi. With its prime location, luxurious rooms, excellent service, and the added bonus of a spectacular rooftop bar and restaurant, San Hotel Series ensures an unforgettable experience for every guest.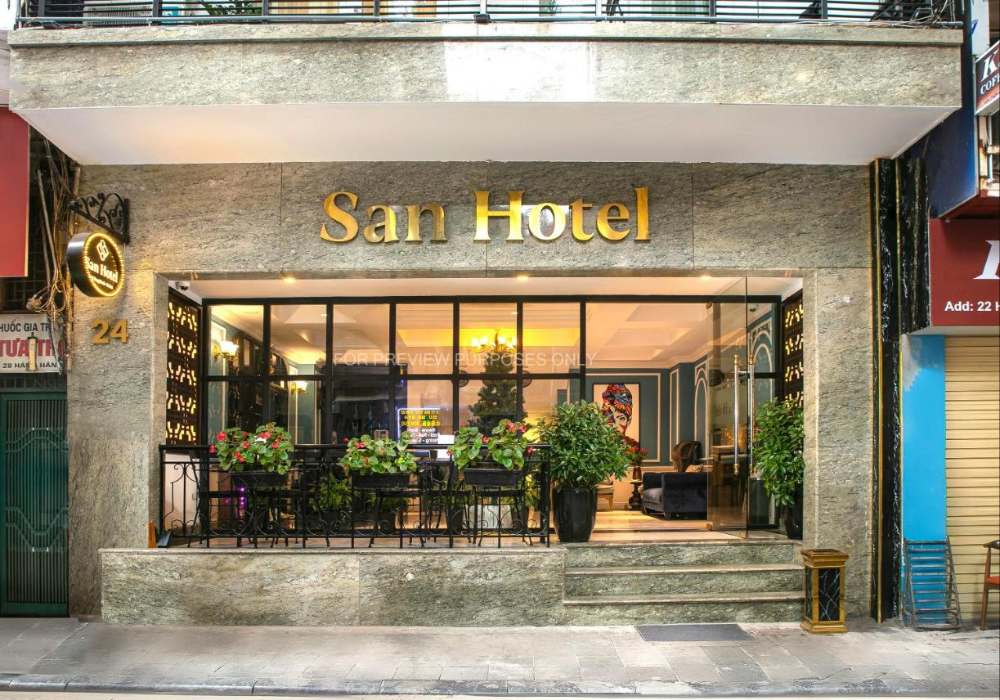 The hotels of San Hotel Series
San Grand Hotel
San Grand Hotel is not just any hotel offering high quality service, but a story of history intertwined with the love for Vietnam, the country of the owner's Vietnamese-French heritage. As a result, all services provided by the hotel reflect a Vietnamese cultural touch while maintaining international standards.
Moreover, the hotel takes pride in the quality of its accommodations. With 40 rooms and suites of various types, including standard, single, double, connecting, deluxe with a lake view, and high-class deluxe, the hotel can cater to up to 300 guests simultaneously. Each room is furnished with comfortable sofas, flat-screen TVs, minibars, and private bathrooms with both bathtubs and shower cabins. The spacious room areas ensure a comfortable and relaxing experience for tourists amidst the bustling old town.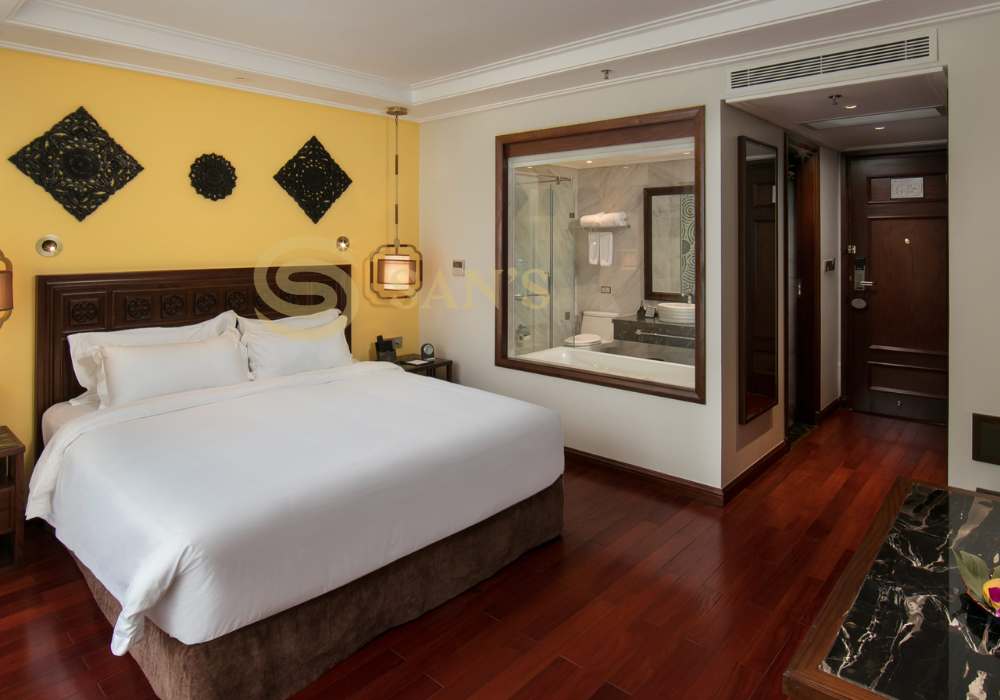 San Boutique Hotel
San Boutique Hotel, where you can immerse yourself in the beauty of Hanoi. Our boutique hotel, conveniently located in the city center, offers the perfect base for exploring and experiencing all that Hanoi has to offer. With the Old Quarter just 270 meters away, guests can fully immerse themselves in the rich culture and history of the city.
At San Boutique Hotel, our aim is to provide exceptional service and top-notch facilities to ensure an unforgettable stay. Stay connected with complimentary Wi-Fi access and enjoy the convenience of our airport shuttle services. Let us assist you in planning your adventures with our tour and ticket services, and take advantage of our dry cleaning and laundry services for a worry-free stay.
Our rooms are designed with your comfort in mind, featuring blackout curtains, air conditioning, and select rooms offering a balcony or terrace. Enjoy entertainment with cable TV or indulge in a refreshing drink from the small refrigerator available in some guest rooms. We understand the importance of bathroom amenities, providing towels, hairdryers, and toiletries in select rooms to enhance your stay.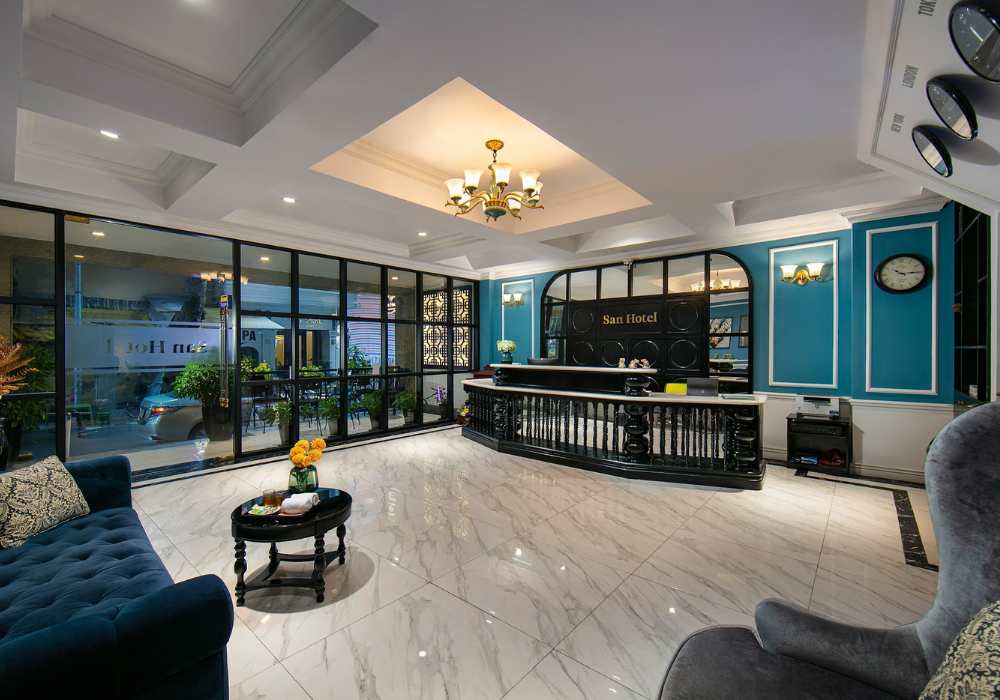 At San Boutique Hotel, we strive to create an exceptional experience for our guests, ensuring that every detail is taken care of for a memorable stay in Hanoi.
San Palace Hotel
San Palace hotel is a haven of luxury and sophistication in the heart of Hanoi's captivating Old Quarter! Situated on bustling Hang Bong Street, San Palace Hotel seamlessly combines elegance with convenience. Immerse yourself in the vibrant culture of Hanoi, with iconic landmarks like Hoan Kiem Lake, Thang Long Water Puppet Theater, and Silk Street just moments away.
Tourists can discover the epitome of opulence as you unwind in our lavishly designed rooms, exuding grandeur and comfort. Enjoy sweeping views of Hanoi's lively streets from every window or upgrade to a balcony room for an even more breathtaking experience.
At San Palace Hotel, the service surpasses expectations. Indulge in the stunning cityscape from our rooftop swimming pool and Sky Bar, where tantalizing cocktails await amidst the vibrant ambiance of Hanoi. Experience ultimate relaxation at our ground floor spa, offering soothing massages and rejuvenating treatments.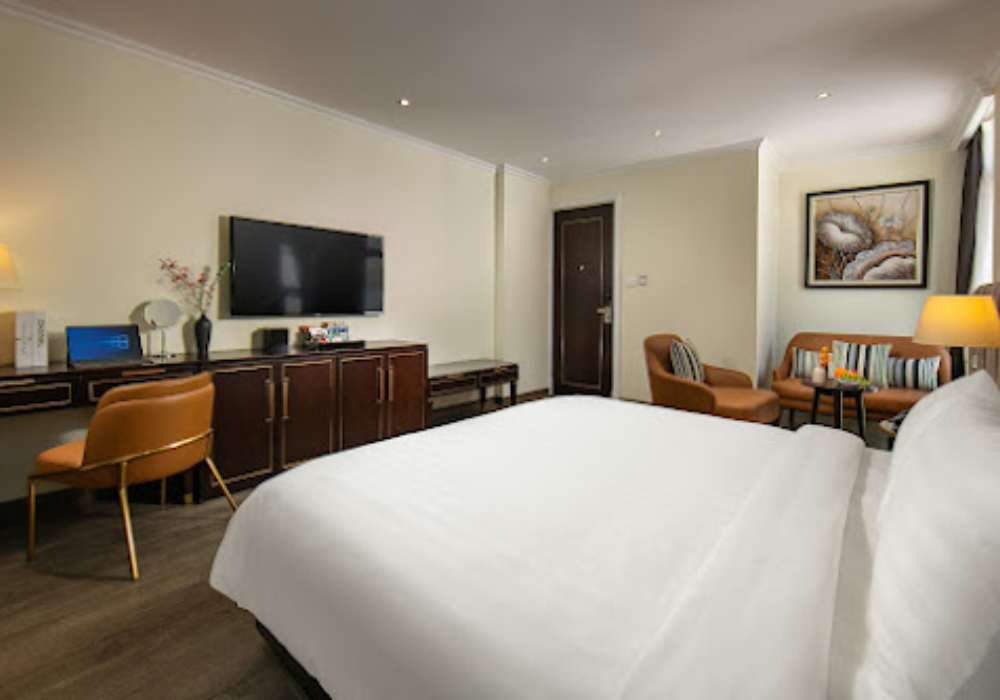 San Premium Hotel
San Premium Hotel is situated in the heart of the historic Hanoi Old Quarter, providing guests with the convenience of walking to popular attractions such as the Ho Chi Minh Mausoleum, Temple of Literature, Hoan Kiem Lake, and walking streets. Guests can choose to immerse themselves in the bustling and lively city of Hanoi or enjoy the serene and ancient ambiance surrounding the hotel.
The hotel offers a range of high-quality accommodations suitable for families, tour groups, business partners, and more. With affordable prices in the heart of Hanoi, guests can select from single rooms, double rooms, or connecting rooms with basic to luxurious amenities. Each room is equipped with a work desk, a 49-inch TV, a bathroom with a shower and bathtub, a comfortable bed, and more, all fully serviced by a 24/7 staff.
San Old Quarter Hotel
Located in the heart of Hanoi, San Old Quarter Hotel provides convenient 3-star accommodation near Hanoi Old City Gate and Quan Thanh Temple. This hotel offers a range of amenities including an ATM and concierge service. Guests can take advantage of the 24-hour front desk, airport transfers, room service, and free WiFi.
Each guest room at the hotel features a private bathroom with a bidet and complimentary toiletries. All rooms are equipped with a flat-screen TV, air conditioning, and some rooms even have a balcony. Additional amenities include a desk and a kettle in each guest room.
Start your day with a delicious breakfast, available in buffet, continental, or American options. The hotel is also popular among cyclists, with bike hire services available for guests to explore the area.
San Old Quarter Hotel offers comfortable and convenient accommodation in the heart of Hanoi, ensuring a pleasant stay for all guests.
How to book a room in the San Hotel Series?
To enhance your experience at San Hotel Series, booking a room is a simple and convenient process. You can easily make a reservation by visiting their official website at https://sanhotelseries.com/.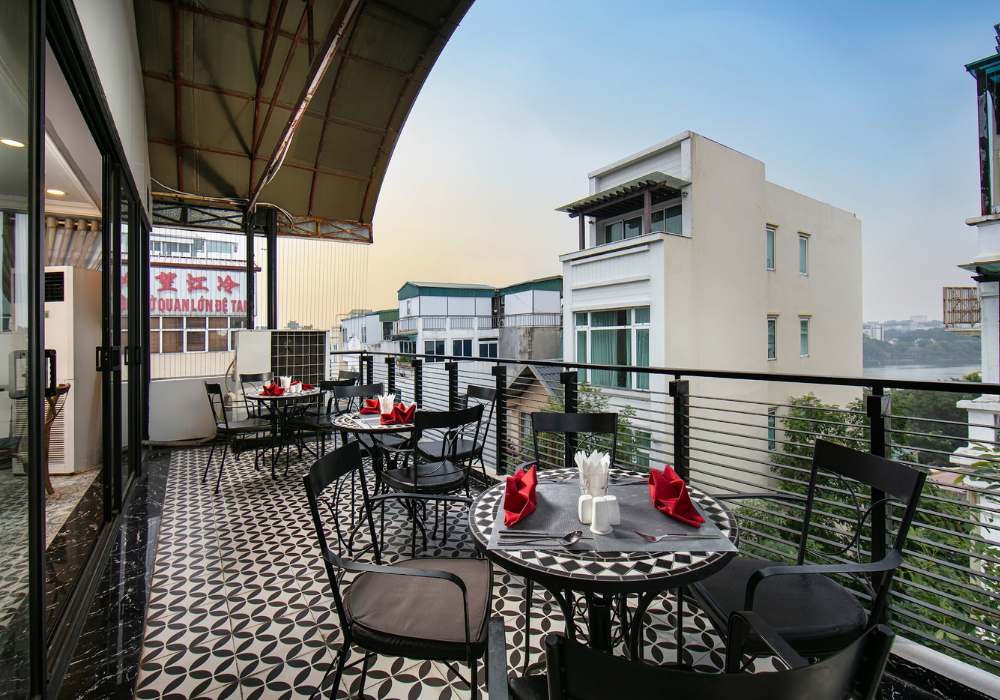 On the homepage, you'll find the option to select your desired hotel location and the dates of your stay. Once you have entered this information, indicate the number of guests and rooms needed, and then click on the "Book now" button. The website will promptly display the available rooms and their corresponding rates for the specified dates.
Take your time to browse through the room options and review the detailed descriptions, amenities, and accompanying photos to find the perfect fit for your preferences. Once you have chosen your preferred room type, click on the "Book Now" button to proceed with the booking process.
As part of the reservation process, you will be asked to provide your personal information, including your name, email address, phone number, and payment details. Rest assured that the website utilizes a secure payment system to ensure the confidentiality and safety of your personal and financial data.
Upon successfully completing the booking process, you will receive a confirmation email containing all the pertinent details of your reservation. Additionally, you will have the convenience of accessing your booking information through the website, allowing you to make any necessary changes or cancellations as needed. If you book directly with us, you will receive a 10% discount on the total room rate.
Booking a room at San Hotel Series through their website guarantees a seamless and hassle-free experience, ensuring that your stay in Hanoi will be comfortable and memorable.
In case you need any assistance with your booking or have any questions, you can contact the San Hotel Series customer support team through the website's this here or contact via: 
Email: info@sanhotelseries.com
Hotline: (+84) 812 351 640
You can also like:
Top 5 things to consider  when booking a hotel in Hanoi