Hanoi, a city where history meets modernity, is not just known for its scenic landscapes and intricate architecture, but also for its dynamic nightlife. As the sun dips below the horizon, the city comes alive with a different kind of energy, illuminating streets and alleyways with neon lights and animated chatter. Explore the vibrant nightlife of Hanoi Pub Street! From top bars to local flavors, uncover the best of the Old Quarter after dark.
For many, Pub Street is not just a destination; it's an experience. A stretch where traditional Vietnamese culture seamlessly blends with the contemporary, giving both locals and tourists a taste of Hanoi like no other.
With its array of bars, pubs, and live music venues, each offering its unique flavor of entertainment, Pub Street stands as a testament to Hanoi's ability to celebrate the night with as much fervor as the day. Whether you're a solo traveler looking for a cozy corner to sip on a local brew or a group eager to toast the night away, Pub Street promises an evening to remember.
The Allure of Hanoi Pub Street
From humble beginnings as a simple lane in the heart of Hanoi's Old Quarter to its meteoric rise as a nightlife hub, the transformation of Pub Street is nothing short of remarkable. A few decades ago, one would have found traditional homes, quiet alleyways, and the occasional local eatery here. Fast forward to today, and this once-sleepy lane buzzes with energy, music, and laughter, drawing in both locals and tourists in droves.
What sets Pub Street apart is not just the number of bars or the variety of drinks on offer, but its unique ambiance that captures the essence of Hanoi's spirit.
Each establishment tells a story – some pay homage to the city's rich history with vintage decors and classic Vietnamese tunes, while others embrace modern vibes, playing the latest hits and showcasing contemporary design. This beautiful juxtaposition is what makes a night at Pub Street feel like a journey through time.
But Pub Street isn't just a tourist hotspot; it holds a special place in the hearts of locals as well. For the younger generation, it's a space of freedom and expression, where they can connect with friends, share stories, and create memories. For older residents, it serves as a bridge between the past and present, a place where they can relive their youth while embracing the new.
In essence, Pub Street stands as a symbol of Hanoi's evolving identity, representing the city's rich tapestry of history, culture, and modernity. Whether you're looking to soak in the local culture, meet fellow travelers, or simply let your hair down, the allure of Pub Street beckons irresistibly.
Top Bars & Pubs to Visit
1900 Le Theater Bar – Hanoi's Spotlight Destination
Location: No. 8, Ta Hien Street, Hoan Kiem District, Hanoi.
Hours: 8:30 pm – 3 am Dive into the heart of Hanoi's nightlife at 1900 Le Theater, a beacon of energy in the Old Quarter. Nestled on the legendary Ta Hien Street, this bar marries the site's theatrical past with its electrifying present, showcasing an ensemble of retro charm and contemporary flair.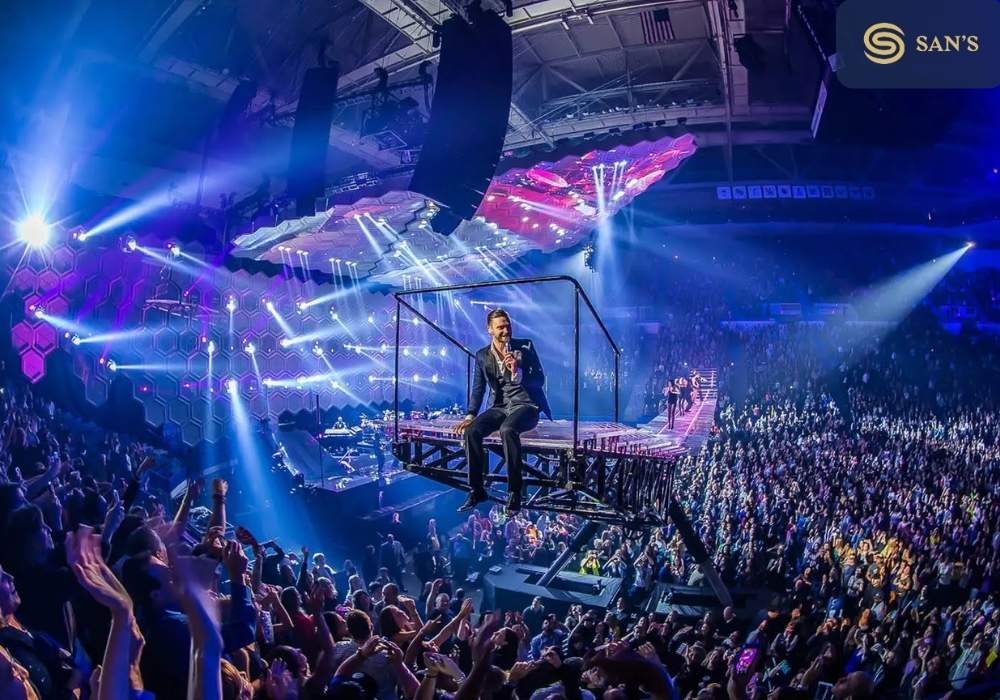 Prague Pub – Hanoi's Slice of Czech Serenity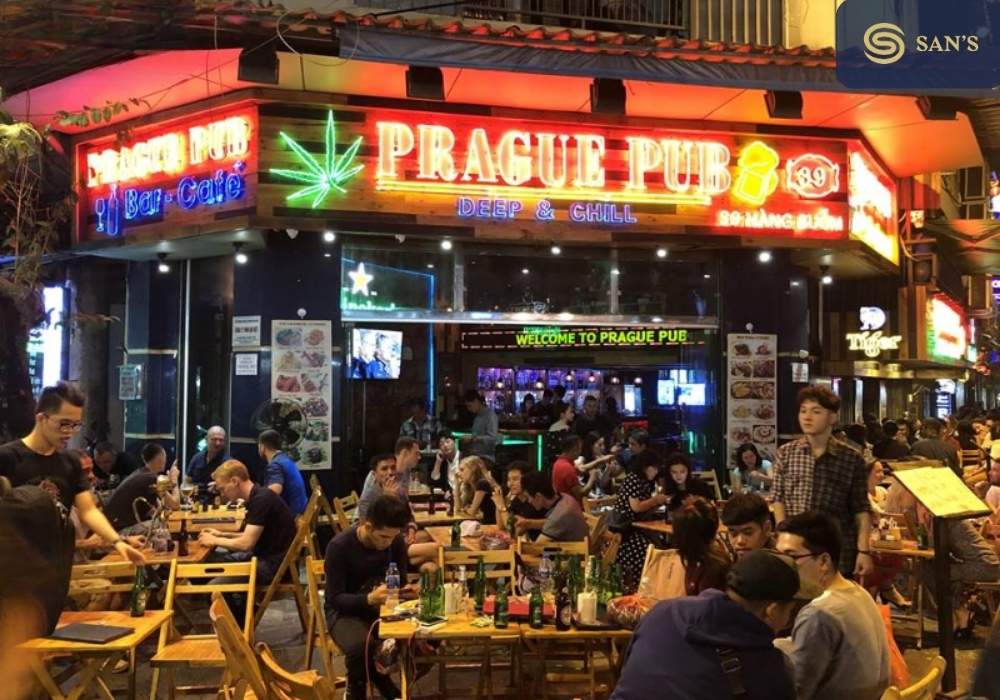 Location: No. 38, Luong Ngoc Quyen Street, Hoan Kiem District, Hanoi.
Hours: 11 am – 3 am Seeking a more tranquil haunt? Venture to Prague Pub. Reflecting the soothing ambiance of the Czech capital, it offers patrons a haven for quiet reflection, hearty chats, and refreshing brews.
IP Club – The Pulse of Hanoi's LGBTQ+ Scene
Location: 6th Floor, No. 41, Hai Ba Trung Street, Hoan Kiem District, Hanoi.
Hours:

Tuesday to Saturday: 8:25 pm – 2 am
Sunday: 8:25 pm – 12 am IP Club stands proud as one of Hanoi's enduring LGBTQ+ venues. A sanctuary for the city's vibrant LGBT community and allies alike, its energy and inclusivity remain unparalleled.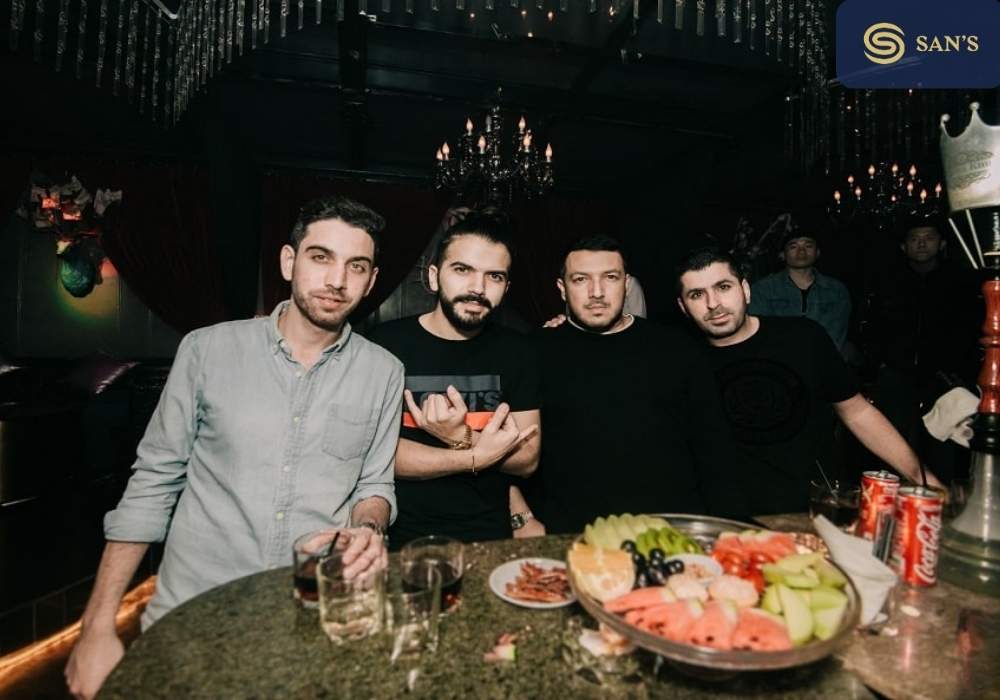 Binh Minh Jazz Club – Hanoi's Jazz Maestro
Location: 8th Floor, No. 33 – 35, Hang Dau Street, Hoan Kiem District, Hanoi.
Hours: 4 pm – 12 am Let the rhythm take you away at Binh Minh Jazz Club. Brainchild of the iconic saxophonist Quyen Van Minh, this venue resonates with soulful jazz performances, presenting both local prodigies and international maestros. It's a jazzy oasis amidst Hanoi's hustle.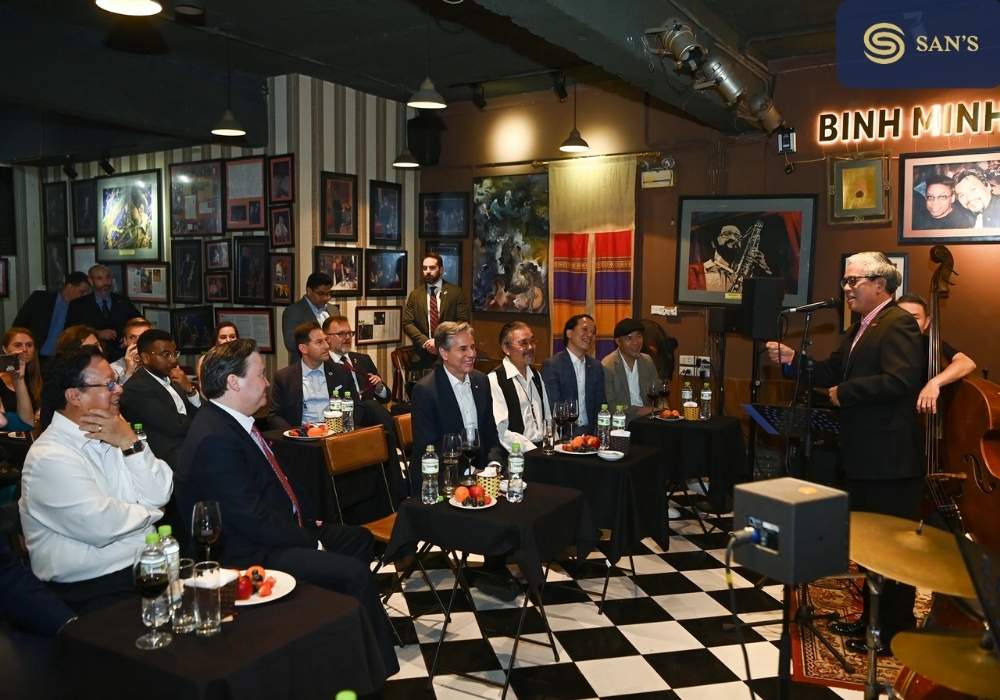 Top of Hanoi – The City's Sky-high Elegance
Location: 65th Floor, Lotte Center Hanoi, No. 54, Lieu Giai Street, Ba Dinh District, Hanoi.
Hours: 5 pm – 12 am Elevate your evening at Top of Hanoi. Perched atop one of Vietnam's towering marvels, this rooftop bar promises unparalleled panoramas, tantalizing dishes, and eclectic beverages – a skyward journey of culinary and visual delights.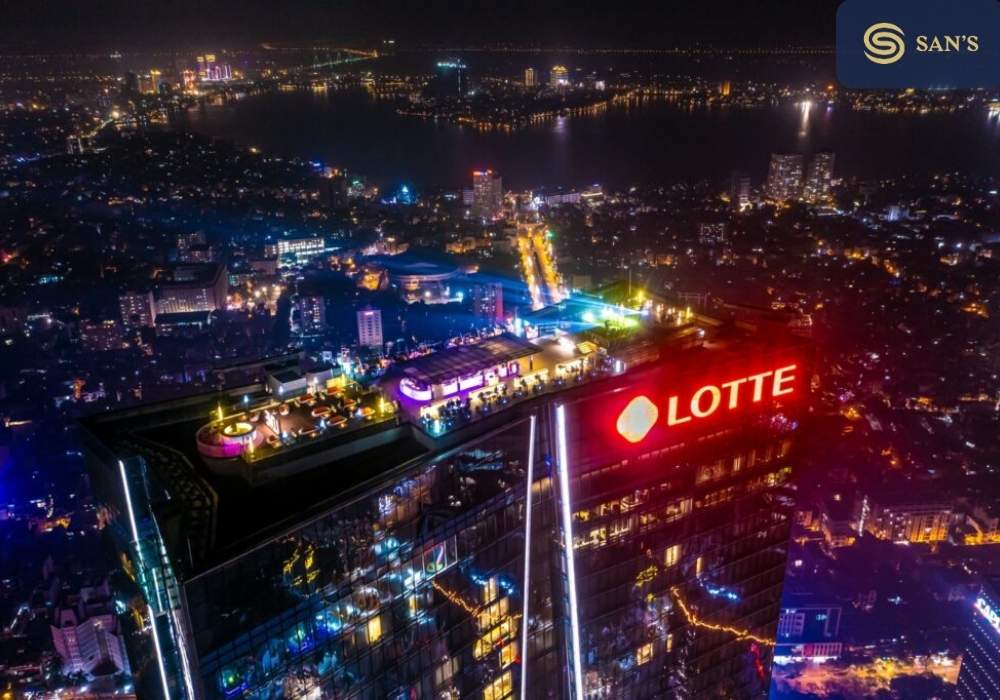 San Rooftop Bar – View Hoan Kiem Lake
Location: 11th Floor, San Grand Hotel, No. 02, Cau Go Alley, Hoan Kiem District, Hanoi.
Hours: 5 pm – 11:30 pm. Relax with a variety of cocktails & mocktails crafted by our talented bartenders. All drinks are also served with a selection of light snacks such as nuts. With a panoramic view of Hoan Kiem Lake and Hanoi's Old Quarter, combined with a beautiful and airy design, you can enjoy drinks and experience the tranquility of Hanoi – the heart of Vietnam from San Rooftop Bar.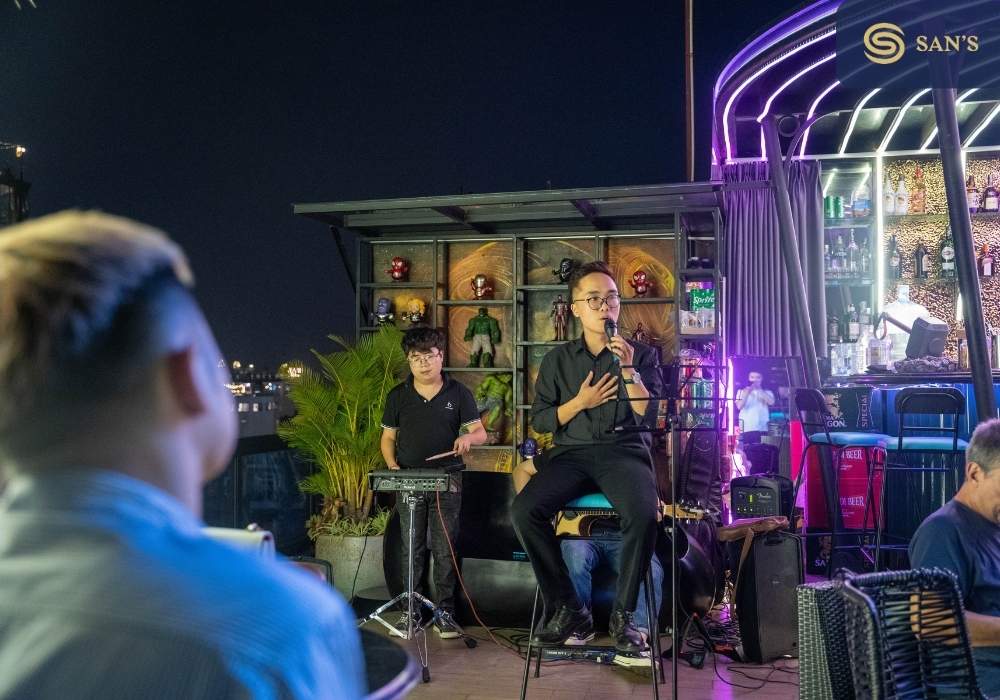 Hanoi's Pub Street stands as a testament to the city's vibrant nocturnal allure. With each pub and bar telling its own tale, it offers more than just drinks – it promises experiences. As the sun sets and the city lights up, there's a rhythm, an energy that's distinctly Hanoi. For travelers and locals alike, a night on Pub Street is not merely an outing, it's a rite of passage.
So, the next time you find yourself in Hanoi, let yourself be drawn to this pulsating hub. Drink in the ambiance, make a toast to the moment, and etch memories that last a lifetime.
FAQs on Pub Street, Hanoi
What are the typical operating hours for bars on Pub Street?

Most bars open in the late afternoon or early evening and remain open until midnight or even later, especially on weekends.

Is there a dress code to follow?

Generally, the bars on Pub Street have a casual dress code, but it's always good to check with specific venues if they have any particular requirements, especially if they have special events or theme nights.

Are the bars on Pub Street tourist-friendly?

Absolutely! Many bars on Pub Street cater specifically to tourists and provide English menus, multilingual staff, and often showcase international as well as local beverages.

Is Pub Street safe for solo travelers?

Hanoi's Pub Street is generally safe for solo travelers. However, like any popular nightlife area around the world, it's always good to be aware of your surroundings and not leave your belongings unattended.

Are there any local drinks I should try?

Definitely! While international beverages are widely available, consider trying local beers like Bia Hoi or local rice wines for an authentic experience.

Is it customary to tip in the bars?

Tipping is appreciated but not obligatory in Vietnam. If you've received excellent service, a tip of around 10% is a kind gesture.

How busy does Pub Street get on weekends?

Weekends, especially Friday and Saturday nights, tend to be the busiest. If you're looking for a quieter experience, consider visiting on a weekday or earlier in the evening.
Remember, each visit to Pub Street is an opportunity to immerse yourself in the local culture and enjoy the energy of Hanoi's nightlife. Happy exploring!
>>> 36 streets Hanoi