For those traversing the maze of
Hanoi'
s old quarter, the search for the
best Bun Cha in Hanoi
goes beyond mere taste—it's an adventure, a cultural immersion, and a rite of passage. As a must-try dish for anyone visiting the city, Bun Cha is more than a culinary delight—it's a bridge connecting the traditions of the past with the dynamic flavors of the present, making the
best Bun Cha in Hanoi
a sought-after experience that promises to satiate and surprise with every bite.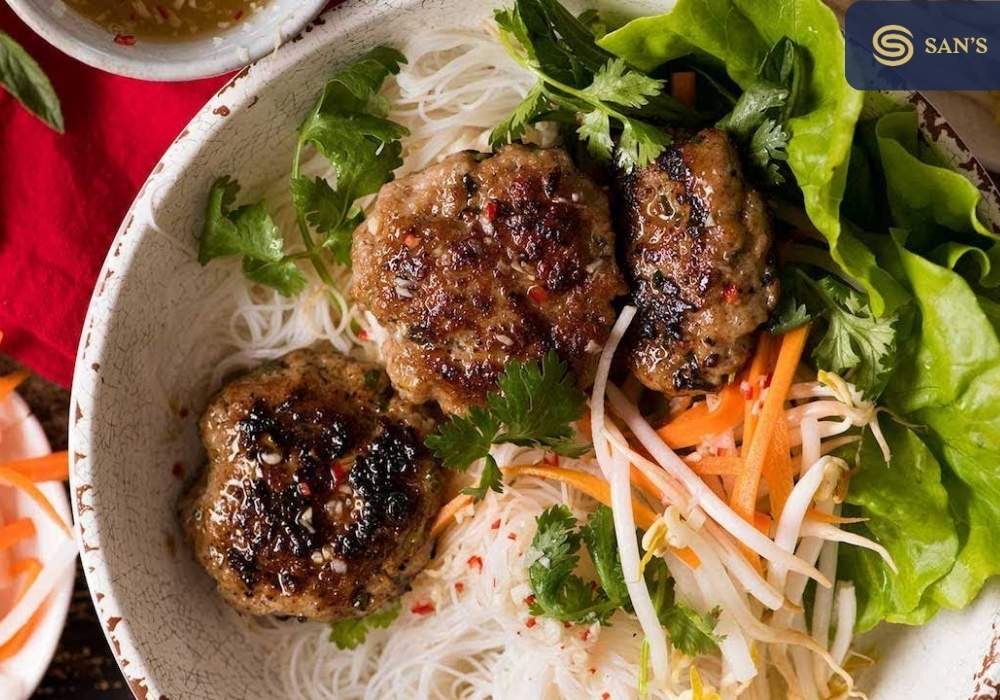 With its ascent to global fame, especially after being featured by international culinary figures, the pursuit of the best Bun Cha in Hanoi has become a beloved quest for food enthusiasts around the world. It's not just a local favorite but a global phenomenon, enticing visitors from all corners to partake in this authentic Hanoian experience. The acclaim of Bun Cha transcends borders, drawing in curious palates eager to explore the depth of Hanoi's street food culture.
5 Best Bun cha in Hanoi
1/Bun Cha Dac Kim
Address: No. 1 Hang Manh, Hoan Kiem district, Hanoi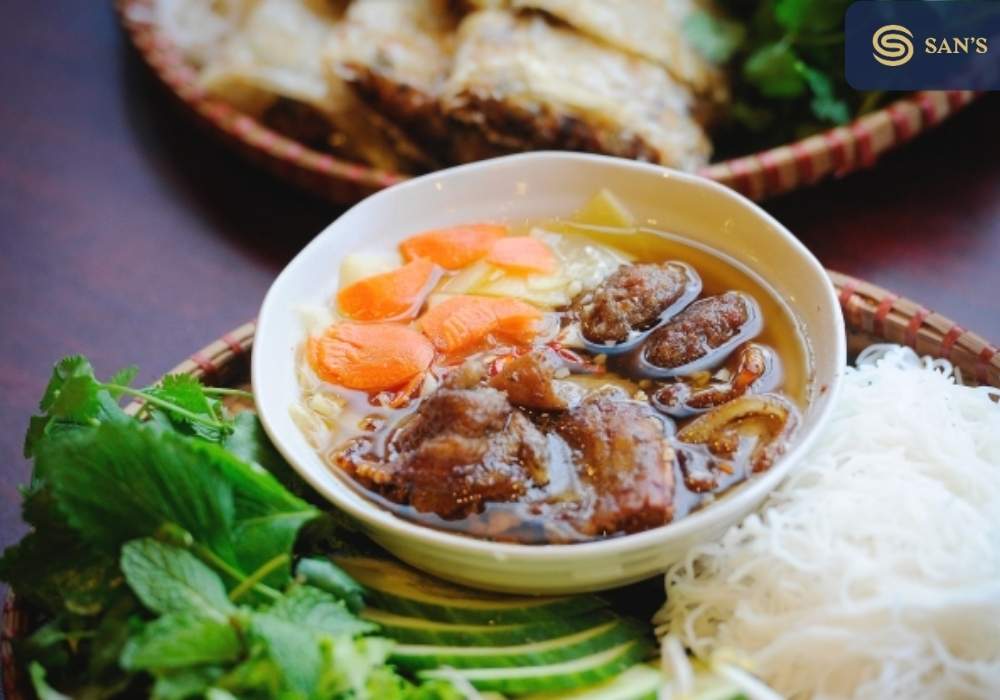 Nestled on the lively Hang Manh Street within the Hoan Kiem district, Bun Cha Dac Kim is a renowned name amongst gourmands seeking the best Bun Cha in Hanoi. This compact eatery may have limited seating, often spilling over to the second floor or even the sidewalk during busy hours, but the authentic taste of its Bun Cha continues to draw in a crowd of enthusiastic diners.The legacy of Dac Kim, which has become synonymous with the best Bun Cha in Hanoi, started back in 1965 with a recipe that has been zealously guarded and passed down through generations. The secret to their Bun Cha lies in the rigorous selection of premium ingredients; the meat is always a balanced blend of lean and fatty cuts, while the accompaniments like onions, garlic, and fish sauce are sourced for their top-notch quality.
The preparation culminates in the grilling over charcoal, a process that imparts a smoky depth to the dish, tantalizing the olfactory senses of anyone nearby.
Diners at Dac Kim are treated to hearty portions, with each serving of Bun Cha boasting a substantial amount of meat, all for a reasonable cost of around 3-4 USD. Despite some visitors noting the tight space or a price slightly above other local spots, the popularity of Dac Kim never wanes.
It stands proudly as a gastronomic icon, a place that locals and visitors alike agree serves up the best Bun Cha in Hanoi—a testament to the enduring appeal of this quintessential Hanoian dish.
2/Bun cha Tuyet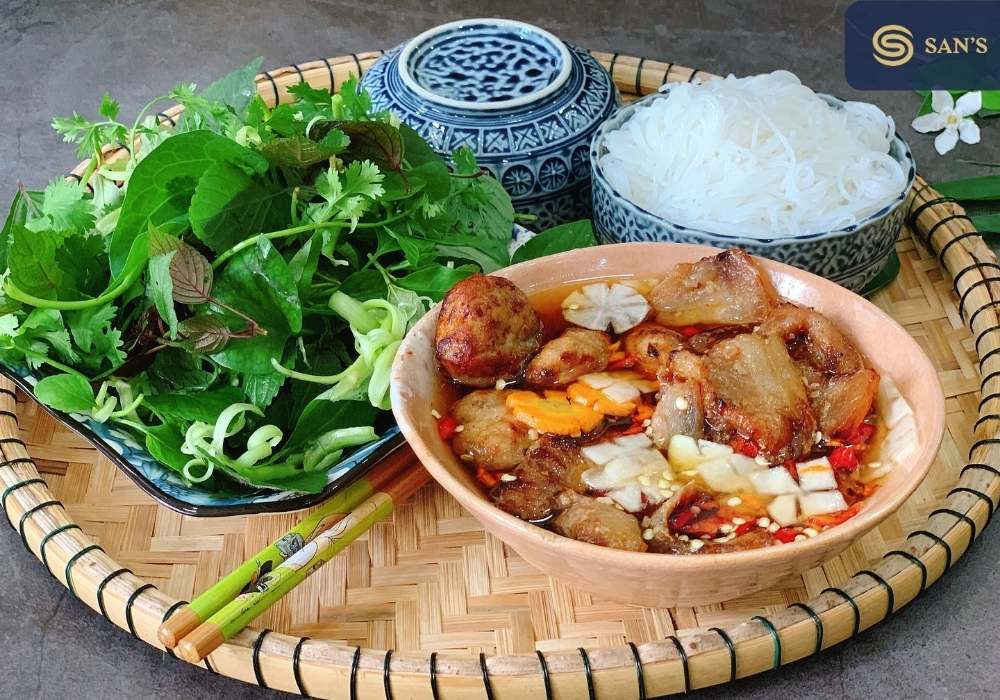 Address: 34 Hang Than street, Ba Dinh district
Bun Cha Tuyet graces this gentle slope with its consistently delectable and high-quality 'cha'. Here, each set of Bun Cha is a visual delight, with the grilled pork, rice noodles, and fresh herbs beautifully presented on clean, inviting trays.
Located in the charming old quarter, Bun Cha Tuyet offers its patrons a taste of authenticity without a hefty price tag. For around 35,000 VND (approximately 2 USD), guests can indulge in a generous bowl full of grilled meats, including four or five savory minced meat patties and about ten slices of meat, fulfilling even the most robust of appetites.
What truly sets Bun Cha Tuyet apart, a contender for the best Bun Cha in Hanoi, is the meticulous grilling of the pork. Both the minced and sliced meats are grilled to moderate perfection, with a hint of char to enhance their inherent sweetness and tenderness.
The minced meat is notably encased in 'xuong song' leaves, imparting a distinctive and alluring flavor that leaves a lasting impression on the palate. Complementing these succulent meats is a sauce that achieves a flawless harmony of sugar, vinegar, and salt.
Open from 10:00 AM until 4:00 PM, the restaurant finds itself at its busiest around noon, buzzing with diners eager for a taste of what's reputed to be the best Bun Cha in Hanoi. Additionally, the 'nem' (spring rolls) offered at 8,000 VND (roughly 0.4 USD) each are a popular side, often selling out quickly due to their popularity among the patrons.
3/Bun cha Hanoi at lane 74
Address: Hang Quat street, Hoan Kiem district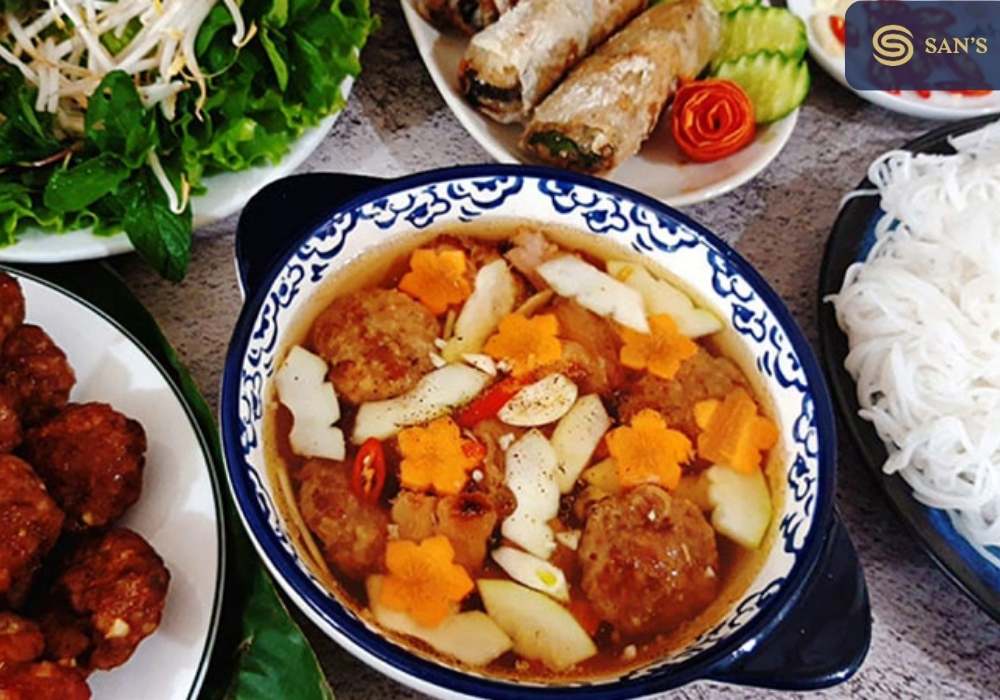 When discerning gourmets in Hanoi discuss where to find the best Bun Cha in Hanoi, many will point you towards the unassuming lane at 74 Hang Quat Street. This beloved stall, hidden in a narrow alley, may surprise you with its longstanding history of over 19 years. Its enduring presence in the city is a testament to the loyalty it commands—once patrons taste the Bun Cha here, the flavor is unforgettable, solidifying its reputation for serving some of the best Bun Cha in Hanoi.
This establishment, much like any esteemed Bun Cha restaurant, offers both minced meat patties and sliced pork. However, it's the sliced meat that earns widespread acclaim for its thin, perfectly grilled slices that are flavorful without being overly fatty. The 'cha' might present itself in a darker shade, but this is no sign of overcooking; rather, it's the rich color of the sugar sauce used in the marinade.
The secret lies in the sugar sauce that marries deeply with the sliced pork, combined with a flawless fish sauce, elevating the dish to impress even the most exacting Bun Cha aficionados in Hanoi.
Priced at a modest 30,000 VND (~1.5 USD), a serving here is guaranteed to satisfy your midday hunger pangs. Although the stall opens at 9:30 AM, it's known to sell out quickly, often by 2:00 PM. To ensure you don't miss out on what is often touted as the best Bun Cha in Hanoi, it's advisable to arrive early and secure your share of this culinary delight.
4/Bun cha Bach Mai grilled on bamboo stick
Address: Lane 213 Bach Mai street, Hai Ba Trung district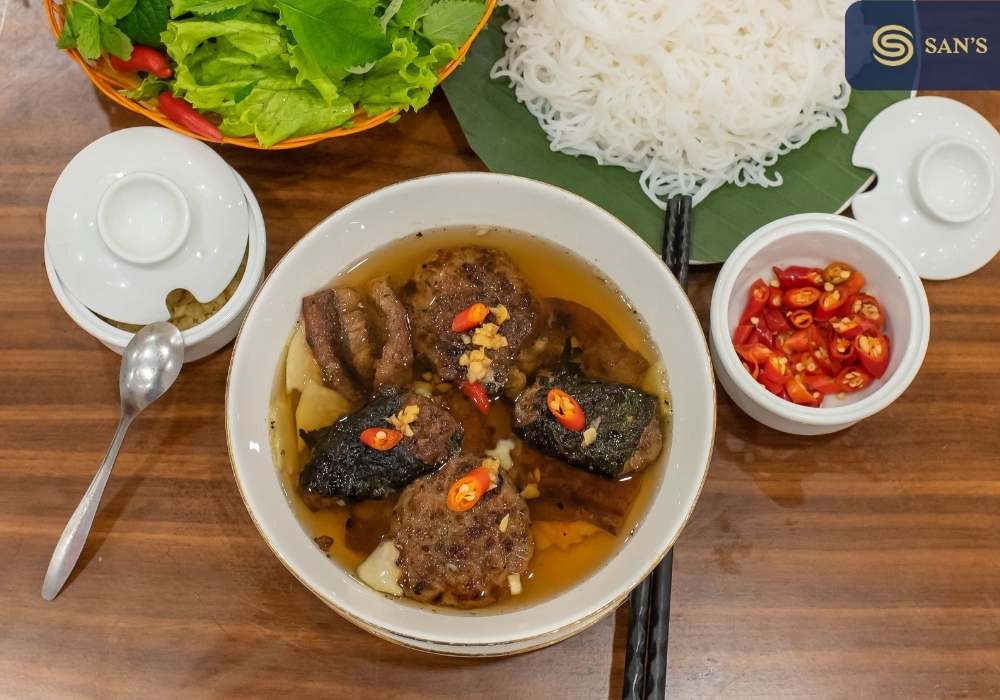 This term of endearment is used because savoring the best Bun Cha in Hanoi here means embracing a leisurely wait—first, for the 'cha' to be meticulously grilled over charcoal, and second, for your turn to dine. The eatery operates within a narrow window, from 2:00 PM to 3:30 PM, and while the wait might test your patience, the reasonable price of 40,000 VND (approximately 2 USD) ensures that your perseverance is rewarded.
As the clock strikes 2:00 PM, the doors open, and the anticipation for the best Bun Cha in Hanoi builds. When at last the Bun Cha set is placed before you, every element from the cha to the sauce, noodles, and herbs is presented individually, a testament to the care put into each component. The use of bamboo sticks in grilling infuses the meat with a unique aroma that sets it apart from other Bun Cha offerings in the city.
This Bun Cha's allure is such that, once served, you might find yourself devouring the dish in mere minutes, such is the power of its appeal. For those eager to experience the best Bun Cha in Hanoi, the tip is clear: arrive as service begins at 2:00 PM. Your patience will be handsomely paid off, with a culinary experience that stands as a highlight of Hanoi's rich street food tapestry.
5/Bun cha Huong Lien
Address: 24 Le Van Huu street, Hai Ba Trung district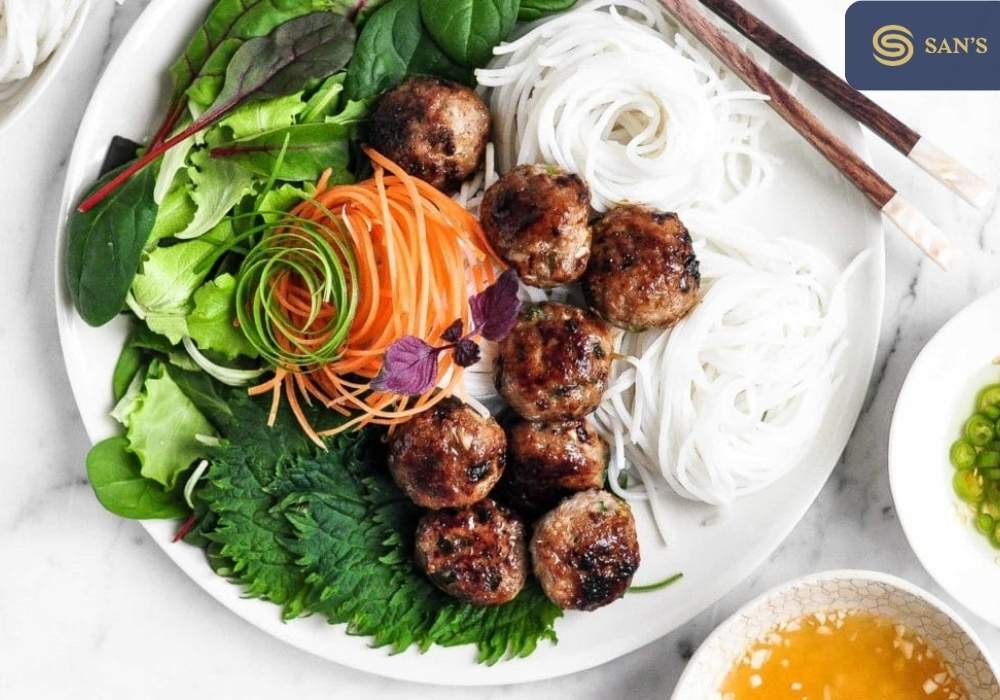 On the memorable evening of May 23, 2016, the name Huong Lien suddenly became renowned worldwide, all thanks to a surprise visit by none other than U.S. President Obama. During his three-day business trip to Vietnam, he made a stop at this legendary restaurant, selecting it for his dinner and relishing one of its most celebrated dishes: the best Bun Cha in Hanoi.
In reality, Huong Lien had already earned a stellar reputation among Hanoi's discerning food enthusiasts long before that historic evening. Established in 1993, Bun Cha Huong Lien had carved out a niche for itself with its exceptional flavors. The best Bun Cha in Hanoi served here boasts a meticulously balanced sauce, featuring just the right touch of sweetness, harmonized with the subtle tang of vinegar. The grilled pork, a true star of the dish, is exquisitely tender and succulent, infused with the rich essence of grilled onions.
However, at Bun Cha Huong Lien, it's not just the best Bun Cha in Hanoi that takes center stage. You'll also want to order one or two servings of "Nem Cua Be," or sea-crab spring rolls, to accompany your meal. These spring rolls boast a delightful crispiness on the outside, yielding to a delectably sweet and aromatic filling on the inside. They're so popular that many diners are willing to patiently wait for up to 30 minutes, even during the bustling lunch hours.
The restaurant itself offers a comfortable and inviting atmosphere, with friendly and enthusiastic staff. In response to the increased demand from tourists following President Obama's visit, Bun Cha Huong Lien has expanded, opening a new branch in Lane 57, Lang Ha Street, Hanoi.
In terms of pricing, you'll discover that a satisfying serving of the best Bun Cha in Hanoi typically costs between 2 to 3 USD per serving, with additional sea-crab spring rolls available at a modest price of 0.3 USD per piece. Whether you're a fan of Vietnamese cuisine or simply curious to sample the dish that impressed a former U.S. President, a visit to Bun Cha Huong Lien promises an unforgettable and flavorful experience.