Why stay in Hanoi Old Quarter?
If you have the opportunity to visit the capital of Vietnam, make sure that Hanoi Old Quarter is in your checklist. The beauty of Hanoi's Old Quarter lies not in its outward appearance but in its long-standing historical value. The old and nostalgic streets of the Old Quarter preserve many ups and downs of the country after years of war, creating a beauty that we must feel with our hearts rather than with ordinary eyes.
The Old Quarter is also the most vibrant place in Hanoi, and if you are a fortunate tourist visiting Hanoi, there are many tourist destinations around the Old Quarter that you can explore without the need for transportation. This means that you will need accommodation in the Old Quarter. When choosing a hotel in the Old Quarter, there will be many benefits for you.
5 Best hotels in Hanoi Old Quarter
Price Range: $25-$65
Address: No. 64 Dao Duy Tu Street, Hang Buom Ward, Hoan Kiem District, Hanoi.
Kingdom Hotel falls within the budget hotel segment in Hanoi, and it offers excellent value for the price you pay. The hotel is ideally located in the heart of Hanoi Old Quarter, in close proximity to numerous street food stalls, cafes, and bars. Despite the vibrant and bustling atmosphere of the surrounding area with its lively bars, the hotel rooms remain relatively quiet thanks to the use of double-glazed windows.
Being a budget hotel, don't expect perfection! However, Kingdom Hotel can provide a comfortable night's sleep at an affordable price. The hotel also offers family rooms with two double beds. If your family is willing to share a bed, you can accommodate up to 4 people in this room.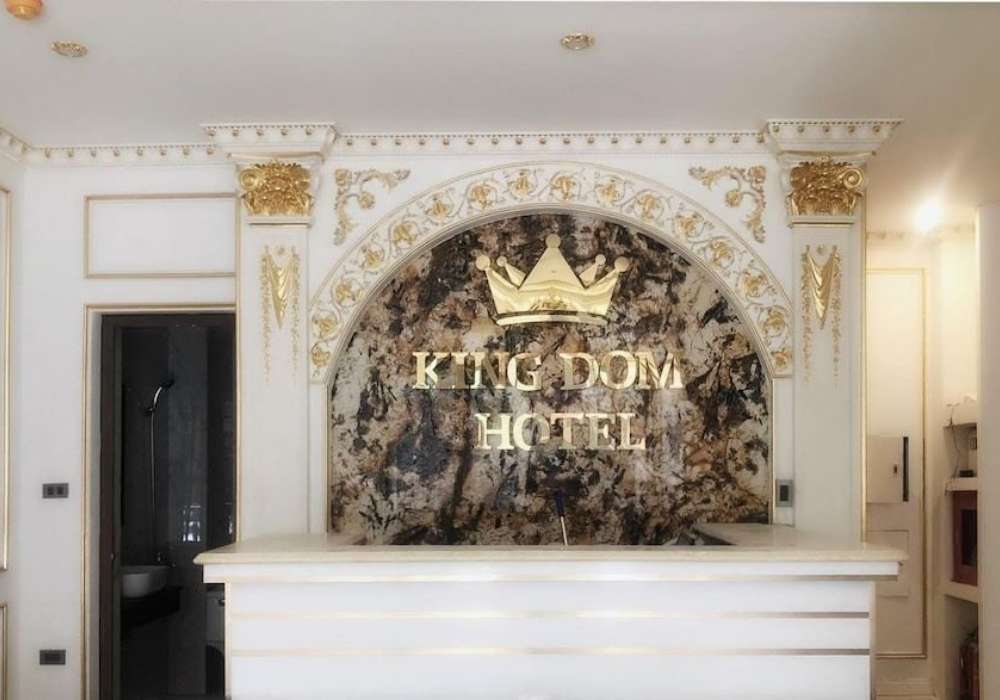 Price Range: $40-$75
Address: No. 54 Nguyen Phat Loc Street, Hang Buom Ward, Hoan Kiem District, Hanoi.
Nestled in the captivating Hanoi Old Quarter, the Hanoi Saga hotel stands as a remarkable and stylish mid-range accommodation option. The hotel boasts beautiful and tastefully decorated rooms, adorned with large French windows that flood the space with abundant natural light. However, it's important to note that locating the hotel may require a little extra effort due to its position along a small alleyway.
Among the various room options, the triple room at the Hanoi Saga hotel truly stands out. Featuring a combination of thoughtful design and functionality, this room impresses with its spaciousness and versatility. It offers a large double bed along with a comfortable sofa bed, making it suitable for accommodating up to three people. Additionally, guests can enjoy the convenience of a private ensuite bathroom, complete with a refreshing bathtub.
At the Hanoi Saga hotel, guests are invited to experience a harmonious blend of style, comfort, and convenience. Whether traveling for business or pleasure, this exceptional mid-range hotel offers a delightful stay in the heart of Hanoi's Old Town.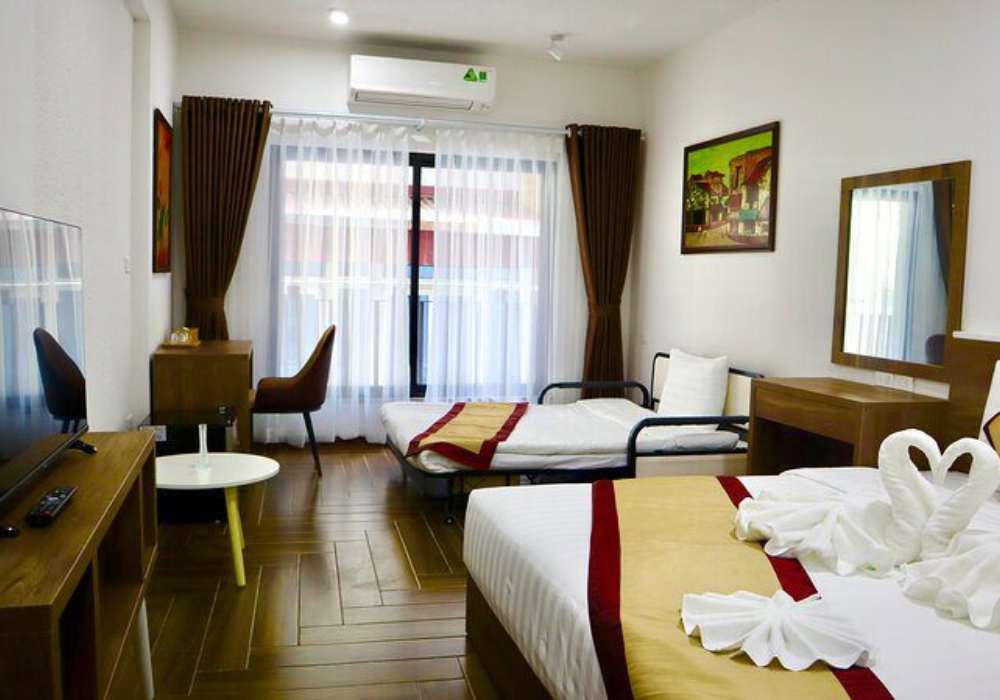 Hotel Emerald Waters Classy
Price Range:  $40- $200
Address: No. 27-29 Gia Ngu Street, Hang Bac Ward, Hoan Kiem District, Hanoi.
Nestled in the heart of Hanoi's historic Old Town, Emerald Waters is a stunning 4-star hotel that captures the essence of elegance and sophistication. The hotel's interior design showcases a harmonious blend of tasteful aesthetics and subtle artistic elements, creating a truly captivating ambiance. The rooms, exuding style and spaciousness, provide a haven of comfort and relaxation for guests.
One of the standout features of Emerald Waters is its exceptional location in the bustling old quarter, tucked away on a serene and peaceful street. Guests can enjoy the convenience of being in close proximity to the vibrant attractions while still savoring a tranquil atmosphere.
The hotel offers a range of luxurious amenities, including rooms with balconies that provide delightful views, ensuite bathrooms for added convenience, and stylish bath tubs that invite guests to indulge in a soothing soak. Moreover, there is a connecting Family Suite available, perfect for accommodating up to four people.
For those seeking incredible value, it's worth keeping an eye out for the amazing deals and discounts offered by this remarkable hotel. Emerald Waters promises an unforgettable experience, combining superb accommodation, a prime location, and exceptional hospitality.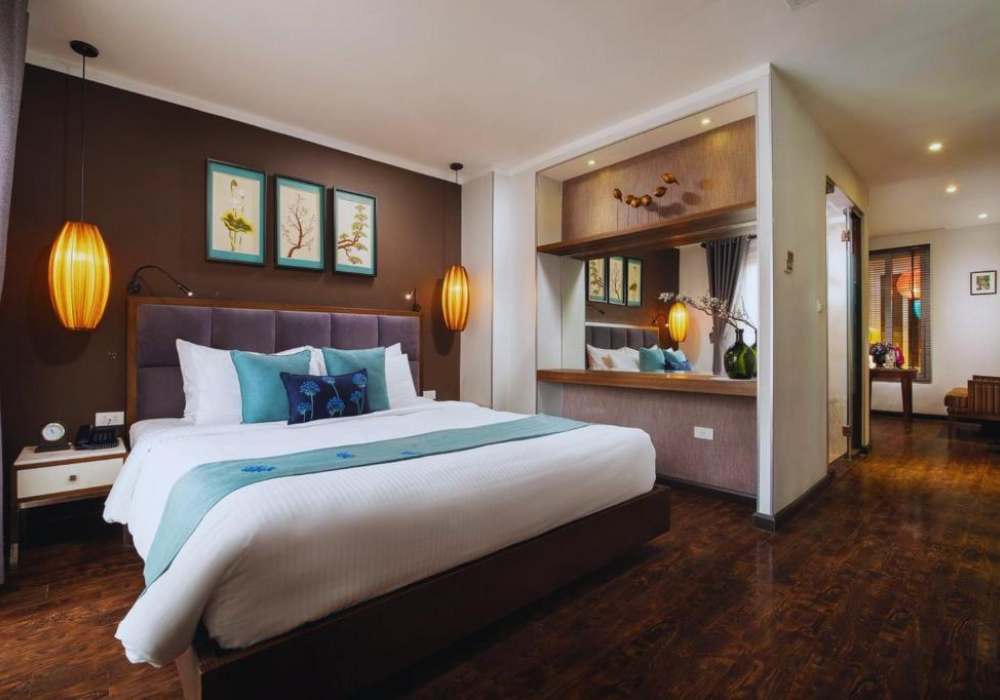 Price Range: $60-$300
Address: No. 3 Yen Thai Street, Hang Gai Ward, Hoan Kiem District, Hanoi.
La Storia, a delightful 3-star hotel nestled in Hanoi Old Quarter, presents a captivating haven for travelers. The hotel boasts comfortable, generously appointed rooms adorned with exquisite decor, providing guests with a blissful retreat. A diverse selection of accommodations is available, including a family suite featuring two double beds. Situated in a serene corner of the Old Quarter, La Storia offers tranquility while remaining conveniently close to the vibrant energy of the bustling city.
Upon reserving a room at this remarkable establishment, guests can anticipate a delightful breakfast experience, complete with delectable offerings. The banana pancakes, in particular, are a culinary delight that should not be missed. It is advisable to confirm that breakfast is included during the booking process.
The staff members at La Storia are renowned for their warmth, attentiveness, and professionalism. They consistently go above and beyond to ensure every guest's stay in Hanoi is filled with happiness, relaxation, and fond memories.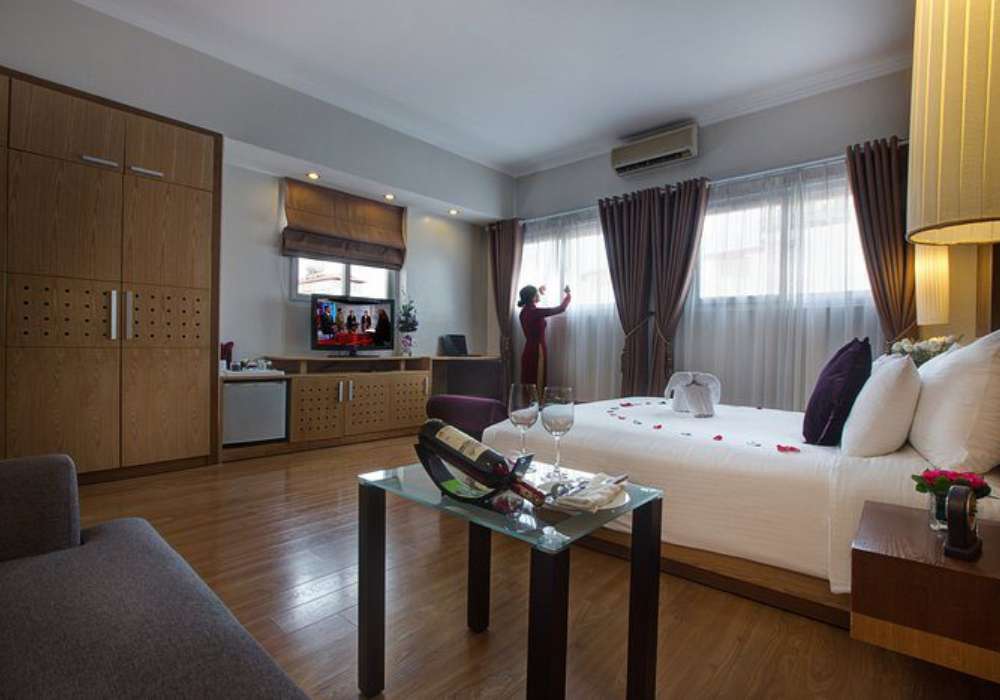 Price range: $50-$80/ per night
Address: 187 Hang Bong Street, Hoan Kiem District, Ha Noi.
San Palace hotel is a haven of luxury and sophistication in the heart of Hanoi's captivating Old Quarter! Situated on bustling Hang Bong Street, San Palace Hotel seamlessly combines elegance with convenience. Immerse yourself in the vibrant culture of Hanoi, with iconic landmarks like Hoan Kiem Lake, Thang Long Water Puppet Theater, and Silk Street just moments away.
Tourists can discover the epitome of opulence as you unwind in our lavishly designed rooms, exuding grandeur and comfort. Enjoy sweeping views of Hanoi's lively streets from every window or upgrade to a balcony room for an even more breathtaking experience.
At San Palace Hotel, the service surpasses expectations. Indulge in the stunning cityscape from our rooftop swimming pool and Sky Bar, where tantalizing cocktails await amidst the vibrant ambiance of Hanoi. Experience ultimate relaxation at our ground floor spa, offering soothing massages and rejuvenating treatments.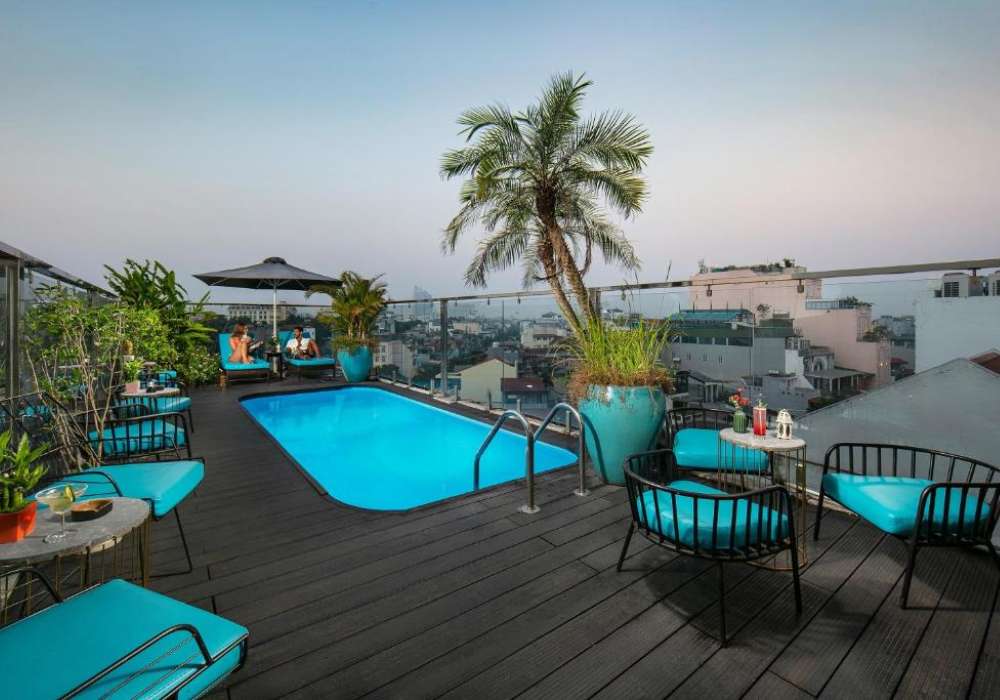 San Hotel Series is an incredible hotel chain designed for your memorable experience. With professional services and top-notch amenities, we guarantee to provide you with a perfect and unforgettable vacation. From luxurious accommodations to comfortable rooms and unique culinary experiences, San Hotel Series proudly stands as an ideal destination for every traveler. Come and experience our hotel services today to cherish those unforgettable moments with San Hotel Series!
Booking a room at San Hotel Series through their website guarantees a seamless and hassle-free experience, ensuring that your stay in Hanoi will be comfortable and memorable.
In case you need any assistance with your booking or have any questions, you can contact the San Hotel Series customer support team through the website's this here or contact via:
Email: info@sanhotelseries.com
Hotline: (+84) 812 351 640