Hanoi, the pulsating heart of Vietnam, has a rhythm uniquely its own. At the forefront of this rhythm are the countless motorbikes that weave through its ancient streets, presenting a spectacle both mesmerizing and quintessentially Hanoian. These two-wheelers are not just a mode of transportation; they are an embodiment of the city's spirit and its residents' resilience. For tourists, there's no better way to embrace the city's soul than by hopping onto a motorbike.
It offers the unrivaled freedom to meander through the city's labyrinth of hidden alleys, discover undisclosed food stalls, or simply get lost in its rich tapestry of history and modernity. Renting a motorbike in Hanoi isn't just about getting from point A to B—it's about experiencing the city in its most authentic form.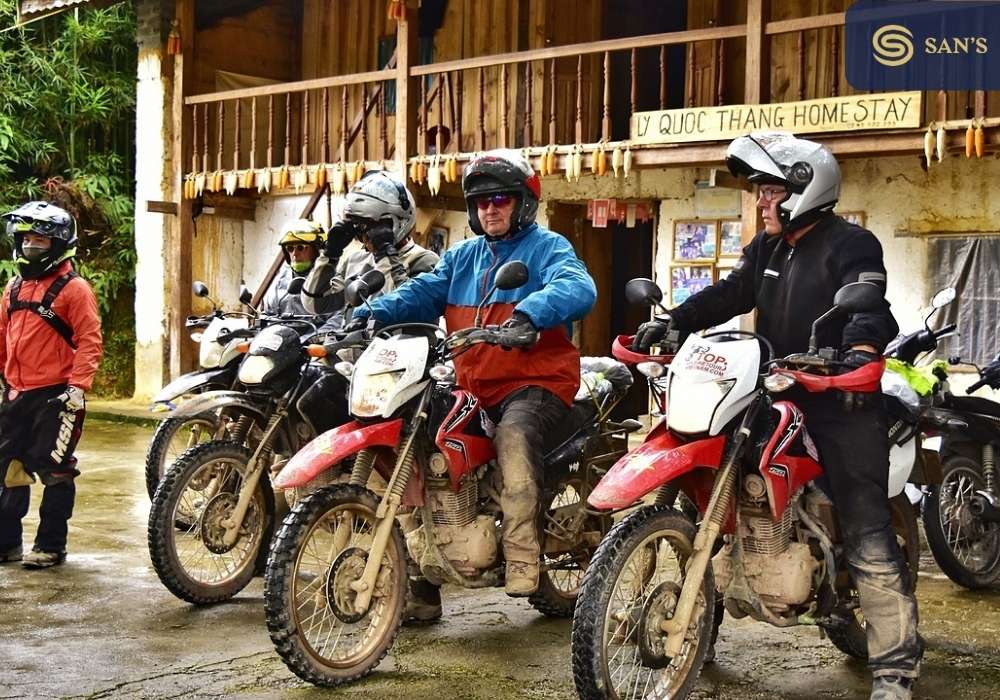 Why Renting a Motorbike in Hanoi is a Great Idea
As the golden sun sets over the tranquil Hoan Kiem Lake, and the city's bustling streets come alive with the honks and rumbles of countless engines, one thing becomes evident: Hanoi is a city best experienced on two wheels. But why should one consider renting a motorbike here?
Firstly, it's a matter of economics. With the cost of living soaring in many global cities, Hanoi offers a breath of fresh air with its cost-effective transportation options. Renting a motorbike won't burn a hole in your pocket, yet it provides the convenience unmatched by public transport.
Then comes the flexibility and freedom. There's something liberating about being able to dictate your schedule, zipping through the city's many wonders at your own pace, without being bound by the timetables of tour groups or public buses. It's the kind of freedom that lets you chase sunsets, explore hidden street cafes, or make spontaneous stops at local markets.
Speaking of local experiences, renting a motorbike allows you to experience the city like a local. While tour buses cater to the popular tourist spots, a motorbike is your ticket to the authentic Hanoi. It's the side streets, the local eateries, and the lesser-known temples that truly capture the essence of the city.
Lastly, there's the sheer practicality of it. With Hanoi's bustling traffic and often congested streets, a motorbike offers unparalleled ease of parking and maneuvering. It lets you navigate the city's intricate web of lanes without the cumbersome size of a car.
In conclusion, while Hanoi offers various modes of transportation, none provide the immersive experience of a motorbike. It's not just a vehicle; it's your companion in unraveling the mysteries of this enchanting city.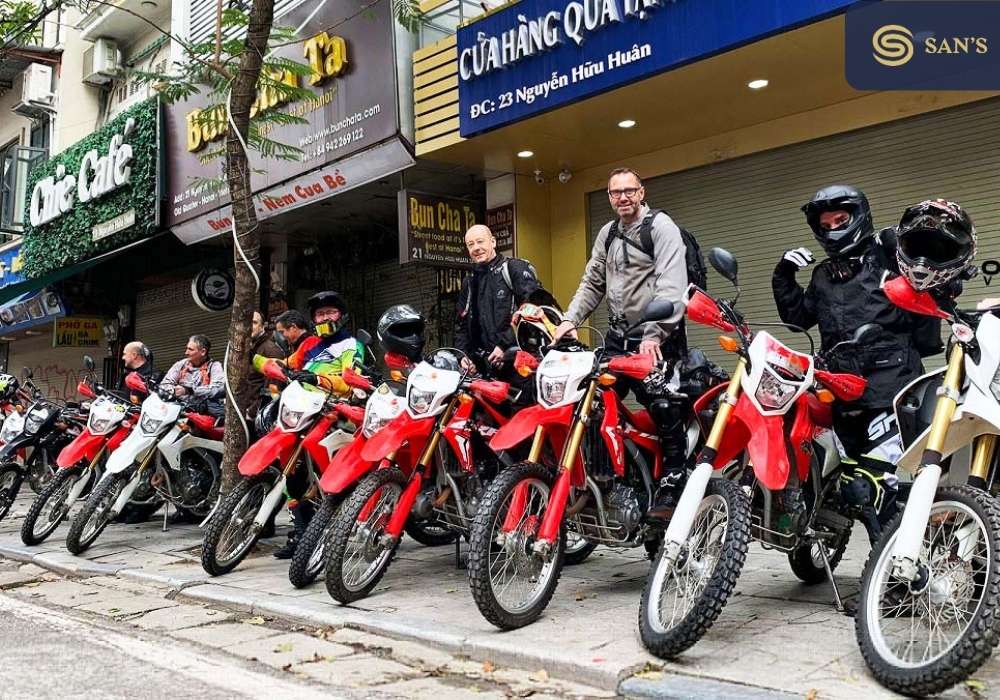 Top 5 Motorbike Rental Services in Hanoi
If the vibrant streets of Vietnam's capital beckon you, there's no better way to immerse in the Hanoian experience than by navigating its alleys on two wheels. Motorbike rentals in Hanoi provide an affordable and exhilarating means to do just that. Let's delve into the best places to secure your ride:
3.1. MOTOGO
This service prides itself on delivering top-notch, imported motorbikes like the Air Blade and Sirius. Ensuring safety is paramount, they routinely inspect their vehicles for a hassle-free ride through Hanoi's maze.
Extras: Each rental comes with two helmets, two raincoats, and a complimentary liter of gasoline.
Contact:

Phone: 0879 698 886
Locations:

Mai Dich, Cau Giay District
Chuong Duong, Hoan Kiem District
Noi Bai airport, Soc Son District

Price: 130,000–200,000 VND/day

Dive deep into Hanoi's spirit with MOTOGO. Your city adventure awaits.
3.2. Bon Bon Motor
With their guiding principle, "Customer safety first", Bon Bon Motor stands out as a trusted motorbike rental service. They boast an extensive fleet of motorbikes (models from 2012 and beyond) catering to diverse preferences and budgets.
Contact:

Address: No. 246, Ton Duc Thang Street, Dong Da District
Phone: 01255 222 555
Price: 80,000–150,000 VND/day

Unleash the thrill of Hanoi's roads with Bon Bon Motor's unbeatable offerings.
3.3. 13535 Motorbike Rental
A service synonymous with variety and reliability. From everyday bikes to luxury models, 13535 Motorbike Rental ensures customers have a plethora of choices, including digital bikes, scooters, and specialized models like Future, Wave, and more.
Contact:

Address: No. 55, Ham Long Street, Hang Bai Ward, Hoan Kiem District
Phone: 888-286-139
Price: Starting from 130,000 VND/day

Explore Vietnam's heart with 13535 Motorbike Rental, the key to a genuine Hanoian journey.
3.4. Rental Motorbike Vietnam
This service offers more than just a ride; it's an experience. From the semi-automatic Honda Waves to the off-road beasts like the XR150 Hondas and CRF 250s, they guarantee peak performance. Their dedicated technicians ensure that every bike is in impeccable condition.
Contact:

Traverse Vietnam's terrains with Rental Motorbike Vietnam. Your gateway to authentic adventures.
3.5. Mr. Good Bikes
Located near the serene West Lake, Mr. Good Bikes offers not only quality bikes but also a seamless rental experience, round the clock. Their diverse range of models and attention to safety, including free helmets, makes them a preferred choice.
Contact:

Phone: 0343 506 996
Price: 100,000–150,000 VND/day and 1,000,000–1,400,000 VND/month.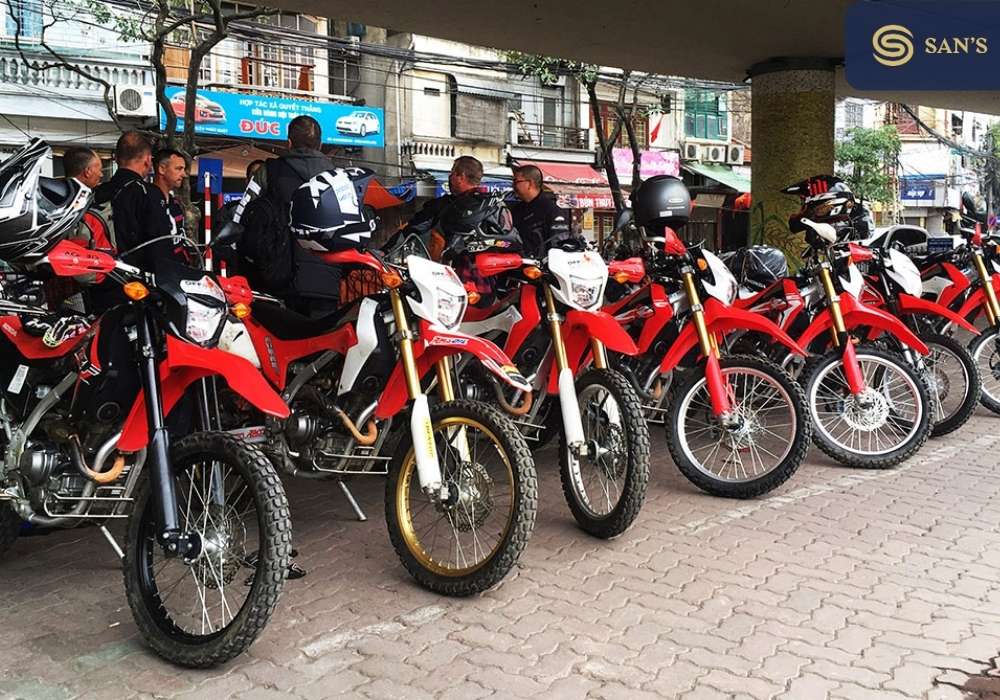 Exploring Hanoi's Must-Visit Spots with Motorbike Rental Hanoi
Riding through Hanoi on two wheels is not just transportation; it's an experience. With a "motorbike rental Hanoi" service, you are not just renting a ride; you're purchasing an intimate ticket to Hanoi's heartbeat. Let's dive into the spots best savored atop a motorbike:
1. Top Attractions Best Explored on a Motorbike:
Hoan Kiem Lake: With your motorbike rental Hanoi vehicle, start your day early by the lake. The morning serenity combined with locals practicing Tai Chi makes for a picturesque sight.
Old Quarter: A maze of heritage-filled lanes awaits. Using motorbike rental Hanoi services allows you the flexibility to wind through these alleys, pausing for delectable street food or an ancient artifact that catches your eye.
West Lake: As the day mellows, head to West Lake. Its expanse and serenity are best enjoyed on a motorbike during sunset.
Hanoi Opera House: Let your motorbike rental Hanoi adventure lead you to this architectural marvel at night when its grandeur is amplified by the city lights.
2. Local Hidden Gems Off the Beaten Path:
Ngoc Ha Flower Village: A motorbike rental Hanoi trip isn't complete without visiting this blooming haven. Especially during the Tet festival, the village paints a vivid picture of nature.
Long Bien Market: In the heart of the city but not on every tourist's map, this market is a testament to Hanoi's bustling life. A motorbike ride in the early hours lets you witness this chaos firsthand.
B52 Victory Museum: Distant from the usual tourist attractions, this place offers a profound peek into Vietnam's past. Your motorbike rental Hanoi experience will be enriched by such historical stops.
3. Timing Your Visits to Dodge Heavy Traffic:
Early Morning: Utilize your motorbike rental Hanoi service for a dawn ride to the Old Quarter or Hoan Kiem Lake. This timing ensures minimum traffic and maximum serenity.
Mid-Morning to Early Afternoon: As the city awakens fully, head to the Temple of Literature or Ho Chi Minh Mausoleum. The roads are relatively calm during this period.
Late Evening: Rekindle your motorbike rental Hanoi journey with a nocturnal ride. The Old Quarter, with its vibrant night markets and food stalls, is especially alluring.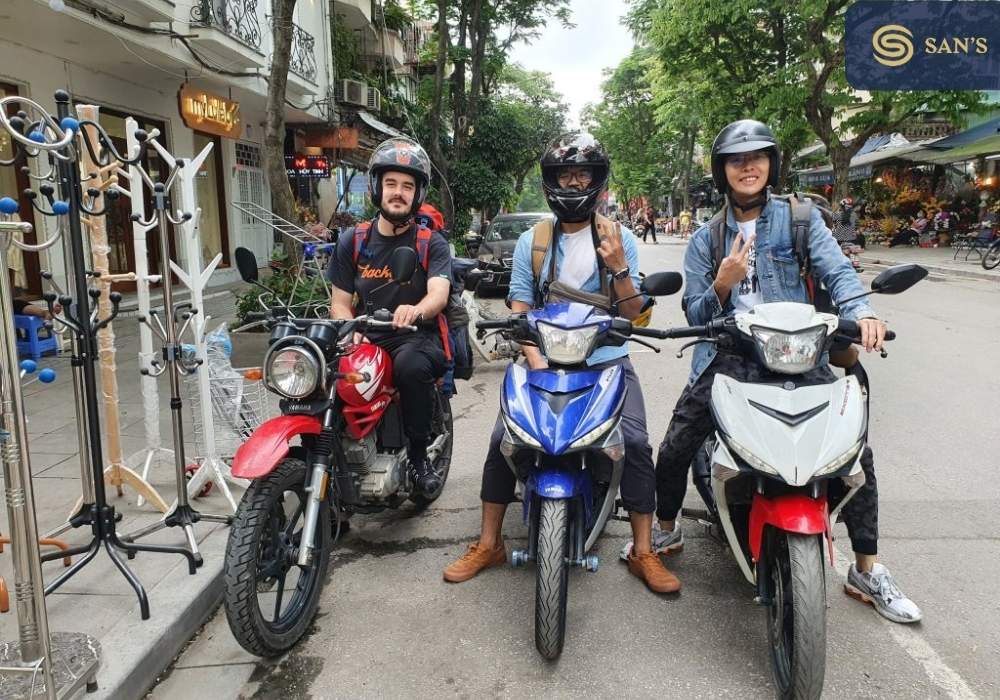 To sum it up, securing a motorbike through motorbike rental Hanoi services isn't just about mobility. It's about immersing in the city's tales, traditions, and tempo. Embrace the ride, and let Hanoi unfold before you.
FAQs about Motorbike Rental Hanoi
1. Why should I consider renting a motorbike in Hanoi?
Renting a motorbike gives you the freedom to explore the city at your own pace, navigate through tight alleys, and experience Hanoi like a local.
2. How much does it typically cost to rent a motorbike in Hanoi?
Prices vary based on the model and rental duration, but you can generally expect to pay between 80,000 to 200,000 VND per day.
3. Is an international driving license required to rent a motorbike in Hanoi?
It's recommended to have an International Driving Permit (IDP) with a motorbike endorsement. Some rental agencies might rent without it, but it's always safer (and often legally required) to have the appropriate documentation.
4. Are helmets provided with the motorbike rental?
Yes, reputable motorbike rental services in Hanoi will provide helmets for your safety. It's also mandatory by Vietnamese law to wear a helmet while riding.
5. Can I rent a motorbike for more than one day?
Absolutely! Many companies offer daily, weekly, or even monthly rental options. Ensure to discuss the terms with the rental agency beforehand.
6. Is it safe to ride a motorbike in Hanoi?
Traffic in Hanoi can be chaotic for those unfamiliar with it. If you're an experienced rider and can adapt to the local traffic norms, it can be safe. Always ride defensively and be extra cautious during peak hours.
7. Do the motorbikes come with insurance?
Some motorbike rental Hanoi services offer insurance, while others might not. It's crucial to ask the rental agency about the available insurance options and coverage.
8. What should I check before accepting a motorbike from the rental service?
Before you set off, check the brakes, lights, horn, tire condition, and fuel level. Ensure there are no existing damages, or if there are, that they're documented by the rental company.
9. What should I do in case of an accident or a breakdown?
Always note down the contact details of your motorbike rental Hanoi service. In the event of an accident or breakdown, contact them immediately. It's also wise to familiarize yourself with local emergency numbers.
10. Are there any areas in Hanoi I should avoid while on a motorbike?
Some roads might be restricted for two-wheelers, or there could be areas with heavy congestion. It's a good idea to ask the rental agency for guidance on areas to avoid or be cautious about.