When planning a trip to Hanoi, finding the right hotels in Hanoi Old Quarter can greatly enhance your overall experience. The Old Quarter is brimming with a wide range of accommodations, from budget-friendly guesthouses to boutique hotels and luxury establishments. Selecting a hotel that suits your preferences and needs ensures that you have a comfortable and convenient base for exploring the area. Choosing hotels in Hanoi Old Quarter allows you to immerse yourself in the local culture, easily access key attractions, and indulge in the unique charm and ambiance of this historic neighborhood.
Whether you are drawn to the traditional architecture, the vibrant street life, or the tantalizing food scene, Hanoi Old Quarter offers an enchanting atmosphere that will leave a lasting impression. By choosing the perfect hotel in this lively district, you can elevate your stay and create cherished memories of your time in Hanoi. In the following sections, we will guide you through the process of finding the ideal hotel that aligns with your preferences, ensuring a truly unforgettable experience in Hanoi Old Quarter.
Exploring Hanoi Old Quarter: Immerse Yourself in History and Culture
History and Cultural Significance of Hanoi Old Quarter:
The Hanoi Old Quarter, also known as "36 Streets," holds a rich history that dates back over a thousand years. Originally a bustling trading hub, each street in the quarter was named after the goods traditionally sold there. As you wander through the narrow alleyways, you'll encounter architectural gems that showcase a blend of Vietnamese, Chinese, and French influences, offering a glimpse into Hanoi's diverse cultural heritage.
Iconic Landmarks and Attractions in the Area:
Hoan Kiem Lake: Located at the heart of Hanoi Old Quarter, this picturesque lake is surrounded by legends and serves as a popular gathering spot for locals and tourists alike. Don't miss the opportunity to visit Ngoc Son Temple, an elegant pagoda nestled on an islet in the lake.
St. Joseph's Cathedral: Standing as an iconic symbol of Hanoi, this stunning cathedral boasts neo-Gothic architecture and is a prominent religious site for Catholics in the city. Its grandeur and historical significance make it a must-visit landmark.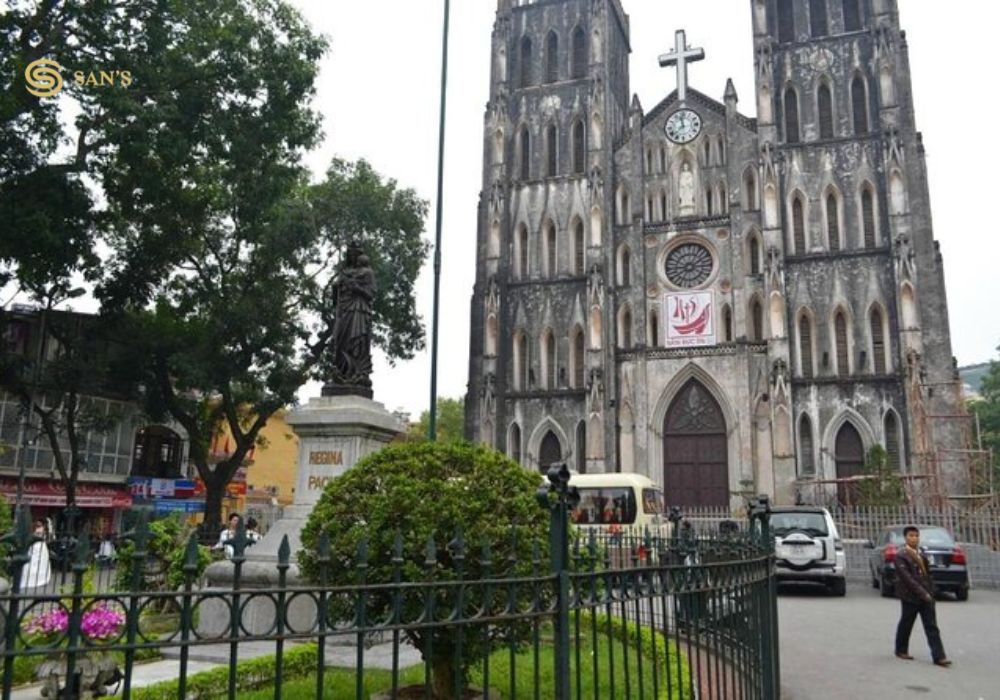 Dong Xuan Market: As one of the largest covered markets in Hanoi, Dong Xuan Market offers a vibrant shopping experience. Explore the maze-like alleys filled with stalls selling everything from traditional handicrafts and clothing to fresh produce and street food.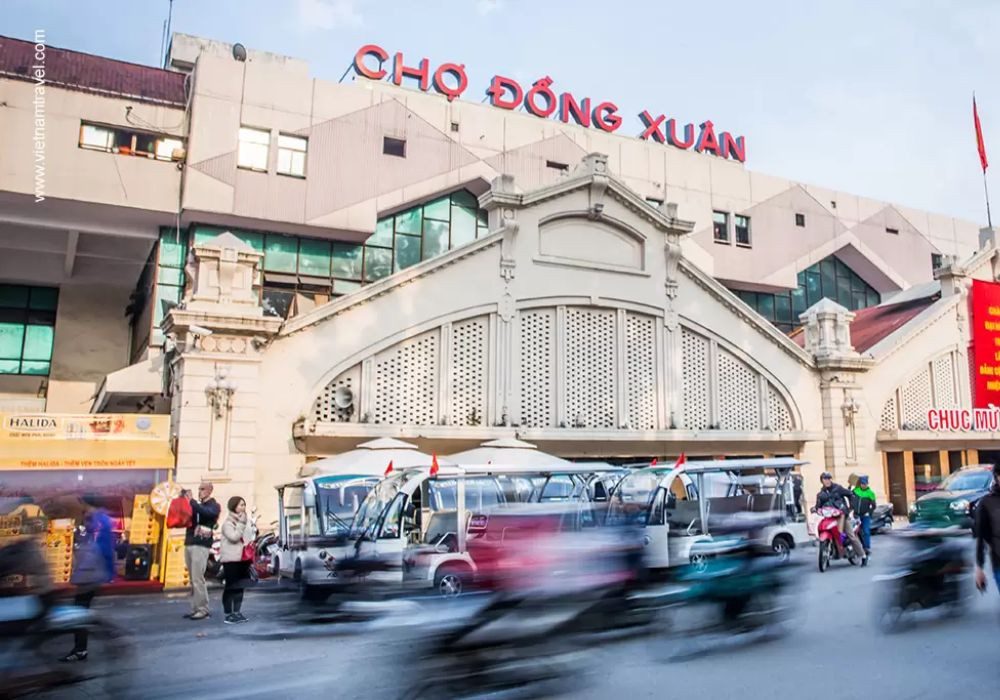 Bach Ma Temple: Known as the oldest temple in Hanoi, Bach Ma Temple is dedicated to a white horse deity. Admire its intricate carvings and immerse yourself in the spiritual ambiance as you learn about its fascinating legends.
Hanoi Opera House: This magnificent French colonial-era building showcases neoclassical architecture and hosts a variety of cultural performances. Catch a show or simply admire the stunning exterior of this architectural gem.
Exploring Hanoi Old Quarter allows you to delve into the captivating history and cultural heritage of the city. With its iconic landmarks and attractions, this vibrant neighborhood offers an enriching experience for every traveler seeking to immerse themselves in the charm of Hanoi.
Unique Features and Characteristics of Hotels in Hanoi Old Quarter:
Hotels in Hanoi Old Quarter offer a distinctive experience that sets them apart from other accommodations in the city. 
Here are some unique features you can expect:
Traditional Architecture: Many hotels in Hanoi Old Quarter have preserved their traditional architecture, allowing guests to step back in time and immerse themselves in the rich history of the area. The charming facades, wooden beams, and intricate details showcase the architectural beauty of Vietnam's past.
Boutique Ambiance: The hotels in this area often boast a boutique atmosphere, providing a cozy and intimate setting for guests. You'll find smaller, independently owned properties that offer personalized service and attention to detail, ensuring a memorable and tailored experience.
Authentic Décor: Reflecting the cultural heritage, hotels in Hanoi Old Quarter feature authentic décor that blends traditional Vietnamese elements with modern comforts. From ornate wooden furniture to vibrant textiles and artwork, the interior design captures the essence of Vietnamese aesthetics.
Rooftop Views: Some hotels in Hanoi Old Quarter offer rooftop terraces or balconies that provide panoramic views of the bustling streets below. Enjoy a cup of Vietnamese coffee or unwind with a refreshing drink while taking in the vibrant atmosphere and architectural beauty of the quarter.
Hotels in Hanoi Old Quarter offers several advantages that enhance your overall experience in the city.
Proximity to Attractions: The Old Quarter is centrally located, making it convenient for exploring the iconic landmarks, markets, temples, and museums that are within walking distance. You'll have easy access to Hoan Kiem Lake, Dong Xuan Market, and other popular attractions.
Vibrant Street Life: The streets of the Old Quarter are bustling with energy, offering a vibrant atmosphere day and night. From street food vendors to bustling markets and lively cafes, you'll have a chance to immerse yourself in the local culture and witness the daily life of Hanoians.
Culinary Delights: Hanoi is renowned for its street food, and the Old Quarter is a food lover's paradise. Staying in this area allows you to indulge in authentic Vietnamese cuisine, from steaming bowls of pho to savory banh mi sandwiches and crispy spring rolls, all just steps away from your hotel.
Cultural Immersion: By staying in the Hanoi Old Quarter, you'll have the opportunity to engage with the local community and experience the city's cultural traditions. Take part in a traditional water puppet show, visit nearby temples, or simply wander the streets and soak up the vibrant ambiance.
Choosing a hotels in Hanoi Old Quarter not only provides a unique and charming accommodation experience but also allows you to fully immerse yourself in the cultural richness and vibrant atmosphere of this historic neighborhood. From the distinct features of the hotels to the benefits of staying in the area, your stay in Hanoi Old Quarter promises to be an unforgettable journey.
There are some hotels in Hanoi Old Quarter, helping you find the perfect accommodation for your trip.
1.Hanoi La Siesta Hotel & Spa: Situated in the heart of the Old Quarter, Hanoi La Siesta Hotel & Spa is a boutique establishment that seamlessly blends modern and traditional designs. The hotel boasts elegant rooms adorned with wooden floors and traditional Vietnamese decor. Take in breathtaking city views at the rooftop bar while indulging in a variety of spa treatments. Enjoy a diverse dining experience with options ranging from a Vietnamese restaurant to a rooftop bar.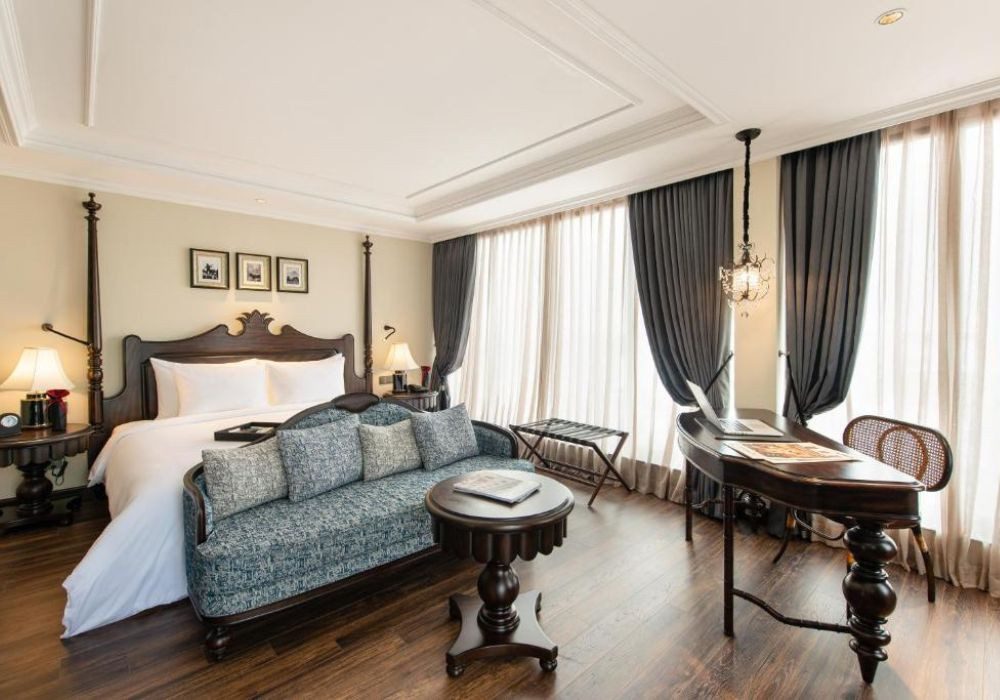 2. San Grand Hotel Hanoi
Located in the bustling city center, San Grand Hotel Hanoi offers a comfortable and convenient stay for travelers. The hotel features well-appointed rooms with modern amenities and elegant decor. Guests can enjoy a range of facilities, including a fitness center, a spa, and a rooftop restaurant offering panoramic views of the city. The hotel's attentive staff ensures a warm and personalized experience for guests.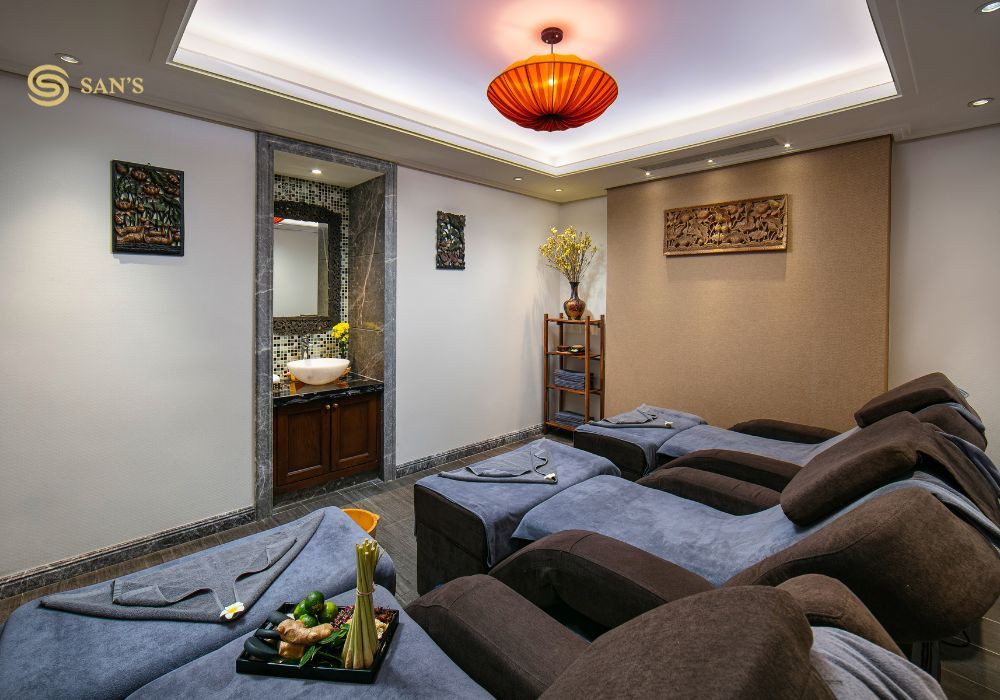 3. O'Gallery Premier Hotel & Spa: For a comfortable stay in the Old Quarter, consider O'Gallery Premier Hotel & Spa. This boutique hotel features spacious and stylish rooms equipped with modern amenities, including flat-screen TVs and complimentary Wi-Fi. Take advantage of the rooftop bar boasting stunning city views, or unwind at the spa and wellness center offering an array of treatments.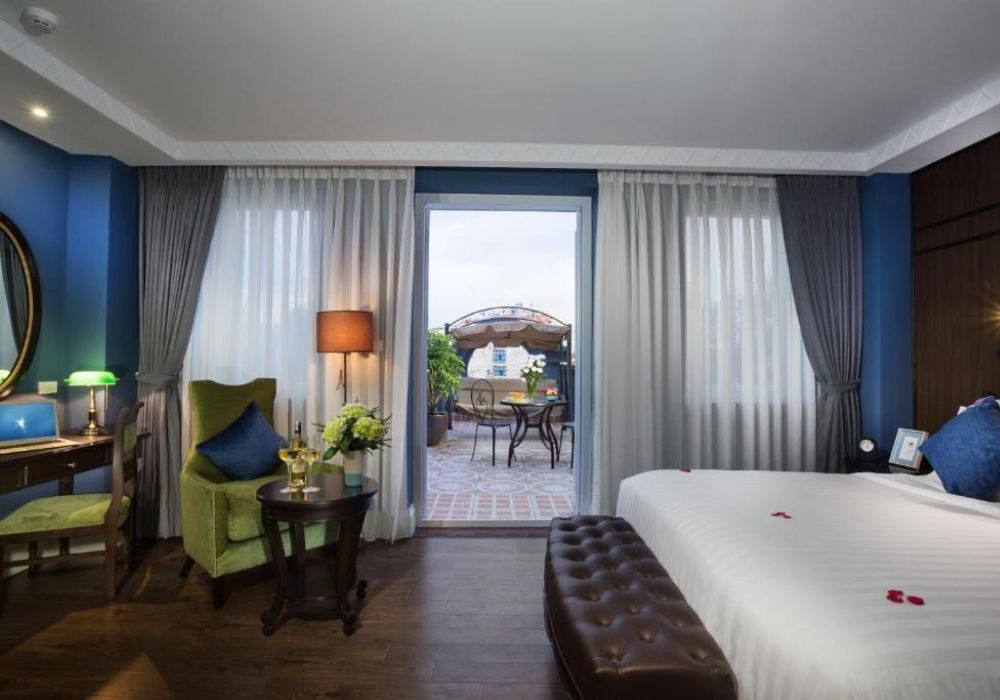 4.Essence Hanoi Hotel & Spa: Located just a stone's throw away from Hoan Kiem Lake, Essence Hanoi Hotel & Spa is a luxury accommodation option catering to discerning travelers. The hotel showcases elegant rooms adorned with classic Vietnamese decor and offers a rooftop bar with panoramic city views. Guests can also indulge in spa treatments and savor Vietnamese and international cuisine at the hotel's restaurant.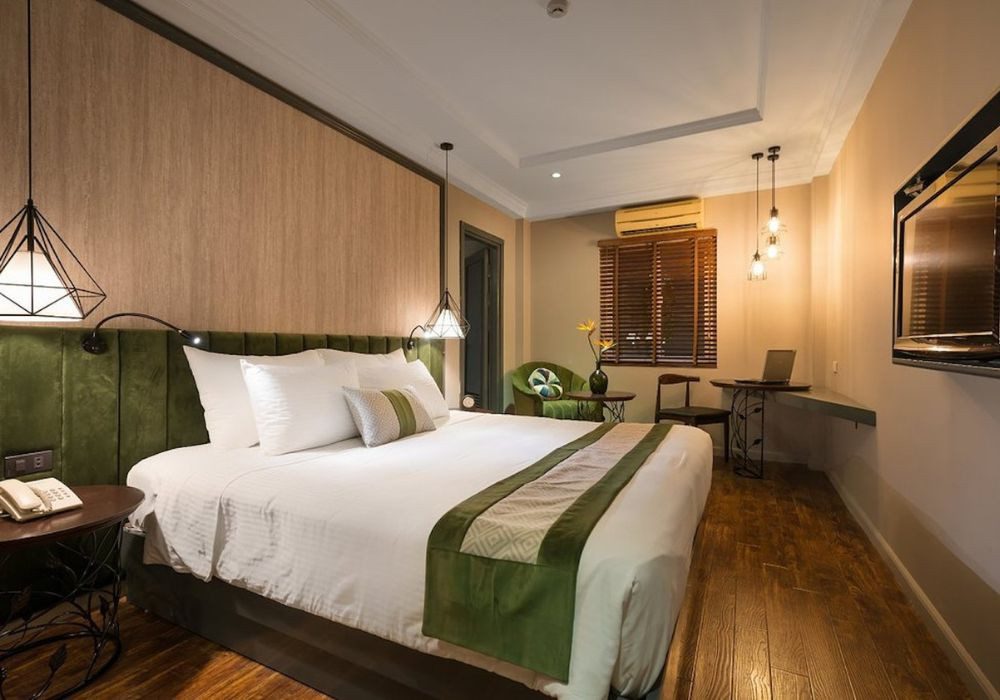 In summary, choosing to stay at the top hotels in Hanoi Old Quarter  not only ensures a comfortable and convenient accommodation but also allows you to immerse yourself in the rich culture and attractions of this historic neighborhood.
To conclude, the Old Quarter of Hanoi is an excellent choice for accommodation when visiting this vibrant city. Whether you desire a luxurious experience or a more budget-friendly option, there are abundant hotel choices available in this area. The Old Quarter caters to diverse preferences and offers something for everyone. Don't miss out on the opportunity to book your hotels in Hanoi Old Quarter today and indulge in all the wonders this remarkable city has to offer!