Nightlife in Hanoi – one of the things to do in Hanoi. Whether you prefer the laid-back ambiance of sitting on a humble plastic stool on the street, savoring the world's cheapest beer, or the vibrant atmosphere of bustling bars and energetic nightclubs, there is something to suit every taste. Alternatively, you can take a leisurely stroll through the illuminated city, indulging in delectable street food, or immerse yourself in the enchanting performances at the opera house. Regardless of your preferences, Nightlife in Ha Noi scene caters to all, ensuring a memorable evening for everyone.
>>> See more: 10 things to do in Hanoi – Amazing traveling schedule you need to try!
Bia Hoi Juction
Immerse yourself in the lively atmosphere of nightlife in Ha Noi by taking a seat on a humble plastic stool amidst a crowd of locals and fellow travelers who share a love for beer. Indulge in the refreshing taste of Bia Hoi, renowned as the world's cheapest beer, starting at a mere $0.30 cents (7,000 VND) per glass. While numerous street stalls in the Old Quarter offer this beverage, the most famous spot is Bia Hoi Junction, situated at the intersection of Dinh Liet, Ta Hien, and Luong Ngoc Quyen streets.
At Bia Hoi Junction, you'll not only enjoy the affordable beer but also have the opportunity to make new friends and observe people while comfortably seated on the low plastic stools. To enhance your experience, consider savoring a freshly cooked street food dish on the side. This vibrant gathering spot attracts a diverse crowd of travelers, backpackers, and locals, providing ample opportunities to exchange travel stories and forge meaningful connections. The remarkable ambiance and the chance to mingle with the locals make Bia Hoi Junction a truly unique and unforgettable highlight of nightlife in Ha Noi.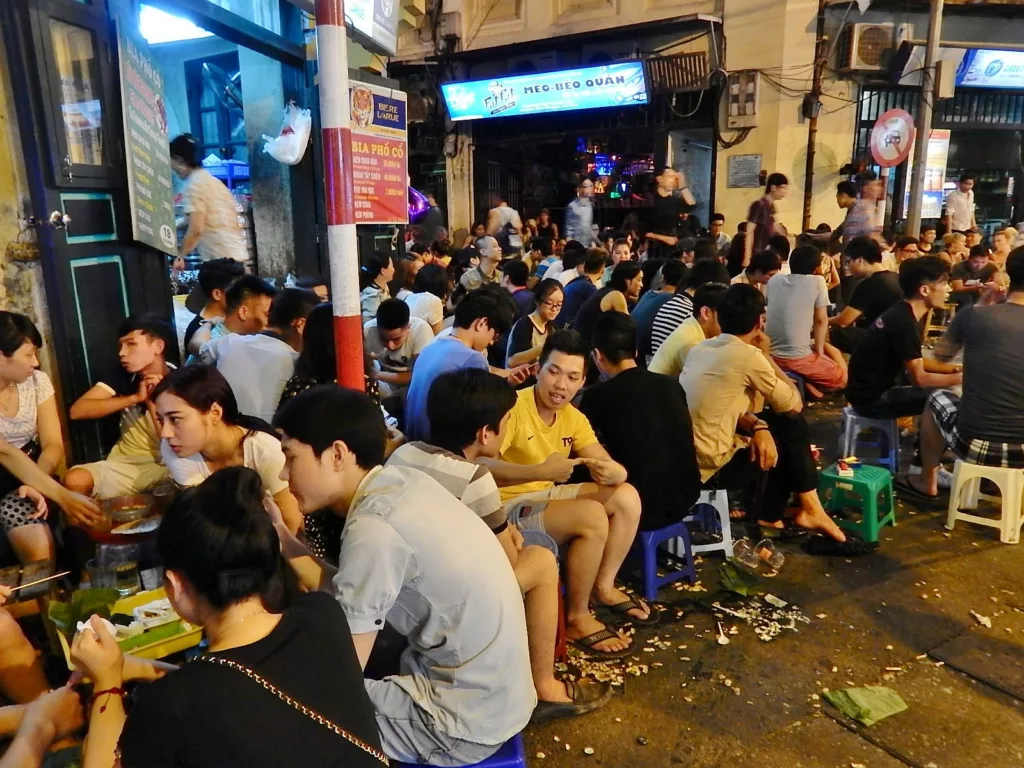 Evening walk
Hanoi undergoes a fascinating transformation throughout the day, with each period – morning, afternoon, and evening – showcasing a distinct atmosphere. As evening descends, the streets come alive with the emergence of numerous street food stalls, bustling with activity as people traverse the city. Clubs and bars beckon guests with their vibrant neon lights, adding to the energetic ambiance. Notably, the city's renowned landmarks and monuments, including temples and the Opera House, are enchantingly illuminated, creating a captivating spectacle.
Venturing into the city center, one can witness locals and tourists venturing out for food and drinks, while neighboring parks become havens for relaxation, dating, and exercise. Embarking on an evening stroll offers an excellent opportunity to immerse oneself in Hanoi's nightlife. It's worth revisiting favorite spots after dark, as they often exude an entirely different charm. A leisurely walk around Hoan Kiem Lake allows one to witness the park bursting with life, with people engaging in various exercises and lively dancing. Young Vietnamese couples gather here for romantic dates, while the temples and bridges surrounding the lake shimmer with captivating nocturnal lighting.
Continuing onward to the old quarter, one can meander through colonial buildings and iconic hotels, observing the vibrant tapestry of daily life in the narrow streets. The nocturnal ambiance offers a distinctive atmosphere, offering a delightful contrast to the daytime bustle. Taking a leisurely walk through these streets presents a perfect opportunity to witness and experience the vibrant nightlife that Hanoi has to offer.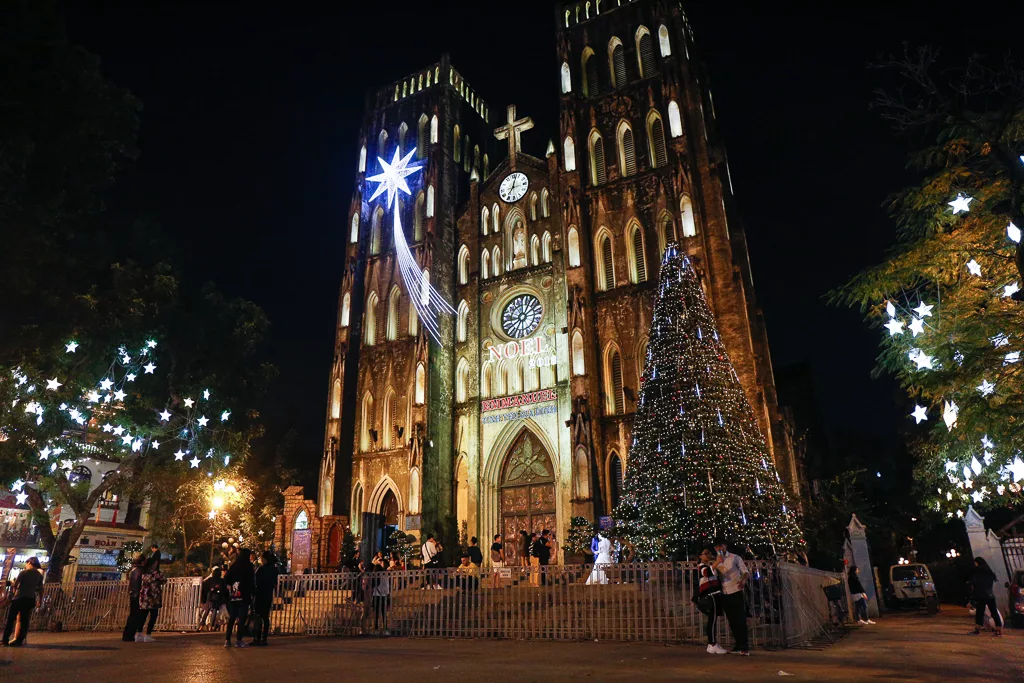 Weekend night market
The Hanoi Weekend Night Market, held every Friday, Saturday, and Sunday, transforms a significant portion of the Old Quarter into a vibrant and bustling gathering of roadside stalls and local food vendors. Starting from 7 PM, this lively market attracts a massive crowd of both locals and tourists.
Exploring the vibrant alleys of the market is an exciting experience, offering a chance to peruse the diverse range of goods on offer. While the fashion items may not capture much attention due to the abundance of inexpensive t-shirts, crafts, accessories, shoes, sunglasses, and souvenirs, there are still hidden gems to be found. If you come across something you desire, be sure to engage in the cultural practice of bargaining before making a purchase. Prices are often initially set higher, and negotiating is an integral part of the shopping experience.
Roaming through the Hanoi Weekend Night Market allows you to immerse yourself in the bustling atmosphere, interact with vendors, and discover unique items at more favorable prices through skilled bargaining. Whether you're seeking a souvenir or simply indulging in the vibrant ambiance, this market offers an unforgettable experience for visitors.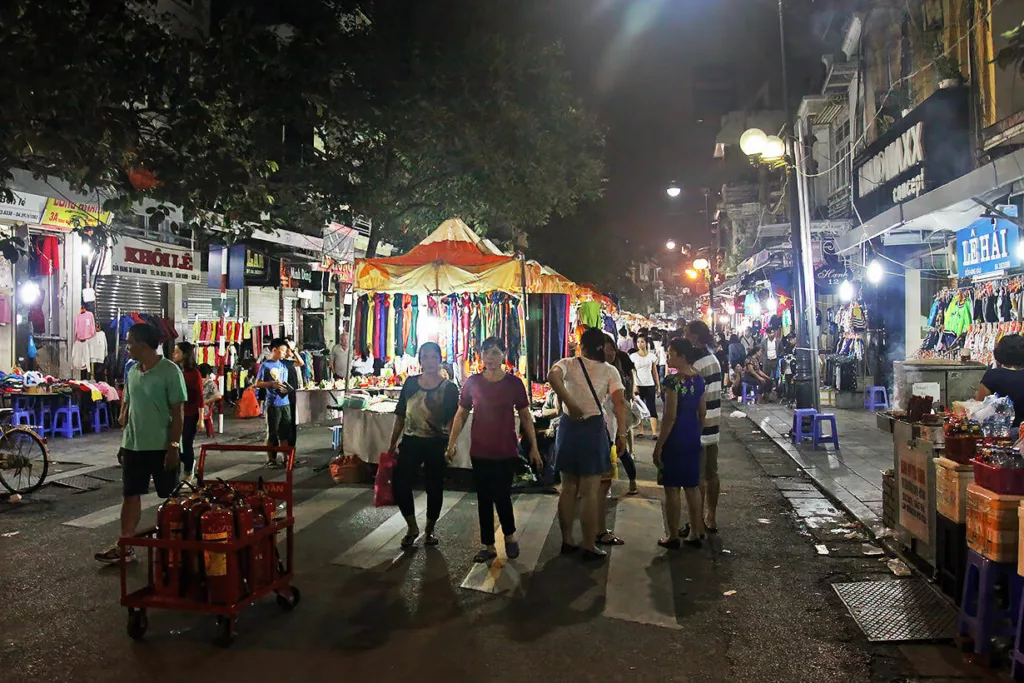 Visit Quang Ba flower market
Exploring a flower market at night may initially seem unconventional, but the Quang Ba Flower Market in Hanoi defies expectations. This bustling commercial market comes alive after midnight, particularly around 2 am, catering to the needs of floral shops and vendors throughout the city. Business owners flock to this market during the early hours to obtain the freshest and most vibrant blooms available.
As you step into the Quang Ba Flower Market, you'll be enveloped in a sensory delight of colors and fragrances. It's akin to entering a vast outdoor garden, albeit under the night sky. The market showcases an impressive array of flowers, creating a captivating visual spectacle. The vibrant hues and enchanting aromas contribute to a unique ambiance, evoking a sense of wonder and beauty.
Witnessing the Quang Ba Flower Market in full swing during its peak hours grants you a glimpse into the bustling behind-the-scenes of Hanoi's floral industry. It's an opportunity to appreciate the meticulous selection process undertaken by business owners as they seek the freshest blossoms to adorn the city's streets and venues. Exploring this nocturnal floral oasis promises a memorable and enchanting experience, immersing you in the natural beauty that comes alive even after the sun sets.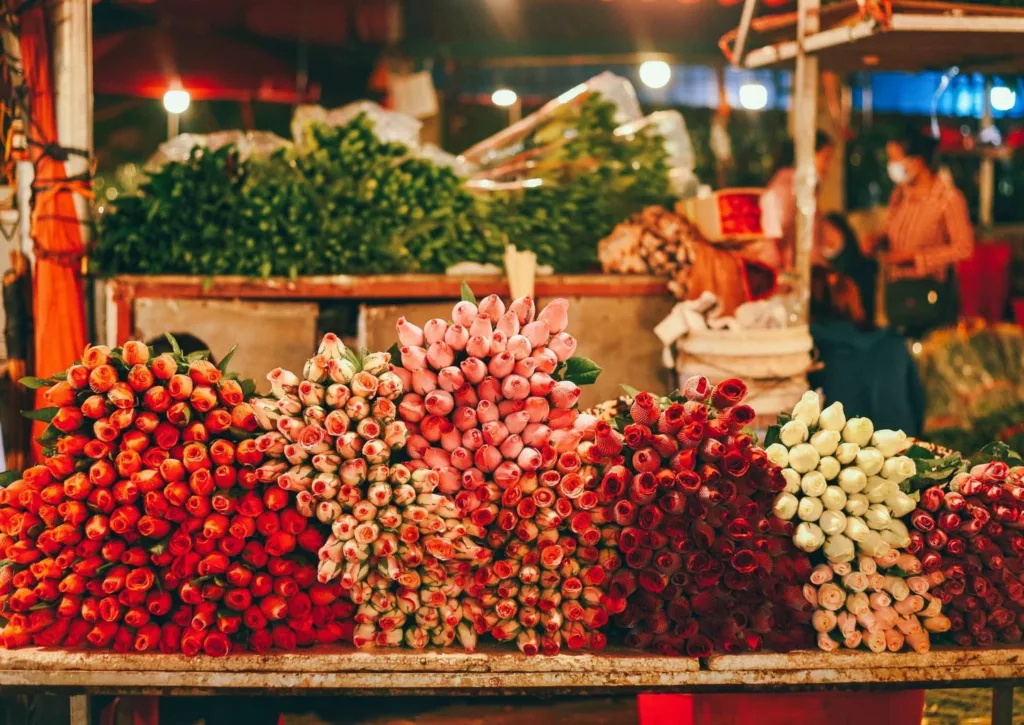 Play traditional games with locals at the walking street
During weekends, the area surrounding Hoan Kiem Lake in Hanoi undergoes a transformation as it is closed off to traffic and transforms into a vibrant Walking Street. This pedestrian-only zone prohibits all forms of transportation, providing a safe and lively space for visitors to explore.
If you have the fortune of visiting on the weekends, be sure not to miss the Walking Street experience. It offers a variaty of activities and entertainment for all to enjoy. From captivating performances showcasing traditional and modern dances to engaging with the local community, there's something for everyone. Local residents are enthusiastic about sharing their culture, and they take pleasure in demonstrating various traditional games for visitors to participate in and learn from.
The Walking Street surrounding Hoan Kiem Lake is a hub of excitement, creating a lively and spirited atmosphere that immerses visitors in the rich cultural heritage of Ha Noi. It's an opportunity to witness captivating performances, engage with the local community, and indulge in the joyous festivities that make this experience truly memorable. Don't miss out on the chance to partake in the vibrant activities and immerse yourself in the cultural charm of the Walking Street.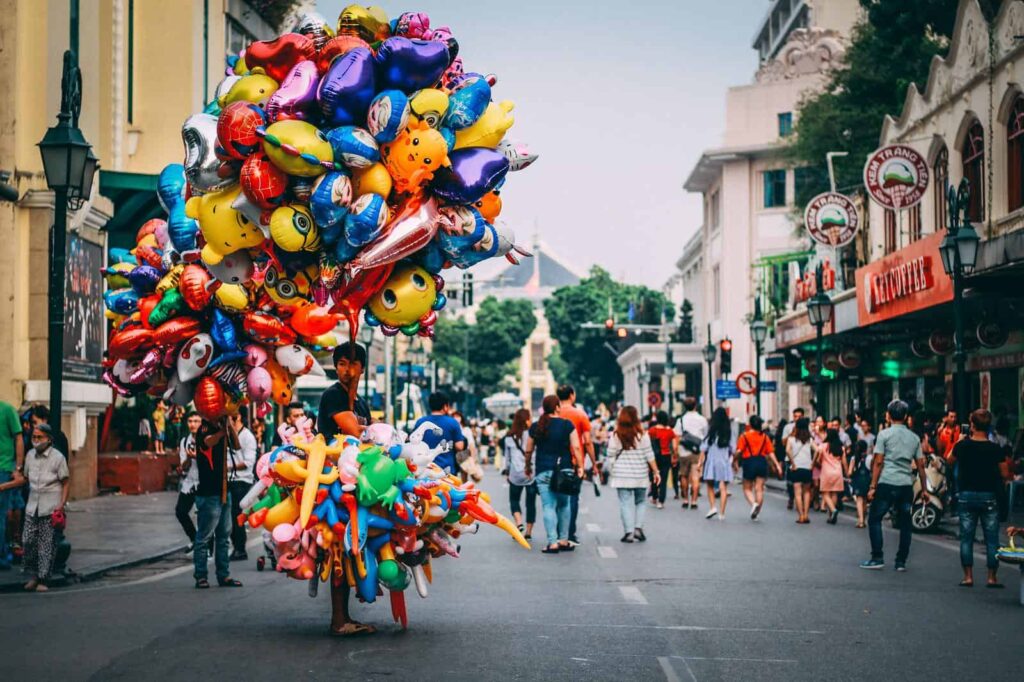 Enjoy Ha Noi street food tour
Ha Noi street food tour is renowned for offering a delightful culinary adventure. It provides a unique opportunity to immerse yourself in the vibrant food culture of the city. Throughout the tour, you'll have the chance to sample a variety of iconic dishes, including Pho (noodle soup), bun cha (grilled pork with noodles), banh mi (Vietnamese sandwich), and indulgent egg coffee.
Beyond the delectable food, the tour takes you through the charming narrow alleys, allowing you to explore the customs and traditions of the local people. As you wander through these hidden gems, your knowledgeable tour guide will regale you with fascinating stories about the city's history, diverse cuisine, and rich cultural heritage.
Ha Noi street food tour not only satisfies your taste buds but also offers a deeper understanding of the city's culinary traditions and its people's way of life. It's an opportunity to connect with the locals, discover hidden culinary gems, and gain insights into the cultural tapestry of Hanoi. Embark on this captivating journey, and let the flavors and stories of nightlife in Ha Noi leave a lasting impression on you.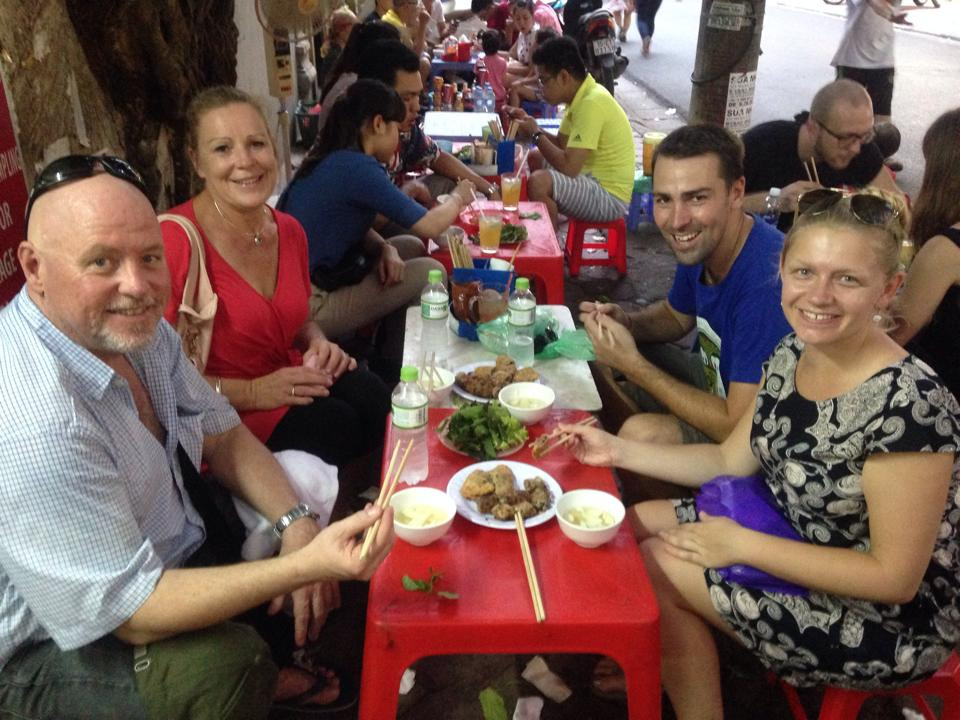 Enjoy Spa in Hanoi at night
Enjoying spa in Hanoi at night provides a peaceful and rejuvenating experience, enabling you to unwind, pamper yourself, and embrace the tranquil beauty of the city after dark. The Huc Spa is one of the best spas in Ha Noi
The Huc Spa, situated within the renowned San Grand Hotel, boasts an excellent location at the heart of Hanoi's Old Quarter. This luxurious spa offers a wide range of treatments at affordable prices, catering to various preferences.
At The Huc Spa, guests can indulge in a diverse selection of spa treatments sourced from different corners of the globe, tailored to meet the individual needs of every customer. The spa's signature therapies skillfully blend traditional Vietnamese techniques with contemporary methods, ensuring an unforgettable and immersive experience for all patrons.
Private massage rooms at The Huc Spa provide a serene and tranquil setting, adorned with unique decor, allowing visitors to unwind and find respite from stress and fatigue. With a focus on relaxation, these spaces are thoughtfully designed to offer peace and tranquility to guests.
To ensure utmost quality, The Huc Spa utilizes premium products derived from natural and organic ingredients. This commitment to excellence ensures that customers receive optimal results and a truly rejuvenating experience.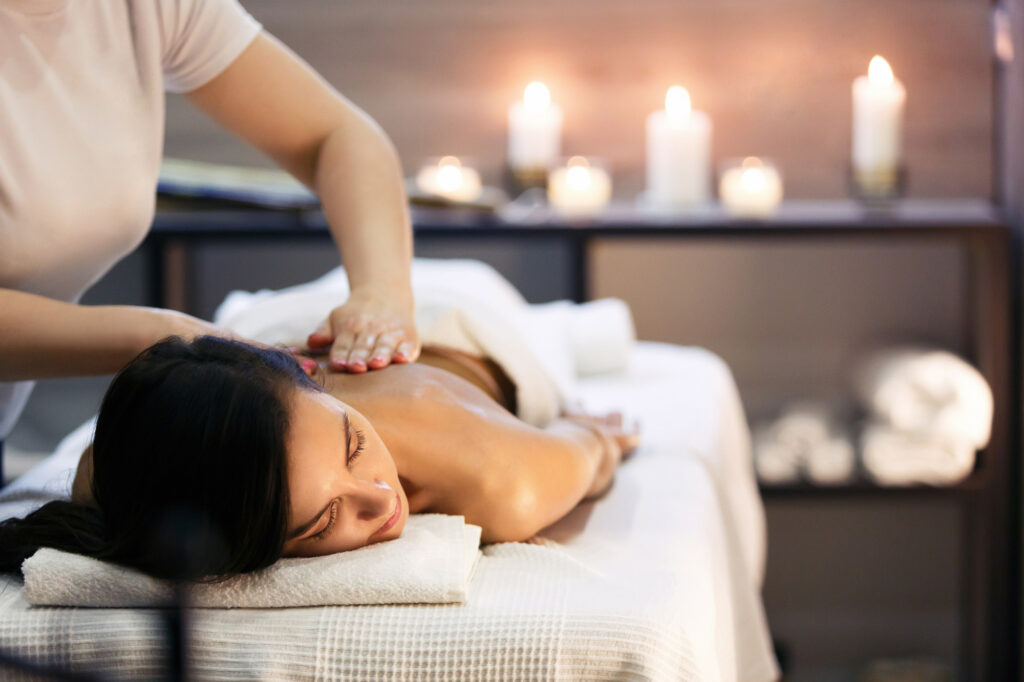 Price Range: $30 – $200
Address: No. 02 Cau Go Lane, Hang Bac Ward, Hoan Kiem District, Hanoi
Website: https://thehucspa.sanhotelseries.com/
Phone: +84 943602992
Tips for getting around at night in Ha Noi
Exploring the nightlife in Hanoi can be an enjoyable experience. However, it's important to keep in mind a few tips to ensure a safe and pleasant outing:
Carry your hotel card: It's always a good idea to have your hotel card with you. In case you get lost or have trouble communicating, the card will help you find your way back to your accommodation.

Avoid carrying valuable items: While Vietnam is generally a safe country, it's advisable not to bring expensive jewelry or your passport when venturing out at night. Petty theft can occur in crowded areas, so it's best to leave such valuable items in a secure place.

Consider going with friends or seeking local advice: If possible, explore the nightlife with friends or acquaintances. It adds an extra layer of safety and enhances the overall experience. Alternatively, consult a reliable local travel agent who can provide valuable information and recommendations about the best places to visit.

Dress appropriately for the weather: If you're visiting Hanoi during the winter season, be prepared for chilly temperatures. It's essential to keep yourself warm, so don't forget to bring a jacket or layers of clothing to stay comfortable throughout the night.
By keeping these tips in mind, you can have a memorable and safe nightlife experience in Hanoi. Enjoy exploring the city's vibrant evening scene while ensuring your own well-being and security.