Hanoi's nightlife is a vibrant mixture of the old and the new, where tradition and modernity meet in a dynamic dance. At the heart of this nocturnal energy lies Bar Street in Hanoi, a legendary locale known for its eclectic mix of bars, pubs, and an atmosphere teeming with energy.
As dusk falls, the cityscape transforms and Bar Street awakens. Illuminated by the soft glow of lanterns and neon lights, it invites locals and travelers alike into a world where every corner buzzes with life. Here, ancient architecture stands as the backdrop to modern rhythms, and an array of entertainment options promise unforgettable nights.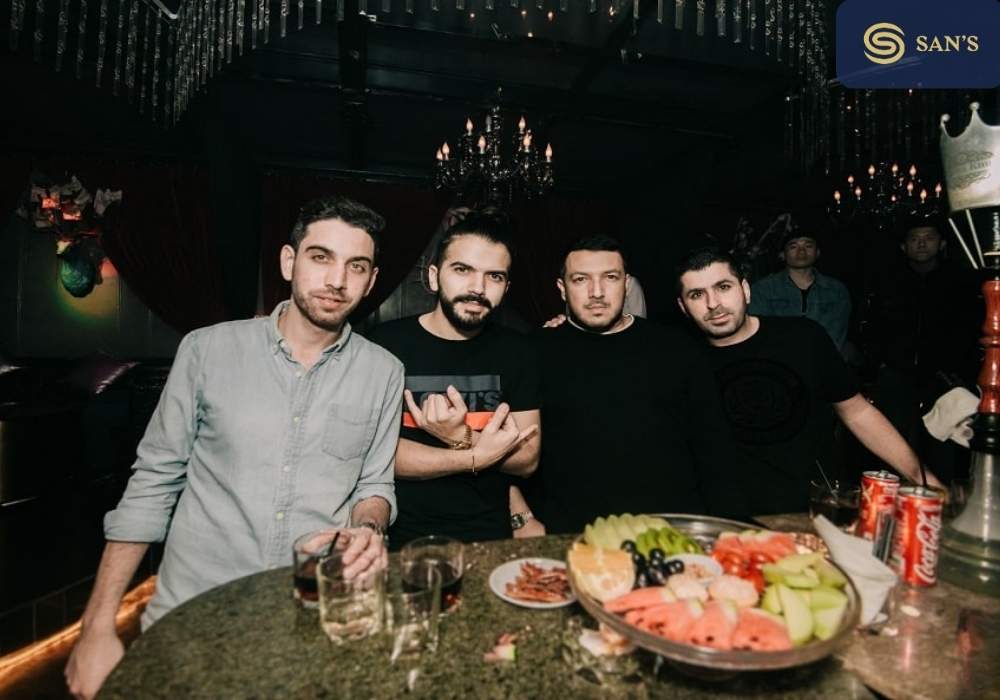 Bar Street isn't just a location but an experience. Every establishment is a blend of Hanoi's rich history and the electrifying pulse of contemporary life. Join us as we delve into this iconic street, exploring the allure that makes it the crown jewel of Hanoi's nightlife.
The Evolution of Bar Street in Hanoi
Bar Street Hanoi wasn't always the bustling nightlife hub that it is today. Its transformation is a captivating story woven with threads of history, culture, and the inevitable touch of modernization that breathes life into cities worldwide.
In the quiet annals of Hanoi's past, Bar Street was a serene locale, echoing the whispers of a city deeply rooted in tradition. The architecture bore witness to the tales of an ancient city; every brick, every path was a silent narrative of a time when the night was a serene affair, a quiet escapade under the starlit skies.
The transformation of Bar Street is a chronicle marked by key events and shifts in the cultural tides. It was the influx of foreign influences, the opening of Vietnam's doors to the world, and the city's relentless stride towards modernization that birthed the vibrant nightlife hub.
Every new pub and bar was not just a business establishment but a chapter added to the ongoing tale of a street evolving against the backdrop of a city in flux.
Locals and long-term visitors have seen Bar Street metamorphose before their eyes. The elders speak of a time when the night was marked by silence and the stars were the sole illuminators. Yet, ask the youth, and they'll weave tales of a street that's alive with the rhythms of music, the chatter of diverse crowds, and the eclectic mix of drinks that flow generously.
From a serene lane echoing the silent songs of an ancient city to a nightlife hub pulsing with energy, Bar Street Hanoi's evolution is a testament to a city that's as passionate about preserving its rich history as it is enthusiastic about embracing the future. Every night on this iconic street is a dance between the old and new, a blend of the quietude of the past and the vibrant rhythms of the present.
The Bar Street Experience
When night falls and the stars adorn the sky, Bar Street Hanoi bursts into a life of its own. Every corner, every establishment, and every face is part of a larger mosaic of vibrant energy, eclectic sounds, and diverse flavors that define this legendary street.
Embarking on a typical night on Bar Street is akin to stepping into a world where every establishment is a universe of experiences waiting to unfold. The soft hum of chatter, the rhythmic beats of music, and the kaleidoscope of lights promise an adventure of discovery.
Popular bars and clubs dot the landscape, each offering a unique aura. There's the rustic charm of the old pubs reminiscent of the street's quieter days, and the pulsating energy of modern clubs that echo the global influences shaping Hanoi's contemporary nightlife. Establishments like "The Hanoi Social Club" or "The Unicorn Pub" are not just venues but experiences, where every night is a new chapter of stories, laughter, and connections.
Navigating Bar Street requires a blend of adventurous spirit and insights only the regulars would know. Insider tips? Start your evening early to soak in the atmosphere before the crowd swells. Each establishment has its peak hours, signature offerings, and unique ambience; exploring multiple spots in one night is not just common but part of the allure.
Every turn, every corner of Bar Street Hanoi offers a different vibe, a unique experience, and an opportunity to immerse in a nightlife that's as diverse as the city itself. It's where tradition meets modernity, where the silent tales of the ancient city merge with the vibrant narratives of today, offering a nightlife experience that's as rich in history as it is in contemporary energy.
Must-Visit Bars and Pubs
1900 Le Theater Bar – Hanoi's Spotlight Destination
Location: No. 8, Ta Hien Street, Hoan Kiem District, Hanoi.
Hours: 8:30 pm – 3 am Dive into the heart of Hanoi's nightlife at 1900 Le Theater, a beacon of energy in the Old Quarter. Nestled on the legendary Ta Hien Street, this bar marries the site's theatrical past with its electrifying present, showcasing an ensemble of retro charm and contemporary flair.
1900 Le Theater Bar – Bar Street in Hanoi
Prague Pub – Hanoi's Slice of Czech Serenity
Prague Pub – Bar Street in Hanoi
Location: No. 38, Luong Ngoc Quyen Street, Hoan Kiem District, Hanoi.
Hours: 11 am – 3 am Seeking a more tranquil haunt? Venture to Prague Pub. Reflecting the soothing ambiance of the Czech capital, it offers patrons a haven for quiet reflection, hearty chats, and refreshing brews.
IP Club – The Pulse of Hanoi's LGBTQ+ Scene
Location: 6th Floor, No. 41, Hai Ba Trung Street, Hoan Kiem District, Hanoi.
Hours:

Tuesday to Saturday: 8:25 pm – 2 am
Sunday: 8:25 pm – 12 am IP Club stands proud as one of Hanoi's enduring LGBTQ+ venues. A sanctuary for the city's vibrant LGBT community and allies alike, its energy and inclusivity remain unparalleled.
IP CLub – Bar Street in Hanoi
Binh Minh Jazz Club – Hanoi's Jazz Maestro
Location: 8th Floor, No. 33 – 35, Hang Dau Street, Hoan Kiem District, Hanoi.
Hours: 4 pm – 12 am Let the rhythm take you away at Binh Minh Jazz Club. Brainchild of the iconic saxophonist Quyen Van Minh, this venue resonates with soulful jazz performances, presenting both local prodigies and international maestros. It's a jazzy oasis amidst Hanoi's hustle.
Binh Minh Jazz Club – Bar Street in Hanoi
Top of Hanoi – The City's Sky-high Elegance
Location: 65th Floor, Lotte Center Hanoi, No. 54, Lieu Giai Street, Ba Dinh District, Hanoi.
Hours: 5 pm – 12 am Elevate your evening at Top of Hanoi. Perched atop one of Vietnam's towering marvels, this rooftop bar promises unparalleled panoramas, tantalizing dishes, and eclectic beverages – a skyward journey of culinary and visual delights.
Top of Hanoi – Bar Street in Hanoi
San Rooftop Bar – View Hoan Kiem Lake
Location: 11th Floor, San Grand Hotel, No. 02, Cau Go Alley, Hoan Kiem District, Hanoi.
Hours: 5 pm – 11:30 pm. Relax with a variety of cocktails & mocktails crafted by our talented bartenders. All drinks are also served with a selection of light snacks such as nuts. With a panoramic view of Hoan Kiem Lake and Hanoi's Old Quarter, combined with a beautiful and airy design, you can enjoy drinks and experience the tranquility of Hanoi – the heart of Vietnam from San Rooftop Bar.
San Rooftop Bar – Bar Street in Hanoi
Bar Street in Hanoi stands as a testament to the city's vibrant nocturnal allure. With each pub and bar telling its own tale, it offers more than just drinks – it promises experiences. As the sun sets and the city lights up, there's a rhythm, an energy that's distinctly Hanoi. For travelers and locals alike, a night on Pub Street is not merely an outing, it's a rite of passage.
So, the next time you find yourself in Hanoi, let yourself be drawn to this pulsating hub. Drink in the ambiance, make a toast to the moment, and etch memories that last a lifetime.
>>> See more: Things to do in Hanoi
Frequently Asked Questions
Q1: What is Bar Street Hanoi known for?
A: Bar Street Hanoi is renowned for its vibrant nightlife, featuring a mix of traditional and modern bars, pubs, and clubs. It's a cultural hub where locals and tourists gather to enjoy a variety of music, innovative cocktails, and the lively atmosphere.
Q2: Is it safe to explore Bar Street at night?
A: Yes, Bar Street is generally safe with a lively atmosphere. However, like any bustling nightlife district, it's always advisable for visitors to be aware of their surroundings, take care of their belongings, and avoid overly crowded spots.
Q3: Are there any dress codes for the bars and clubs on Bar Street?
A: Dress codes vary depending on the venue. While most bars and pubs have a casual dress code, some upscale clubs may require guests to dress more formally. It's best to check the dress code of specific venues in advance.
Q4: Can I pay by credit card in the bars and pubs on Bar Street?
A: Many establishments on Bar Street accept credit cards, but it's always a good idea to carry some cash, as smaller bars or pubs may not have card facilities.
Q5: How late do the bars and pubs stay open on Bar Street?
A: Most bars and pubs on Bar Street stay open until late, with some operating until midnight or later. However, closing times can vary, so it's advisable to check in advance if you plan to stay out late.