Indulge in the delightful blend of tradition, innovation, and cultural diversity that the best restaurants in Hanoi Old Quarter and other dining establishments have to offer. From humble street food stalls to upscale venues, each eatery epitomizes the city's deep-rooted culinary legacy. Delve deep into the unforgettable dining options in Hanoi's Old Quarter, where each meal becomes a vibrant dance of flavors, reflecting the soul of Vietnamese culinary artistry.
The Dynamic Culinary Landscape of the Best Restaurants in Hanoi Old Quarter
At the heart of Hanoi Old Quarter lies its multifaceted food landscape. This historic neighborhood is celebrated for its bustling street food avenues, age-old eateries, and contemporary dining hotspots, together painting a gastronomic masterpiece. Whether you're drawn to authentic Vietnamese fare or a mosaic of global tastes, Hanoi Old Quarter doesn't disappoint.
The Old Quarter stands as a gastronomic paradise, beckoning visitors to meander through lanes teeming with aromatic food stalls and soak in the lively ambiance that defines its dining culture. Relish iconic Vietnamese classics such as pho (noodle soup), banh mi (baguette sandwich), and bun cha (grilled pork with noodles). Beyond these staples, the best restaurant in Hanoi Old Quarter extends its menu to encompass delicacies from around the globe, embracing French, Italian, Japanese influences, among others.
With a harmonious blend of age-old traditions and modern culinary flair, Hanoi Old Quarter unfurls a dining narrative rich in flavors and steeped in Vietnam's illustrious heritage. Whether you're a culinary aficionado on the hunt for genuine local tastes or an explorer eager to broaden your gastronomic boundaries, the restaurants of the Old Quarter promise a delectable adventure that resonates long after the meal.
>>> service of 4-star hotels in Hanoi
Top 4 Hanoi Old Quarter Restaurants
Jacksons Steakhouse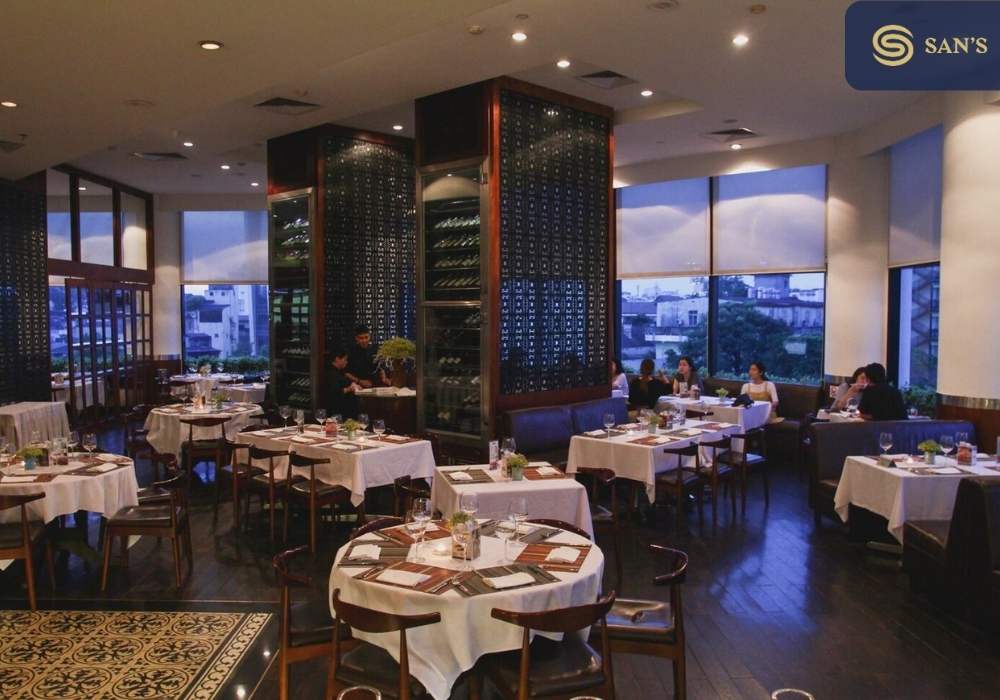 Situated on a central street in the capital, Jacksons Steakhouse is an ideal destination for those who have a penchant for European cuisine, especially beefsteak dishes. The restaurant boasts a modern and luxurious design, encompassing three distinct areas. The ground floor hosts a bustling bar area. The cozy and romantic ambiance is reserved for the second and third floors.
At this exquisite restaurant in the Hoàn Kiếm district, you can indulge in beefsteaks made from some of the finest cuts of meat from around the world. Additionally, there's an array of dishes crafted from fresh seafood. Whether you're planning a business dinner, meeting clients, or scheduling a romantic date with your significant other, Jacksons Steakhouse proves to be an impeccable choice.
Madame Hien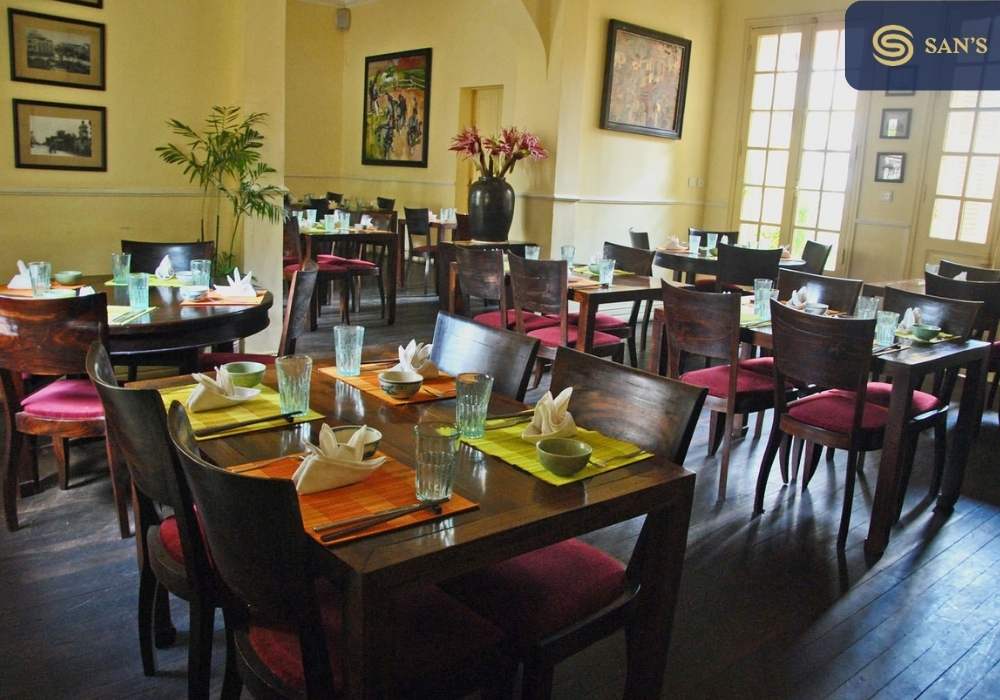 Helmed by the celebrated Vietnamese chef Didier Corlou, Madame Hien is a gem amongst the top Hanoi Old Quarter restaurants. Presenting authentic Vietnamese dishes infused with subtle French nuances, this eatery is set within a picturesque colonial edifice, ensuring a dining experience that's both intimate and enchanting.
Home Vietnamese Restaurant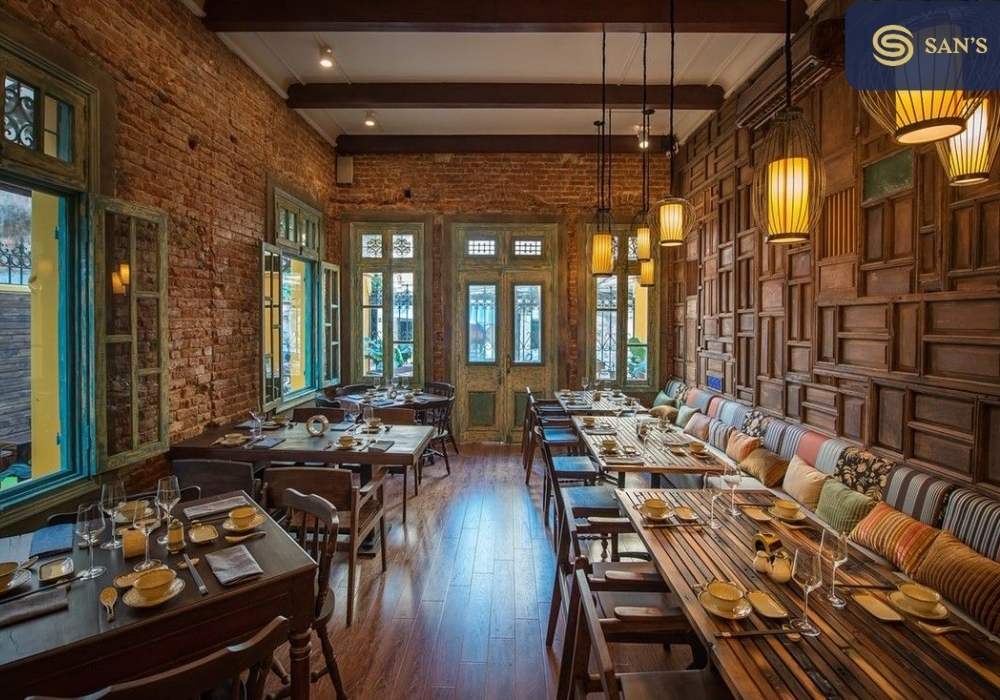 True to its name, Home Vietnamese Restaurant endeavours to recreate the warmth and authenticity of traditional Vietnamese home-cooked meals. As one of the top Hanoi Old Quarter restaurants, it prides itself on crafting age-old Vietnamese recipes with premium ingredients, all served with heartfelt hospitality.
San Dining – San Hotel Series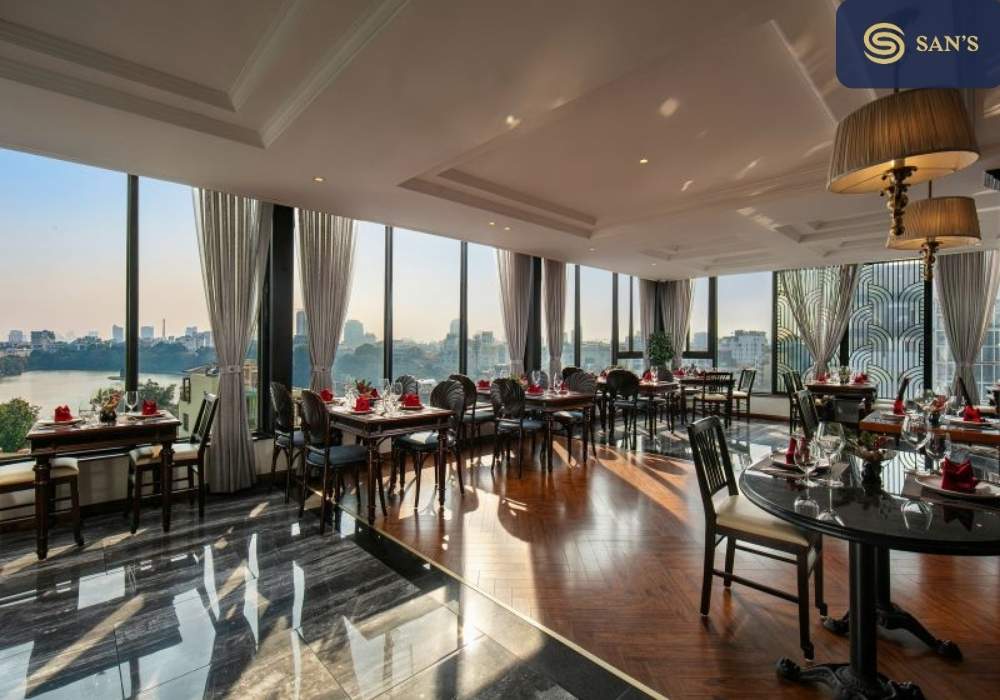 Situated at 02 Cau Go Alley Hoan Kiem, Hanoi, San Dining stands out as an acclaimed Indochine restaurant in Hanoi, garnering attention for its innovative fusion dishes. Beyond its gastronomic brilliance, this top Hanoi Old Quarter restaurant boasts a decor that marries classic Indochine aesthetics with modern elegance, making every meal a visually and palatably memorable affair.
>> Top 10 Luxury Hotel in Hanoi Old Quarter
Savoring Traditional Vietnamese Cuisine
In the heart of the city, numerous Hanoi Old Quarter restaurants proudly showcase the essence of traditional Vietnamese cuisine. Whether it's a quaint family-operated diner or a more illustrious establishment, these restaurants are custodians of culinary legacies handed down through the ages.
Dive into the aromatic allure of pho, an iconic Vietnamese soup with rich broth, soft rice noodles, and choices of succulent beef or chicken. Experience the nuanced taste of bun cha, a combination of grilled pork harmonized with rice noodles and aromatic herbs, or delve into the crispy and flavorful world of banh xeo, a crispy pancake brimming with shrimp, pork, and bean sprouts.
Venturing beyond these classics, Hanoi Old Quarter restaurants offer curated menus focusing on diverse regional Vietnamese flavors. Embark on a gastronomic journey with northern Vietnamese delicacies in restaurants championing Hanoi's culinary artistry, or let your taste buds dance to the spicy and robust notes of central Vietnamese dishes, with restaurants spotlighting delights from Hue.
Embark on a culinary odyssey through the age-old lanes of Hanoi's Old Quarter and let your palate be the judge of the flavors that have cemented the reputation of the best restaurants in Hanoi Old Quarter.
Whether you're an avid gastronome or a traveler searching for a distinctive meal, the best restaurants in Hanoi Old Quarter present an unparalleled sensory experience. Dive deep into the area's lively culture, cherish its genuine dishes, and weave unforgettable tales as you navigate the gastronomic marvels of this spellbinding neighborhood.
Amidst the timeless backdrop of Hanoi's Old Quarter, a banquet of culinary treasures beckons. Ranging from deeply-rooted Vietnamese tastes to avant-garde fusion offerings, the best restaurants in this effervescent district provide a spectrum of culinary delights.
Whether your heart desires quintessential Vietnamese fares or global culinary masterpieces, the best restaurants in Hanoi Old Quarter stand ready to cater to your every whim. Hence, embrace the opportunity to relish the culinary masterpieces at the best restaurants in Hanoi Old Quarter and etch indelible dining memories in this enthralling urban tapestry.
FAQs: Best Restaurants in Hanoi Old Quarter
What is the Hanoi Old Quarter known for?

The Hanoi Old Quarter is renowned for its historic architecture, vibrant street markets, and, most notably, a plethora of dining establishments offering traditional Vietnamese cuisine and international dishes.

Are the restaurants in the Old Quarter expensive?

Hanoi Old Quarter boasts a wide range of restaurants, from street food stalls to upscale dining venues. While some restaurants can be pricey, there are many affordable options that cater to all budgets.

Do the best restaurants in Hanoi Old Quarter offer vegetarian or vegan options?

Yes, many restaurants in the Old Quarter provide vegetarian and vegan dishes, reflecting the diverse culinary traditions and modern dietary preferences.

Is it necessary to make a reservation at the best restaurants in Hanoi Old Quarter?

While some of the more popular and upscale restaurants may require reservations, especially during peak dining hours, many eateries in the Old Quarter welcome walk-in guests.

What are some must-try dishes when dining in the Old Quarter?

Some iconic dishes to try include pho (noodle soup), bun cha (grilled pork with noodles), banh xeo (savory pancakes), and nem ran (spring rolls).

Are English menus available at restaurants in the Hanoi Old Quarter?

Most of the best restaurants in the Hanoi Old Quarter, especially those catering to tourists, offer English menus. However, smaller street food stalls might have limited English signage.

Is street food safe to eat in the Old Quarter?

Street food in Hanoi's Old Quarter is generally safe and is enjoyed by locals and tourists alike. However, it's always a good idea to choose stalls that appear clean and are frequented by many patrons.

Do restaurants in the Hanoi Old Quarter accept credit cards?

While many of the upscale restaurants do accept credit cards, smaller eateries and street food vendors often prefer cash. It's advisable to carry some local currency with you.