The "Thirty-six streets Of Hanoi Old Quater" is renowned for its combination of tradition and modernity, resulting in a diverse and beautiful multicultural environment. The capital city's allure to both local and international tourists is immense. As a result, every week, every month, and every year, a significant number of visitors come to this thousand-year-old civilization city. The number of tourists visiting this city is substantial.
When visiting Hanoi, finding a suitable accommodation  is a crucial concern for every tourist. The preferred option for many travelers in Ha Thanh are 4-star hotels and homestays. This article will focus on the top 4-star hotels in Hanoi that offer the best quality and convenient location, as recommended by the San Hotel Series.
1. San Grand Hotel Hanoi
San Grand Hotel is situated at 2 Cau Go Lane, Hoan Kiem District, in the Old Quarter of Hanoi.
Located in the heart of the Old Quarter, San Grand Hotel is just a 7-minute walk away from Hoan Kiem Lake and offers easy access to many popular attractions, including the Water Puppet Theater, shopping streets, and historical sites, as well as traditional food courts with delicious Vietnamese dishes, such as egg coffee, Pho Thin Lo Duc, and Hanoi fish cake.
San Grand Hotel has a total of 40 rooms and suites, all designed in a French style that incorporates modern elements of Vietnamese architecture and interior design.
Each room features amenities such as air conditioning, a personal safe, a fully equipped bathroom, a telephone, and high-speed Wi-Fi.
Additionally, depending on the room type and price, guests may enjoy further amenities, such as a view of Hoan Kiem Lake, a minibar, a flat-screen TV, a desk, and a sofa. At San's Restaurant, located on the hotel's rooftop, visitors can try traditional Vietnamese cuisine, as well as dishes from other Asian, European, and American countries.
San Grand Hotel's staff is highly regarded by many visitors for their dedication, enthusiasm, thoughtfulness, and initiative in their work. To book accommodation at San Grand Hotel, visit https://sangrand.sanhotelseries.com/booking/.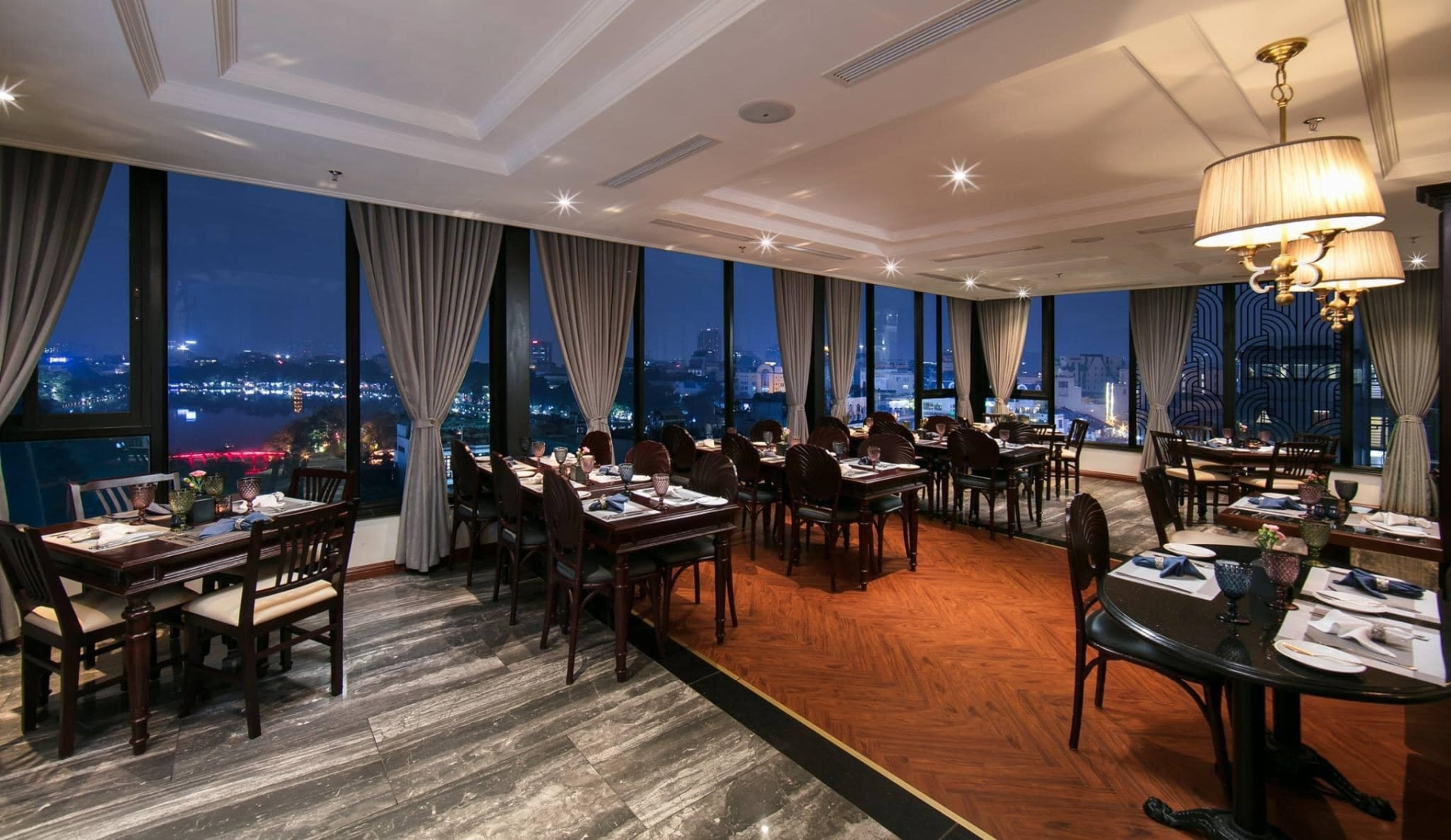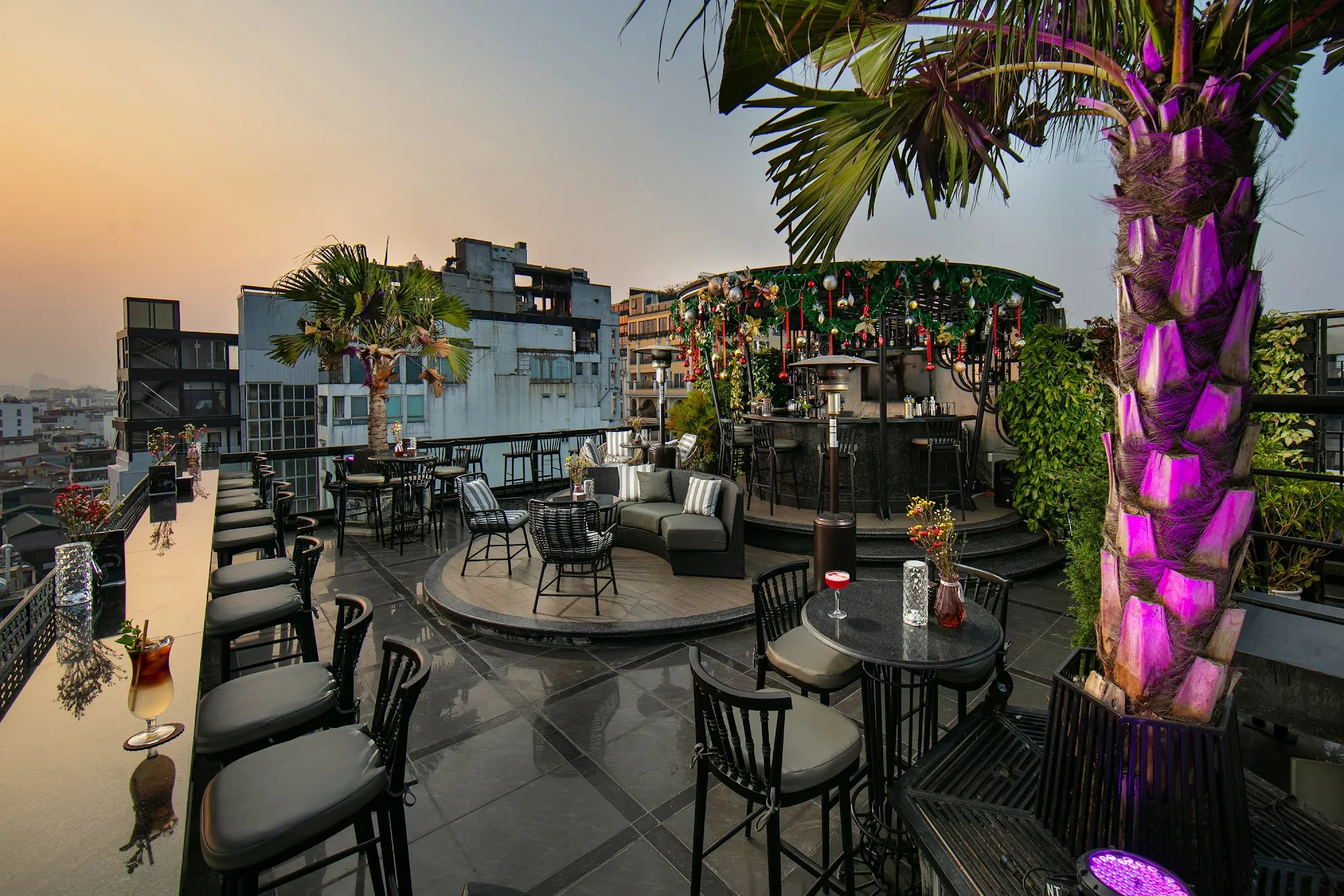 2. San Premium Hotel Hanoi
San Premium Hotel can be found on Ha Trung Street, Hang Bong, Hoan Kiem District – a prime location in Hanoi. The hotel is conveniently situated just a 7-minute walk away from the Old Quarter night market. Noi Bai International Airport is approximately 30 km away from the hotel, and Ho Chi Minh Mausoleum is just 1.4 km away. Moreover, San Premium Hotel is only 851 meters away from Hoan Kiem Lake, while the Temple of Literature is situated 1 km away.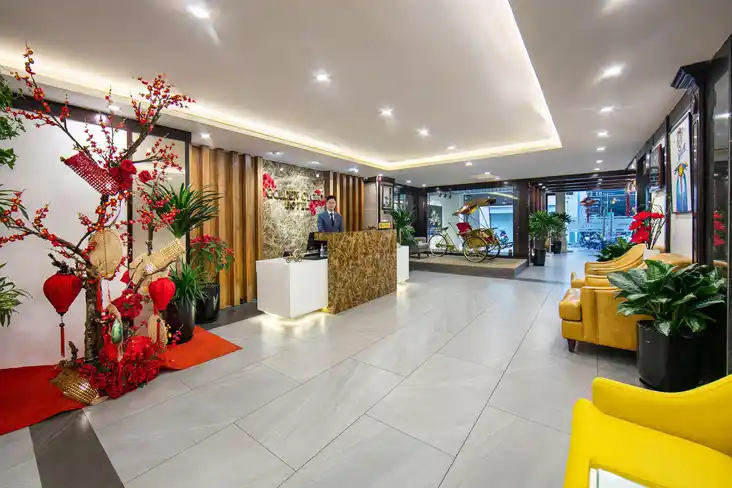 At San Premium Hotel, guests can enjoy luxurious accommodations that come with private bathrooms and complimentary Wi-Fi. The hotel's 4-star rooms are fully equipped with air-conditioning, a flat-screen TV with cable channels, a minibar, and a spacious seating area. Additionally, guests can benefit from amenities such as a safe, a work desk, and a wardrobe. Depending on the room type, some accommodations may feature a balcony and a private bathroom with a bathtub or shower.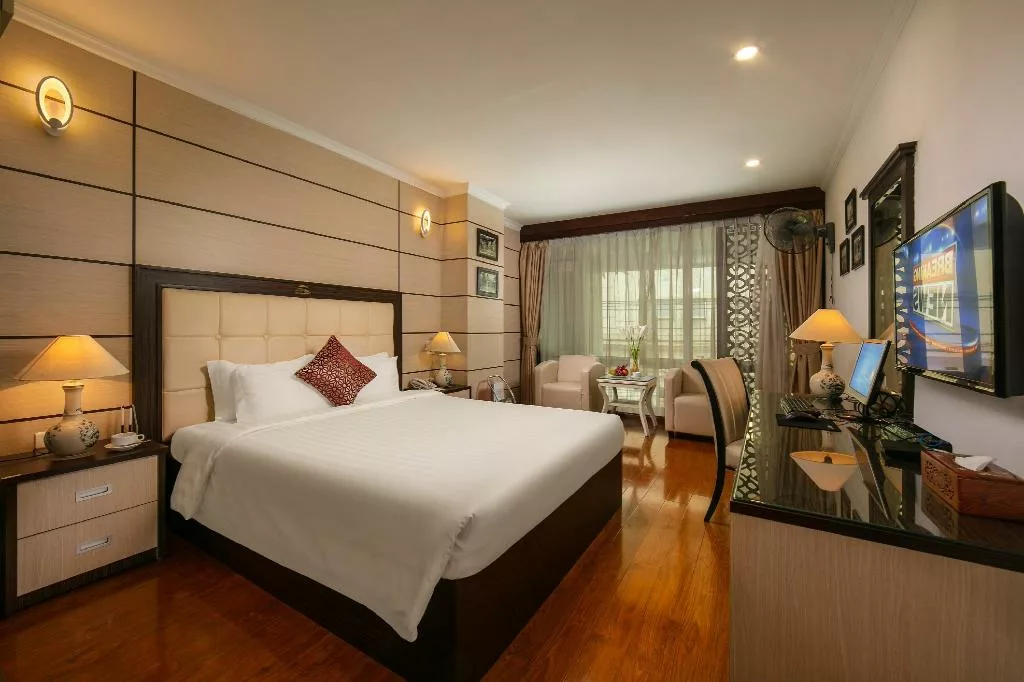 San Premium Hotel's FnB service at the same time gives you the freshest and most memorable experiences with a variety of cuisines and attractive drinks at San's Restaurant and San's Rooftop Garden bar. The Huc Spa provides spa and sauna services to help you purify your body, remove accumulated toxins for a more refreshing spirit.
3. La Siesta Classic Ma May (Former Hanoi La Siesta Hotel & Spa)
La Siesta Classic Ma May, a 4-star hotel located in the Old Quarter, takes second place on our list. Being a recent addition to the Hanoi Elegance Group, the hotel has already garnered plenty of acclaim for its attentive and dedicated service. If you are planning a trip to Vietnam, La Siesta Classic Ma May is undoubtedly one of the best options available to you.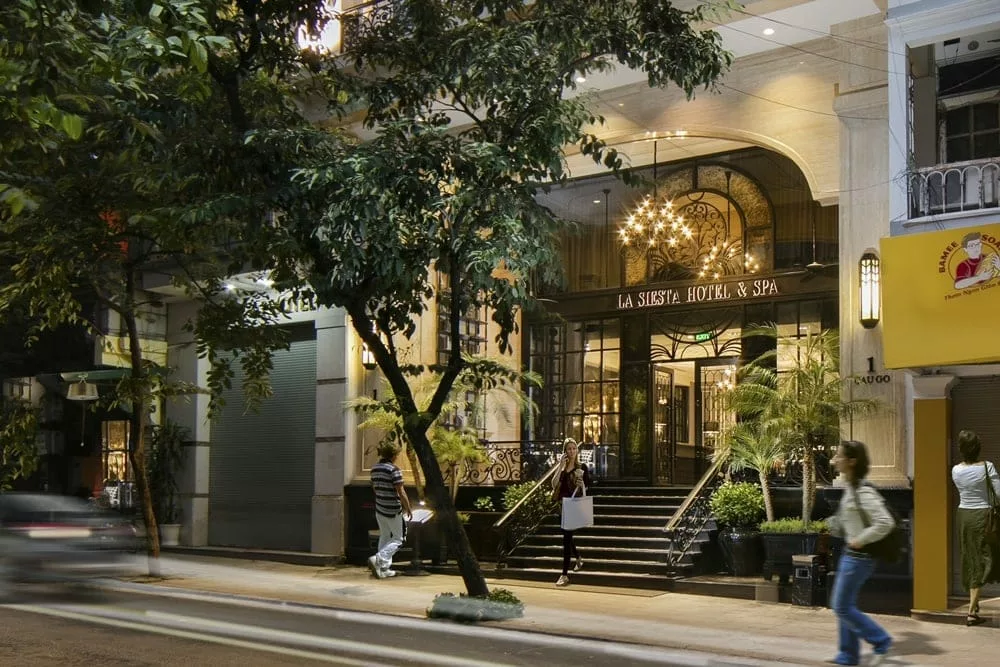 With their friendly attitude and professional demeanor, the staff at La Siesta Classic Ma May is always eager to provide top-notch service. As per the feedback of numerous customers, you can hardly go wrong by choosing to stay at this hotel. Moreover, the hotel offers a range of important services such as airport pick-up, visa on arrival, and private doctor on request, among others. Additionally, all rooms are equipped with high-speed internet and receive daily newspapers in English and French, while the daily housekeeping service is included in the room rate.
4. Hanoi Paradise Center Hotel & Spa
The Hanoi Paradise Center Hotel & Spa is a newly opened 4-star hotel as of October 2019, ensuring the rooms are pristine and modern. The hotel's design is simple, with soft neutral colors complemented by warm accents. The rooms feature modern and sophisticated decor, as well as amenities such as a private bathroom, bathtub, and high-speed Wi-Fi, making it the perfect option for those looking for luxurious accommodations during their stay in Hanoi.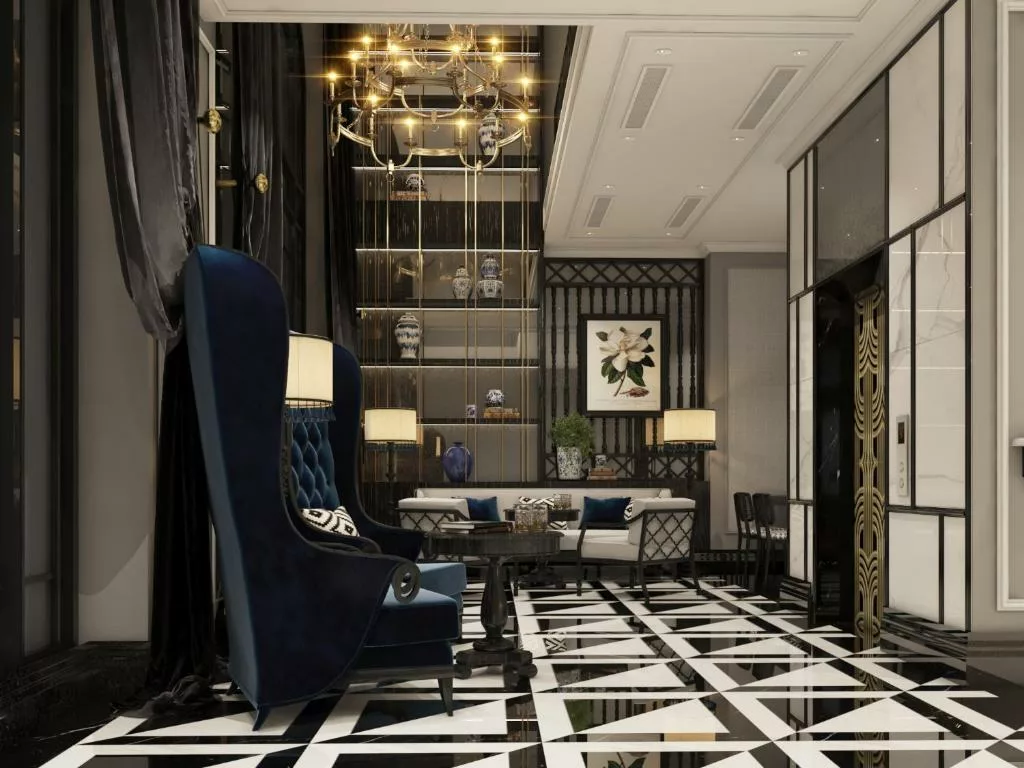 5. Soleil Boutique Hotel 
Soleil Boutique Hotel is situated on Hang Bong Street, which is known for its bustling activity, making it a convenient location for transportation. The hotel's design is a blend of Western architecture and traditional Vietnamese cultural features. Despite being a new hotel that started operating in 2019, the hotel's staff are enthusiastic and provide various professional services such as breakfast, car rental, and gym facilities, which has received positive feedback from many visitors.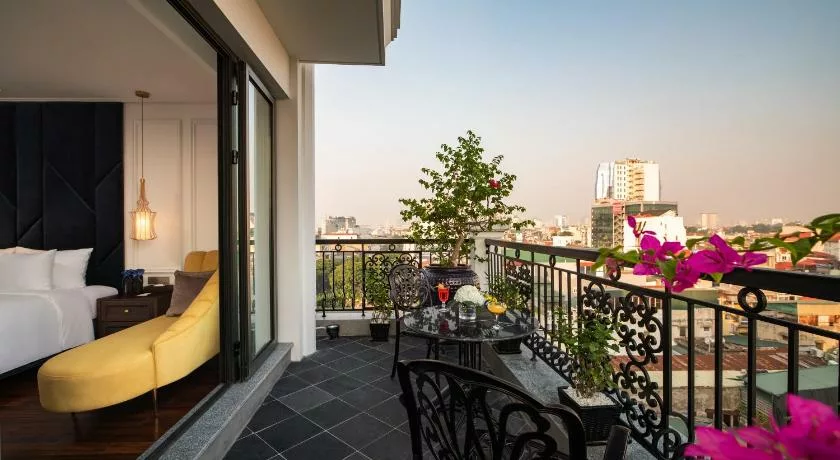 6. The Light Hotel Hanoi
The Light Hotel Hanoi is among the top-rated 4-star hotels in Hanoi and is known for its spacious and luxurious rooms. All 89 rooms are equipped with European-standard amenities. The hotel's rooftop swimming pool offers a breathtaking view of a beautiful area of Hanoi, along with a garden cafe and a diverse menu. The hotel's penultimate floor is home to 4-star amenities such as conference rooms, restaurants, gyms, and spas. Breakfast is served daily with a variety of Asian and Western dishes. Guests can also enjoy poolside cocktails and car rental services are available at the hotel.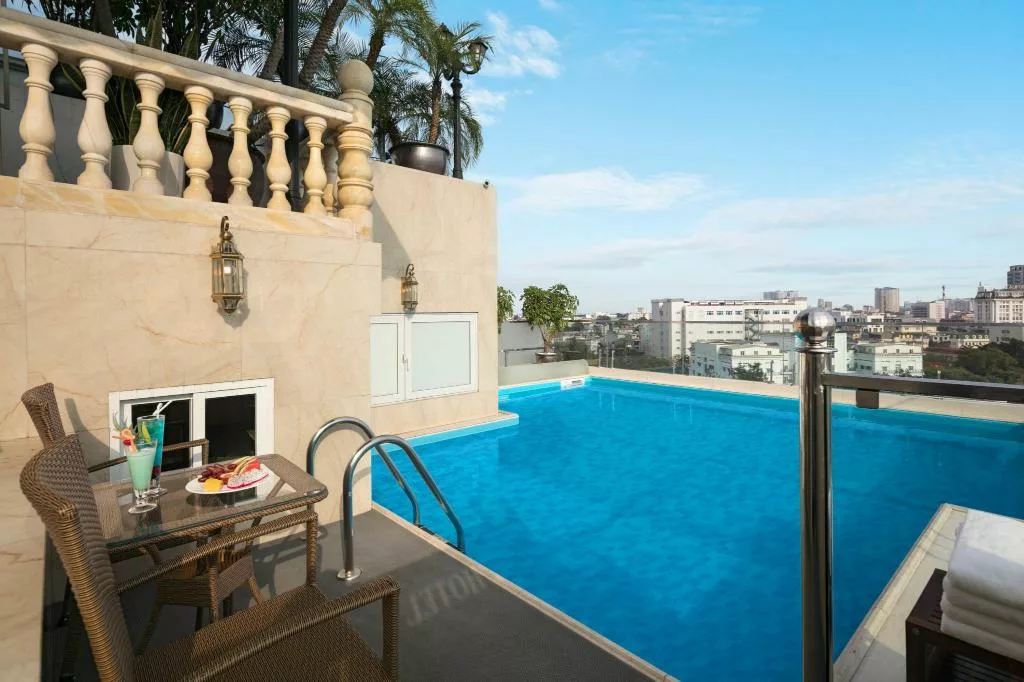 7. Sunline Paon Hotel & Spa Hanoi 
The architectural style of Sunline Paon Hotel & Spa is a combination of Vietnamese and Japanese elements, which creates a unique and unforgettable experience for visitors.
The hotel has 51 spacious rooms, including Suites, that are furnished with basic and 4-star standard amenities. Additionally, the hotel provides a buffet breakfast service for its guests.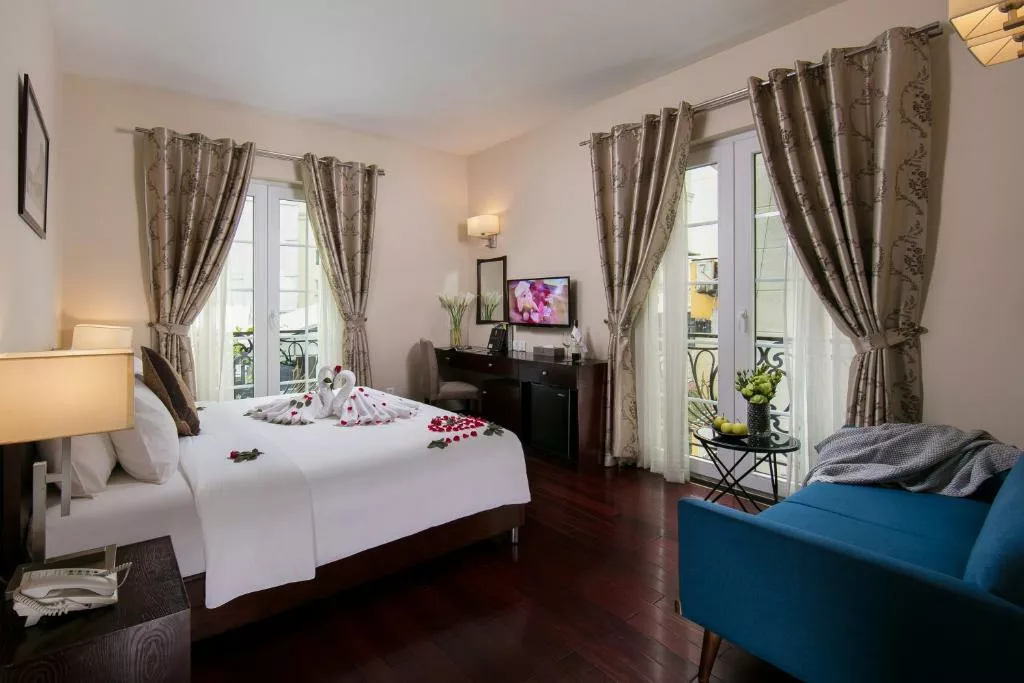 8. Babylon Garden Hotel & Spa
Babylon Garden Hotel & Spa is located right on the corner of Hoan Kiem Lake – a central location, convenient for tourists coming to Hanoi to travel. The hotel consists of 70 modern rooms, rooms with large windows overlooking the city and large area suitable for many objects, from individuals to groups of guests, staying guests or business guests,… Besides, the hotel offers 4-star facilities such as a gym, spa, restaurant, and a combination of Western and Vietnamese cuisine.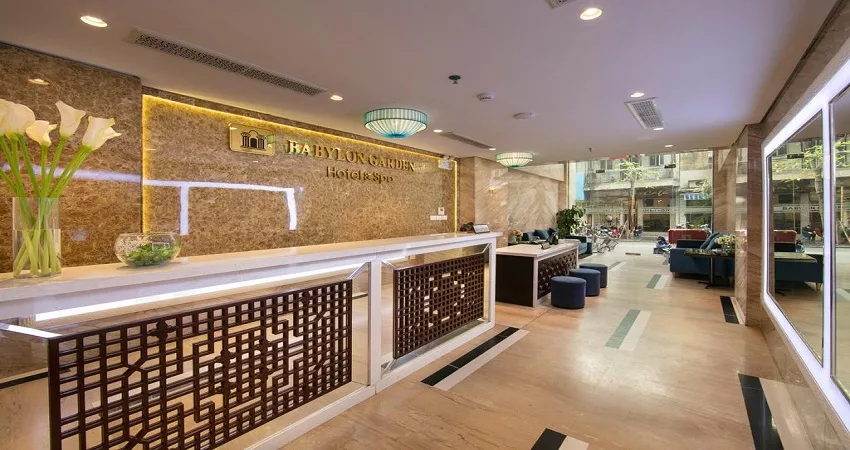 9. Halais Hotel Hanoi
A high-end hotel was created to meet the accommodation requirements of luxurious travelers and businesspersons in Hanoi. Halais Hotel Hanoi boasts a 4-star rating and features a 10-floor design with a swimming pool, as well as 65 standard rooms. Every room has a refined and comfortable decoration, with complete amenities such as high-speed Wi-Fi access, a private bathroom with a bathtub or shower, a safety deposit box, and a desk.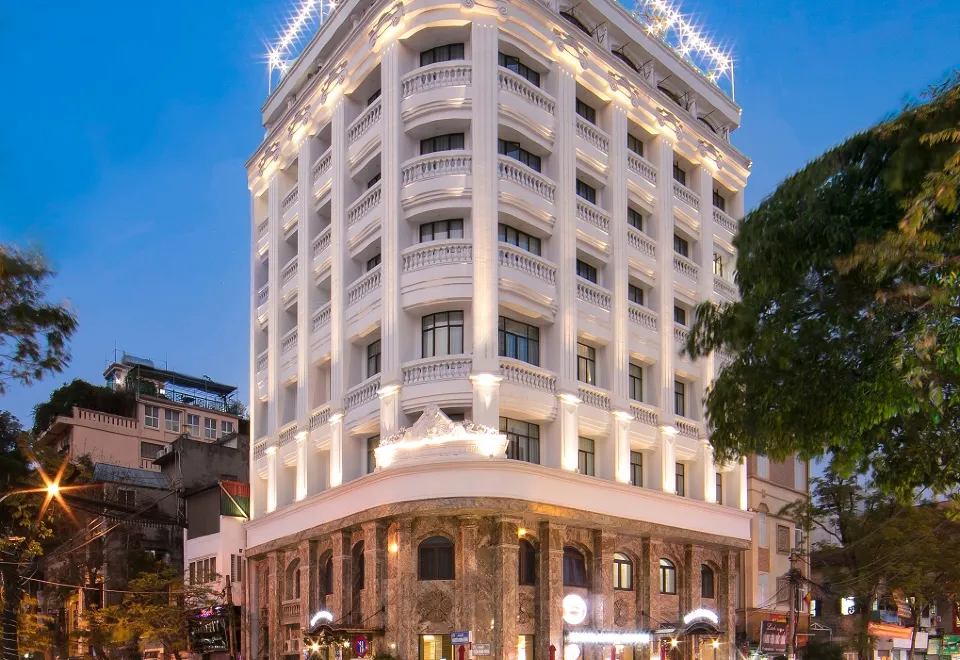 10. La Sinfonia Del Rey Hotel & Spa Hanoi
The 4-star La Sinfonía del Rey, which means "king's symphony" in Spanish, is a luxurious and serene accommodation in the midst of a bustling city.
The hotel ensures a peaceful atmosphere with its modern soundproofing system and high-end air filtration. The rooms are uniquely decorated with exquisite antique pieces, and the hotel staff is both professional and friendly.
Additionally, the hotel boasts a rooftop bar offering stunning sunset views and a diverse selection of drinks.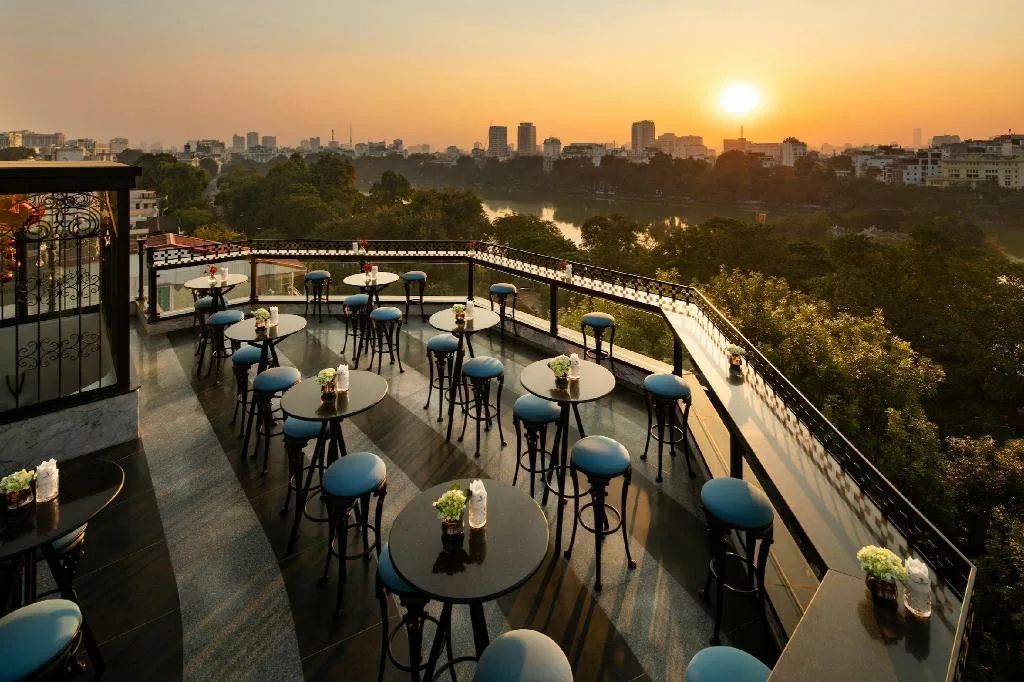 The above article of San Hotel Series has proposed to readers 10 hotels that we consider to be of good quality and bring the most comfortable experiences in the heart of Hanoi. Hopefully after the article, you can find a hotel that suits your needs and budget. Have a nice day!
See more post by Sanhotelseries.com in: The 10 most luxurious 5-star hotels in Hanoi